The wild art of Rachael Hollis
Born in the UK, Rachel Hollis moved to Sydney in 2009 but only started drawing Australia's native wildlife in 2015. With her business striking a chord with everyone from avid bird lovers to overseas tourists keen on taking on a slice of Australia's wildlife home, Rachel's online gallery is now home to a vibrant menagerie of Australian birds, marsupials and insects.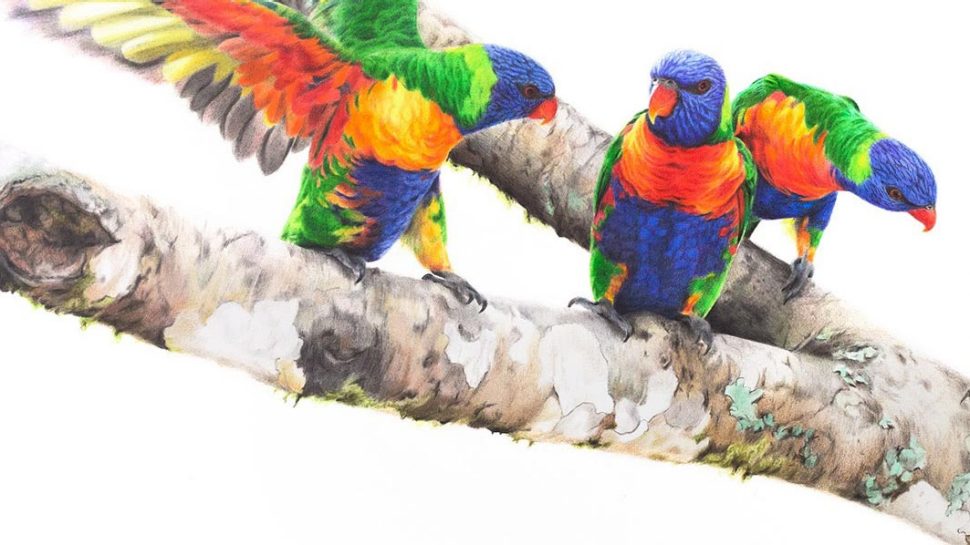 From striking gang-gang cockatoos to iridescent mulga parrots and delicate Australian emerald dragonflies, Rachel's drawings have now been shipped to customers all over Australia and the world.
"At the Sydney Rocks Market where I have a weekly stall, I often get a chance to chat to people and listen as they tell me about the wildlife and birds that they are particularly interested in. As an example, Australia's parrots are often a favourite of both locals and overseas visitors, so based on this I recently decided to draw a group scene of five Rainbow Lorikeets, highlighting their cheeky character which people often comment about. This is now one of my most popular prints. "
"Once I start on a new piece of artwork I find it hard to focus on anything else! So I usually schedule a block of a few days to get it finished with minimal interruptions. Print-making is one of the more time-consuming aspects of my business, especially when making prints from a new piece of artwork which first needs to be photographed, edited and proofed so the print matches the original as closely as possible."
A different way to buy art
In many ways, Rachel's success is a reflection of the changing nature of how consumers are buying art. In the past, artists were largely beholden to galleries in order to show and sell their work, now customers can go direct to the artist.
"I'm blown away every time people approach my market stall and say they follow me on social media. Just recently I had a young guy from the USA come to the stall and tell me he follows me on Instagram and both he and his parents were so happy to have found the stall and take some of their favourite prints back home to the USA with them— that made my day!"
"As an artist, having an online portfolio serves as a 'gallery', where visitors can browse my work in their own space and time," says Rachel.
Whether you want to splurge and commission a drawing of a particular animal, buy an original drawing or pick up a set of greeting cards, there is something for everyone in Rachel's online shop.
Follow Rachel Hollis on Instagram: @rachelhollis_art