How to use a smartphone camera to take the best outdoor photos
Want to impress your Instagram followers? Level up your photography skills with our guide to taking the best outdoor photos using just your smartphone. 

Gone are the days when you needed to invest in top-of-the-line photography equipment to take epic landscape shots. Now, the best smartphone cameras can capture the kind of high-quality photos you would usually get with a DSLR camera.   
But how do you get the most out of your iPhone or Android phone camera? Keep reading for our quick and easy guide to taking the best outdoor photos using just your smartphone.  

1. Clean your lens
Okay, this tip may sound straightforward but ensuring your lens is clean before you start snapping could mean the difference between a jaw-dropping photo (or not).  
Considering how often we use them throughout the day, it's easy for smartphones to collect dirt and dust around the lens. In fact, some Android phones even come with a built-in suggestion to 'Clean your lens for clearer pictures' while you're in the Camera app. Use a soft microfiber cloth to remove dust or fingerprints before you start.  
2. Go big with your wide-angle lens
To make sure you capture the best landscape photos, you'll need a camera that has a wide-angle angle lens. The best smartphone cameras feature an ultrawide-angle lens, but if you're on a budget, you can still find a decent wide-angle lens in cheaper devices.    
Most OPPO smartphones, as well as other brands like Samsung and iPhone, have this feature—just look for the wide-angle icon or the 0.5x button in your Camera app. Once you've found an open space and used your smartphone to get a good composition, tap the wide-angle icon to capture more of your surrounds.  

3. Apply the rule of thirds
The rule of thirds is a common photography trick where an image is split into a three-by-three grid and your subject is placed on the lines (or where they intersect). This composition technique helps to create interest, rather than simply centring the subject, and prevents the horizon from dividing the image in half.   
To apply the rule of thirds on your smartphone, go to your camera settings and enable the 'Grid lines' button. Don't forget to try to straighten the horizon, too. Most smartphones have a level that pops up while you're in the Camera app to help with this.   
4. Avoid digital zoom
What is the difference between digital and optical zoom, you might ask? Optical zoom means the actual camera lens changes according to how close the camera is to the subject. Digital zoom, however, magnifies the subject and increases the pixels while decreasing resolution.  
Put simply, digital zoom produces poorer quality photos. Some modern smartphones feature a version of optical zoom (although different to what you would find on a DLSR camera) but to avoid disappointment, it's best to just move closer to your subject to maintain image quality.   
5. Experiment with Portrait mode
There are probably loads of hidden smartphone features that you never use but Portrait mode shouldn't be one of them.  It might sound strange but using Portrait mode to take landscape photos can result in some seriously professional-looking images.  
Use Portrait mode when you want to focus on a subject in the foreground (like a flower or animal) and keep the background blurred. This style of photography is often called 'bokeh' and helps to draw attention to the focal point in the picture.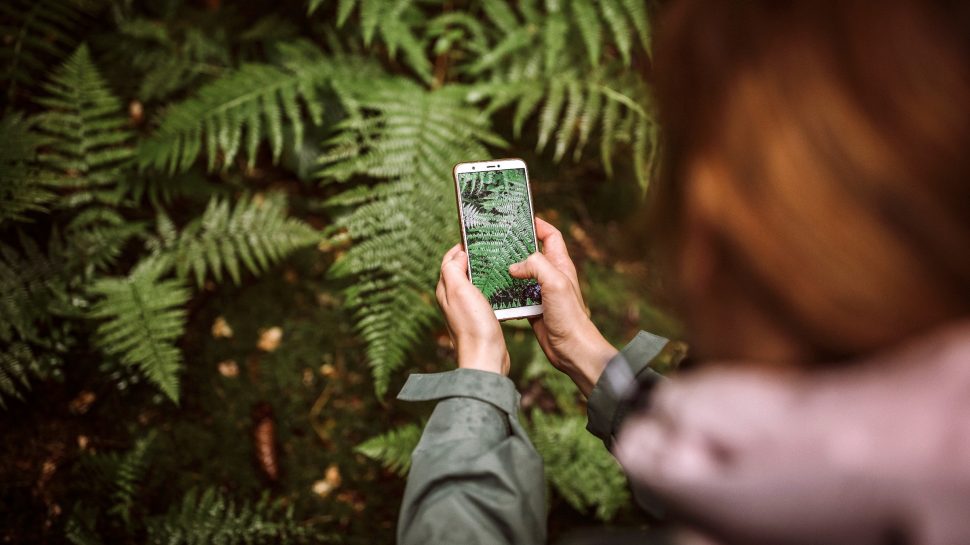 6. Activate HDR mode
Whether you're using an iPhone or Android phone, you can find HDR (High Dynamic Range) in your general camera settings or while you're taking a photo. In fact, some newer phones have an 'Auto HDR' or 'Smart HDR' feature, which senses when you should shoot in HDR or not. 
Basically, HDR mode adds brighter highlights, better contrast and more realistic colours to your photos. It's perfect for big landscape shots—which often have a lot of contrast between the land and sky—or portrait shots where there's too much harsh sunlight on a person's face.  
On most iPhone and Samsung smartphones, you can manually toggle HDR on and off when you take a photo (just switch off auto-HDR in Settings first).  
7. Find the 'best shot' with a clever feature
When it comes to finding the best composition, we can always use a bit of extra help. 'Shot suggestions', an intelligent feature on newer Samsung smartphones, uses machine learning to draw from a library of millions of photos and photography rules to provide you a foolproof to guide to taking the best shot. 
Just open your camera settings and enable 'Shot suggestions'. Next time you take a photo, simply line up your image and watch for the 'Best shot' message on the screen to guide you on where to snap.     

8. Use a photo editing app
Finally, the perfect shot isn't complete without a few tweaks in a photo editing app. These days, you don't need to be an expert in high-tech photo editing software to create a beautiful landscape photo.  
When it comes to iPhone apps and Android apps that offer the best editing features, Snapseed and Lightroom are crowd favourites. Not only are these apps free to download, but they're full of helpful tips for taking great photos on your smartphone. Play around with exposure levels, highlights, shadows and contrast; try out different pre-set filters; or even use effects to create a highly stylised image. Want more? Access all the features on Lightroom by upgrading to the premium version. 
Remember: no matter how closely you follow these tips, sometimes you just need a better phone. Smartphone cameras can vary a lot, so make sure you research what device is best suited to your photography needs before you buy.  

Looking to upgrade your phone?

From Samsung to OPPO and more, discover our range of unlocked smartphones from the Australia Post Shop and enjoy free standard delivery on $30+.