The May Gibbs superfan: How a Wattle Babies set changed her life
Amber Varga is a self-proclaimed May Gibbs superfan who had no idea how much a single purchase would change her life. Here she talks about how it all began, her connection to May Gibbs and her work, and recent additions to her collection from Australia Post's Online Shop.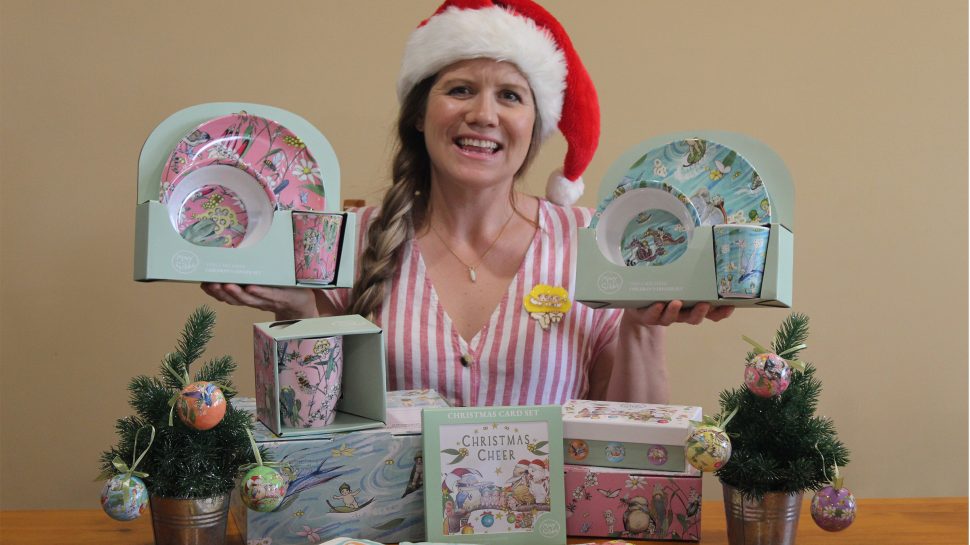 Amber Varga's "lifelong treasure hunt" for May Gibbs items started two years ago, shortly after the birth of her daughter Sunny.
Sunny was born with complex congenital heart defects, which means she was born with only half a heart. The Vargas, who live in Tamworth (NSW) spent two months in Sydney after Sunny's birth while she underwent her first open heart surgery. Upon returning home, Amber decided to buy something special to mark the arrival of family's new addition.
"I walked into a local boutique and spotted a May Gibbs Wattle Babies blanket, pants and bib set," Amber says. "I was instantly drawn to them."
It wasn't until later that Amber realised just how much of a connection she had with May Gibbs – the iconic Australian illustrator and author who captured the imagination of thousands during a long and storied career.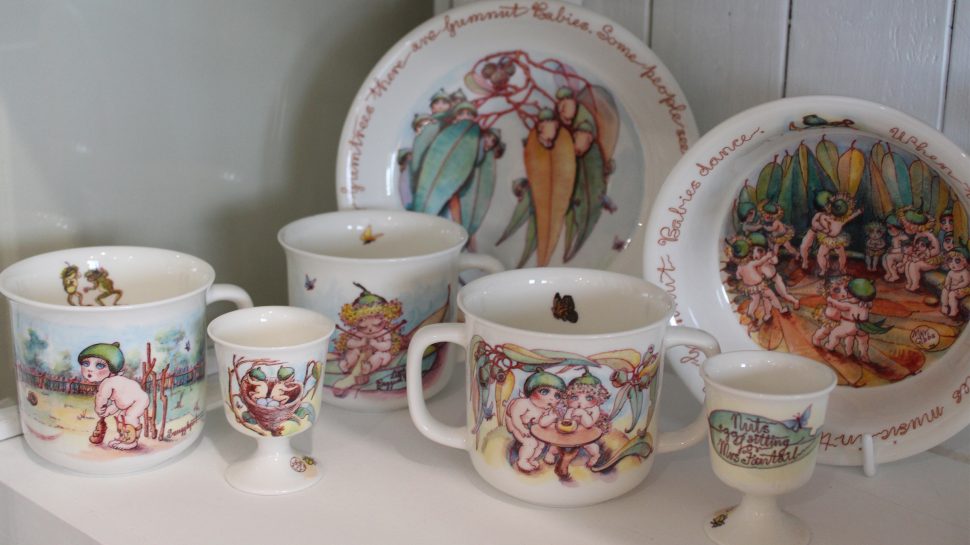 "I learned that May Gibbs wrote that 'Wattle babies are the sunshine of the bush. In the winter, when the sky is grey and all the world seems cold, they put on their yellowest clothes and come out, for they have such cheerful hearts.'
Our daughter's name is Sunny, she was born in winter and she's so warm and cheerful."
Amber has gone from buying a single gift in 2019 to a full-fledged collector of all things May Gibbs. We talked to her about her growing collection of May Gibbs pieces, what she loves about the artist and why May Gibbs items make such good Christmas gifts.

What was the journey from a single purchase for your daughter to your deep love of all things May Gibbs?
I originally purchased clothes and pieces just for Sunny, but then I found my interest spilling over into collecting for myself. When I realised how many vintage collectible items were out there, it suddenly became a real hobby trying to track down rare pieces. There are also a lot of new collaborations and every time something new launches, I feel that excitement of wanting to add to my collection.
What emotion does your collection evoke?
I feel a sense of nostalgia and childlike wonder. Like many Australians, I grew up with May Gibbs stories on our bookshelves. My nan loved them, and she also loved creating things. She would make clay wind chimes that had gum leaves and little Gumnut Babies tucked up in them. Like May, my nan loved the Australian bush and would incorporate it into her different arts and crafts projects.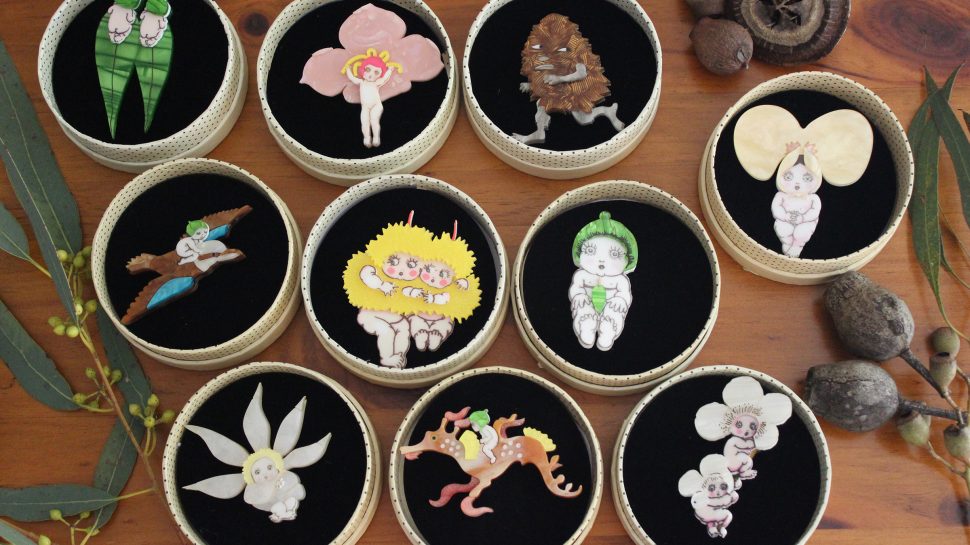 What connection do you have to May's work?
I love how timeless her illustrations are. It's been more than 100 years since she first created Gumnut Babies, and to see how wildly popular they are today is really special. I also love the Australian bush and wildlife, and I think her artwork showcases them beautifully.
How big is your collection? Any favourite pieces?
It's around 500 pieces of books, clothing, bedding, décor, plates, tins, clocks, a spice rack and more. My favourite pieces are probably a set of vintage porcelain figurines and the Erstwilder brooch collection. I keep them in my display cabinet in our lounge room because they're too precious to wear. But I have coffee mugs I use every day, and I got the clutch purse in Blue Billabong from Australia Post's Online Shop to use as a makeup bag. Sunny's bedroom is full of Gumnut Babies items too. But there's still so much I don't own so it feels like a lifelong treasure hunt.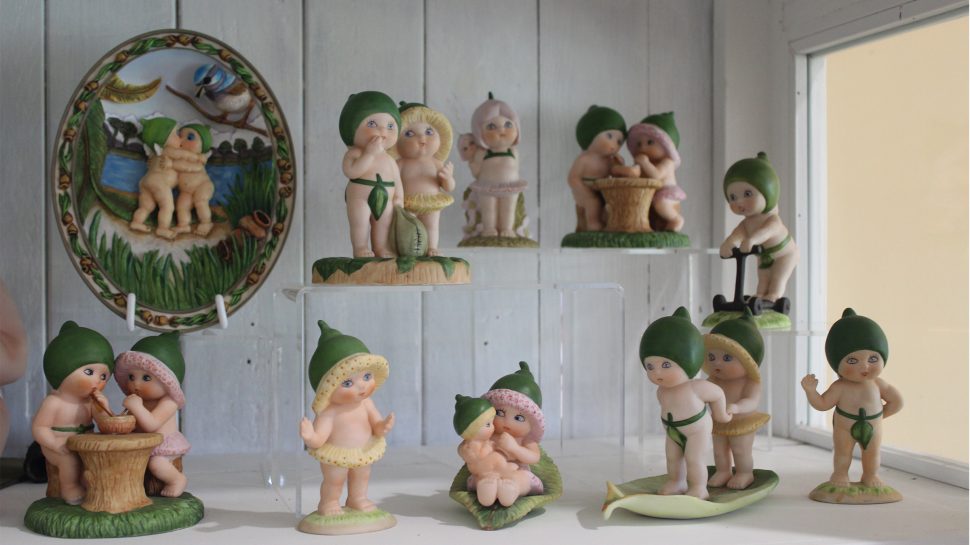 And where do you usually go for this treasure hunt?
I use sites like eBay, Gumtree and Facebook Marketplace, and I buy directly from outlets with exclusive collections. I also belong to a Facebook Group of about 2,000 May Gibbs collectors and enthusiasts – we call ourselves Gumnutters! Many of us buy, sell and swap items with each other and give each other the heads up on new releases. We get so excited about new launches and there's a real community vibe in that group.
What do the Gumnutters think of the exclusive May Gibbs collection on the Australia Post Online Shop?
We went crazy over that launch. Once we found out about it, we gave each other the heads up. And if any of us can't find the pieces we want in our local Post Offices, we'll help source, buy and post it to each other.
What May Gibbs items have you bought from the Australia Post Online Shop?
I've got the tea set for my display cabinet, mugs, clutches and the Melamine kids dinner set for Christmas. I've also bought some baubles I'll use as part of a centrepiece for Christmas Day lunch, and Christmas cards.
All images courtesy of Amber Varga

Need inspiration for your Christmas gift list?

We have heaps of ideas - no matter who you're shopping for.