Trudy Rice: How the Melbourne artist finds inspiration in her very own garden
Inspired by butterflies, banksias and dragonflies, Trudy Rice's new collection of homewares for the Australia Post Shop shows off the very best of Australian nature. Here, she discusses her printmaking process and why it's so special to share her designs with the public.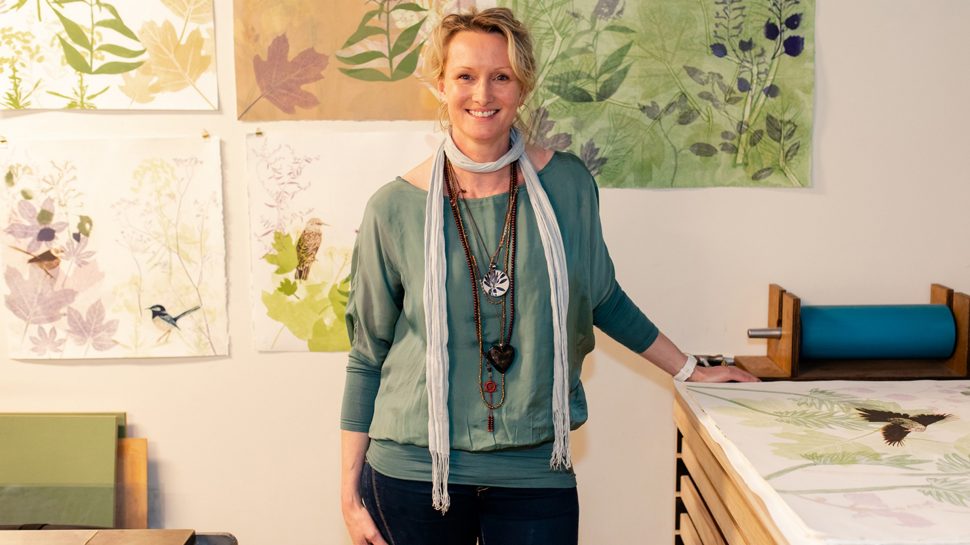 It seems every creative endeavour Trudy Rice turns her hand to she masters with ease. Born into a musical family, she grew up singing and playing guitar before turning her attention to fashion modelling for some of Australia's most-talented designers. Inspired by the textures and colours of fabrics, she channelled her creativity into drawing before eventually enrolling herself in part-time art school to further hone her fine art skills. From there, she discovered printmaking—and the rest, they say, is history.
In this interview, Trudy reveals why she's happiest when in the garden or creating artworks in her Melbourne studio and discusses the inspiration behind her unique designs—which now feature on an exclusive range of homewares in the Australia Post Shop.

Tell us about your featured artwork on the Australia Post range.
The garden has always been a source of inspiration. I am lucky enough to live near an inner-city park in Melbourne, and I also frequent the coastal town of Lorne on the Great Ocean Road, so there is ample to keep my creative juices flowing.
My husband and mother-in-law are excellent gardeners and always provide a great place to create. Sadly, I'm not trusted to hold a set of pruning shears, so instead, I take my drawing pad and pens into the garden.
Butterflies, banksias and dragonflies in these gardens have inspired the drawings that became etchings for this series of designs used on the range for Australia Post.

How does it feel having your range stocked in Australia Post stores?
This range has been a once-in-a-lifetime opportunity. I mentioned to my local Australia Post store that my work would be featured, and they were jumping up and down with excitement as I was! I feel blessed to have been asked to collaborate, and seeing the collection come to life has been a fantastic journey.
Do you have a favourite product from the range?
It's a little hard to choose one favourite in the range but if I had to pick, the stainless steel water bottles (a reusable item) and the recyclable postal boxes would have to be favourites.

You create your pieces through a time-consuming process of layering solar plate etchings, which involves using the sun and water instead of acids. What are the benefits of this technique?
The traditional etching process is with a metal plate and acid, so as you can imagine, with my love of the natural world, I was thrilled to come across the relatively new non-toxic process of solar plate etching.
I create a drawing, expose it out in the sun with the solar plate (much like photographic film), and then wash it out in a water bath. The process is very sensitive and catches every nuance of my drawn line.
What does it mean to share your art with Australia?
I can't tell you how excited I am about sharing my work with the Australian public. As an artist, we work hard to have our work recognised, and I feel supported by all the wonderful people in my life—bringing my work to a broader audience only enhances this joy.
The more people I share my work with, the more I get to share my love and experience of the outdoors.
I am motivated to bring enjoyment and harmony to people. One project I worked on was a 109-metre wallpaper for a mental health hospital. It felt so good to be part of this project, creating a sense of calmness in a much-needed environment.

What is it about printmaking as a medium that you love the most?
Painters and sculptors generally have an idea of the intended result. Printmaking is a little different. You naturally know what you want to create; however, something can change the outcome at any step in the process. Anything from the drawing, the etching process, inking the plate and the printing process. It isn't until you pull the final piece of paper from the press that you see the final print. And even after many years, I am still often surprised!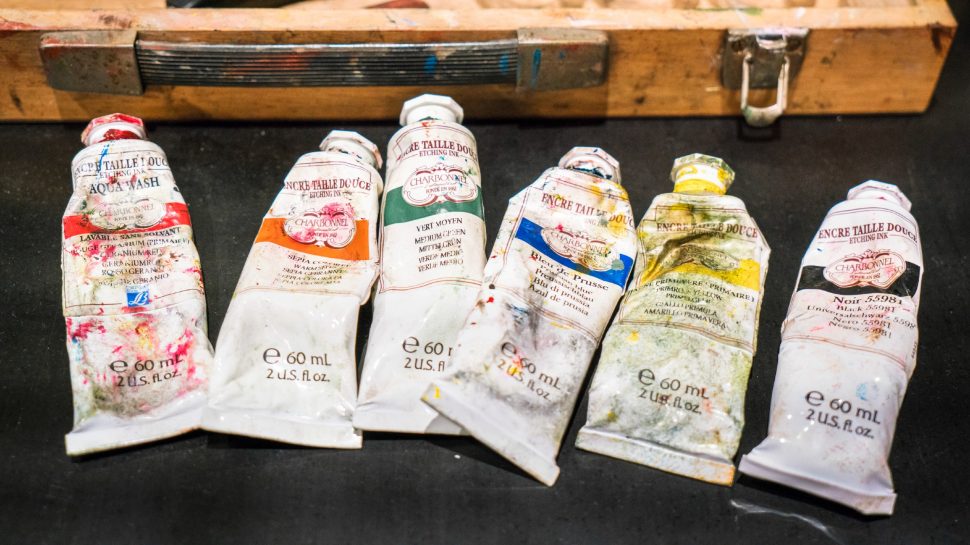 You found success as a full-time artist after 20 years in the fashion industry. What would you say to aspiring artists who might be starting their careers later in life?
I don't feel alive if I don't create something, even a tiny daily drawing. As Nicholas Wilton, an excellent creative teacher, has often said, "Keep doing what brings you alive!". Do a little often, whether in the making or the business side of creating.
What's next for Trudy Rice Collections?
I always look for new and exciting design projects, licensing, creating and exhibiting new work. In early September, I'm exhibiting with my colleague Lisa Sewards at the Sydney Contemporary Paper Contemporary by the Print Council of Australia. Please come and visit—I'm always up for a chat about art! And you never know...maybe an Australia Post stamp series! Now, wouldn't that be amazing!

Support our local Australian artists and makers

Browse the entire collection of Australian-made gifts and homewares by Trudy Rice at the Australia Post Shop and enjoy free standard shipping on all orders $30+.