Hand-blown glass: from Melbourne to the world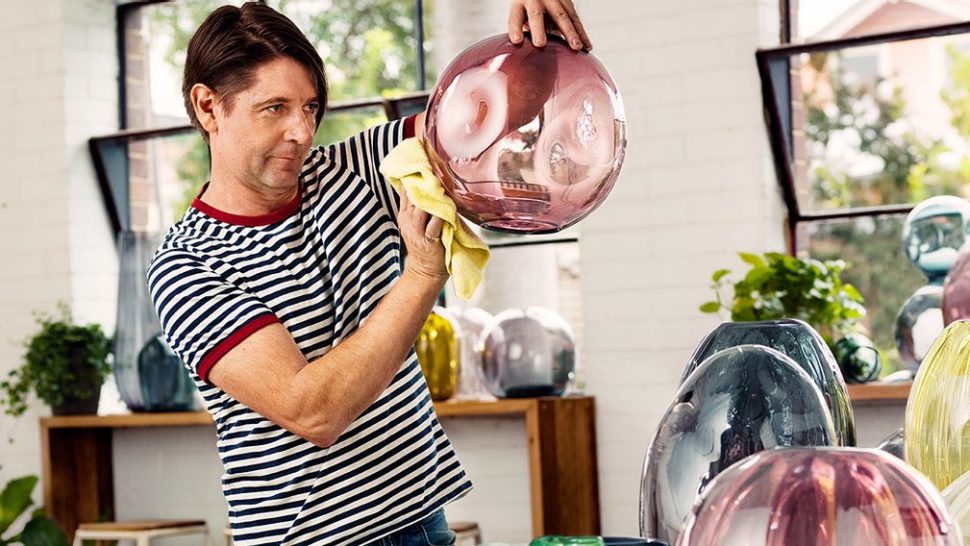 At the creative intersection of homewares, art and interior design you'll find Mark Douglass Design.
Mark became a glass guru after being introduced to glass blowing while studying in the 1980s. While he studied ceramics and other forms of art and design, it was the centuries-old art of glassblowing that won his heart, leading him to become a glass artist.
"Glassblowing is a little bit more immediate than ceramic work, which can sometimes take weeks to complete. With glassblowing, you could feasibly create something and then have a client pick it up the next day. I also like the physicality of glassblowing. It's really interesting to watch and I think people really appreciate the end product after they've witnessed a glass artist at work," explains Mark.
From making hand-blown glass items like vases for homes to custom-made globes for businesses and large glass lighting installations for restaurants, hotels and residential developments, Mark has managed to turn his love of glassblowing into a thriving enterprise. Mark also works on custom glass projects and installations for homes, hotels and other businesses and shows his work in art galleries several times a year.
"Generally, I've noticed people really want to deal directly with artists more and more, rather than through a gallery. When you are buying a piece of art, you're actually buying a little bit of that person as well, so it makes sense that people want that engagement," says Mark.
Mark Douglass Design's online presence has gone a long way to contributing to the ongoing success of the business, with his fragile glass art being shipped successfully to customers all over the world.
"I've shipped my work to Europe, America, China, and Hong Kong. These days, people are much more comfortable buying art online than they were years ago," says Mark.
"Because we work with glass we are quite methodical about packing carefully, using lots of padding and ensuring that two items of glass aren't packed sitting against each other. Essentially, the more fragile an item is, the more time you should put into packaging it," says Mark.
Shop Mark Douglass Design online now