Easy Christmas care package ideas to send overseas
Are your loved ones interstate or overseas this festive season? Put a festive smile on their dial with a Christmas care package from the Australia Post Shop that shows how much you're thinking of them.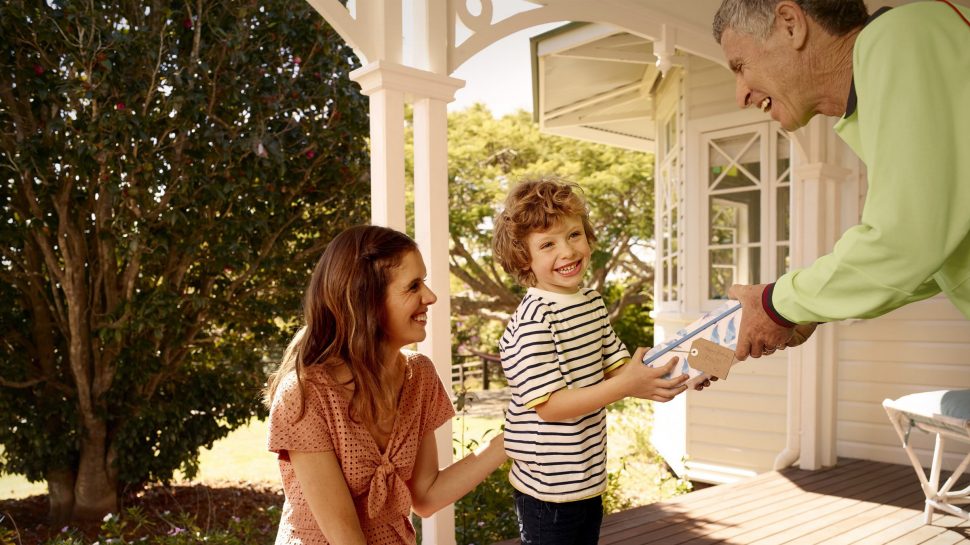 If there's one thing that symbolises Christmas, it's opening gifts together. But, sometimes, it's just not possible. If you can't gather around the same Christmas tree as your loved ones this year, you can still share in the holiday spirit by sending them a handpicked care package.
To get into the spirit of Christmas, why not put together a care package with a curated selection of gifts from the Australia Post Shop? Head into your Local Post Office to check out what's in store or browse the Australia Post Online Shop for the ultimate in convenience. Or, if you're struggling for inspiration, read on for some great gift ideas for all the special people in your life.
Preparing your perfect care package
You know your loved ones best, so you'll no doubt have some ideas about what they'd love to see when they open your Christmas care package. However, a good care package is often made up of some fundamental items.
For example, your care package might include:
A handwritten letter or card
A special treat, such as their favourite chocolates from home or a beautiful body lotion
Something useful, such as a kitchen gadget or eco-friendly shopping bag
Something sentimental, such as a personalised gift made from a special photo
Something fun, just because it's Christmas
If you're a little stuck for ideas, we've chosen some of our most popular gifts for posting. All the things we've selected can be found online at Australia Post and are small and lightweight to help keep your shipping costs down. In fact, you can even find a range of packaging and sending supplies online, too. In just a few clicks, you could have your care package sorted (plus, we offer free standard shipping in Australia for orders $30+!). Take a look at some of our favourite care package gifts below.
Something to make them think of home
If your care package is heading overseas, then be sure to include something from home. If you don't fancy sending a jar of Vegemite or a packet of Tim Tams, then why not find a practical gift with an Australiana theme? This gorgeous botanical printed tea towel by Australian artist, Trudy Rice, could provide the ideal cushioning for other gifts. Or, these notepad and pencil sets by Australian Indigenous artist, Chern'ee Sutton, are great for sprucing up a friend's desk (plus, they're lightweight and sturdy).
Need more ideas? Take a look at some other unique Australian gifts for overseas friends.

Something to make them feel good
A pampering treat is the perfect addition to any Christmas care package. These Nice & Nifty Heatable Slippers are just begging to be slipped onto tired feet after a long day. Few can resist some luxurious hand cream. Or, for something a little more left-field, what about this Mini Massager, ideal for achy shoulders or sore necks.
Something a little more fun
It's always nice to slip something into your care package that will make your loved one smile. It could be something as simple as a snuggly hot water bottle to keep them cosy at night. A fun, fast-paced card game like Avocado Smash. Or perhaps a personalised gift made from a funny photo that will remind them of a special memory that you share.
Getting your care package ready to send
Once you've gathered your gifts, it's time to wrap them and get them ready to send. If you chose that beautiful tea towel mentioned above, you could wrap other gifts in it for an eco-friendly approach to wrapping.
Then, it's time to hit the scales. If your care package comes in under 5kg, you can pop it in one of our If It Packs, It Posts packages for flat rate postage within Australia. For larger items or sending overseas, you can calculate your postage rates here. And to make sure it makes it safely across the seas, consider your tracking and signature-on-delivery options.
Once your Christmas care package is on its way to your loved one, all that's left is to set up a video call so you can open your gifts together.

Create the perfect Christmas care package with Australia Post

From home décor, Australiana-themed goodies, kids' toys and more, check out the Australia Post Shop for all your gifting needs.