Guys, here's the ultimate guide to finding a great fitting shirt
More Australians are turning to online shopping to buy clothes, a quick and easy way to freshen your wardrobe without traipsing to the shops. Without first trying on a shirt as you would in store, making a smooth online buy comes down to knowing your size.

Video: Australia Post logo appears over a white screen.
Text: How to find your find your fit: Men's shirts
Audio: (Upbeat music plays throughout)
Video: Two men, Dalton Graham and Ash Williams, are standing against a white studio background. A rack of shirts is seen to the right of the talent.
Text: Dalton graham, @daltgraham
Text: Ash Williams, @ashwilliams1
Dalton: Hi, I'm Dalton Graham, founder of the tailored man.
Ash: And I'm Ash Williams, founder of Ash Williams.
Dalton: And today, we're going to run you through a few easy steps to find the perfect fitting shirt, online.
Ash: Online.
Text: Grab a tape measure.
Video: Transitions back to talent. Dalton is holding a tailor's tape measure. Ash is holding a builder's tape measure.
Dalton: Firstly, you need a proper tape measure.
Video: Dalton rolls down the tailer's tape measure as Ash extends the builder's tape measure. Ash then tosses the builder's tape measure away.
Ash: I've got my proper tape measure.
Dalton: Mate, that's not going to cut the mustard.
Dalton: We are online shopping, so bear in mind, no matter where you are, measure in both inches and centimetres. You can pick one of these up for a couple of bucks, anywhere.
Text: Measure your collar and sleeve.
Ash: So it's easy enough to measure yourself…
Video: Transitions back to Dalton and Ash. Ash is holding the tape measure.
Dalton: But, it's a lot easier if you have someone to help you.
Video: Ash hands the tape measure to Dalton.
Ash: there you go.
Dalton: First up, we're going to measure the collar.
Video: Close-up shot of Dalton measuring Ash's collar.
Graphic: dotted line points to the tape measure.
Text: Place a finger between the tape and the neck.

Audio: Take the tape measure around the neck, keeping one finger in, which will allow for the perfect amount of space between the neck and the collar.
Video: Transitions to full shot of Dalton and Ash.
Audio: Next up, we're going to do the sleeve length.
Video: Close of up Dalton measuring Ashe's arm.
Graphic: dotted line runs down Ashes arm. Text: tip of shoulder to start of thumb.

Audio: Take the tape measure to the point of the shoulder. And run the tape measure down the arm to the start of the thumb.
Text: Measure your chest and waist
Audio: Next up, is the chest measurement. Now, one key thing to keep in mind…
Video: Close-up of Dalton measuring Ash's chest.
Graphic: Dotted line points to the tape measure.
Text: Under the arms and around the chest
Audio: is wrapping that tape measure under the arms…. And around the chest.
Video: Ash puts his arms up. Ash relaxes and puts his arms down.
Dalton: Mate, put your arms down. And to be relaxed, to find the perfect fit.
Ash: I'm relaxed.
Dalton: Good.
Video: Close-up of Dalton measuring Ashe's waist.
Graphic: Dotted line points to the tape measure. Text: Top of hip bone.
Video: Ash raises his arms again
Dalton: Next, we're going to move to the waist measurement. Wrap the tape measure around the waist, on top of the hip bone, and close to the belly button.
Ash: Dalton, put your arms down…
Text: Check the size chart
Video: Transition to full shot of Dalton and Ash
Text: Shirt styles. Slim fit - Sleek, semi fitted. Tailored fit – tapered, streamlined. Classic fit – traditional, longer cut. Relaxed cut – Loose, generous cut
Ash: Right, so I've got all my measurements…
Dalton: And now we're going to get you to jump online, check all of those measurements back to the size chart as some brands and styles have different fits. So keep that in mind when you do make your purchase.
Ash: These tips are great Dalton. What else do you have?
Dalton: Well, if you do need just a little extra advice for online shopping tips for men, make sure you check out the rest of our guides.
Ash: I will…
Video: Dalton turns and walks off camera to the left. Ash turns and walks off camera to the right.
Dalton: You can do it now…
Ash: Now…
Dalton now!
Ash: Okay
Video: Transitions to white background with Australia Post logo.
Text: auspost.com.au/fitguides
Nailing your size means you'll look good and feel comfy, plus you're less likely to need to return your purchase (still, it's always wise to check the retailer's returns policy before you buy). Most online stores include a size guide on their website. Some use letters (S, M, L, etc.) for their sizing, others numbers such as 36 to 45 (European) or 14 to 18 (US). Whatever the size is called doesn't really matter: all you need to do is match your measurements to their guide to find yours. If you have measurements that sit in between sizes, go up. Once you know your measurements, note them in your phone or computer for future reference.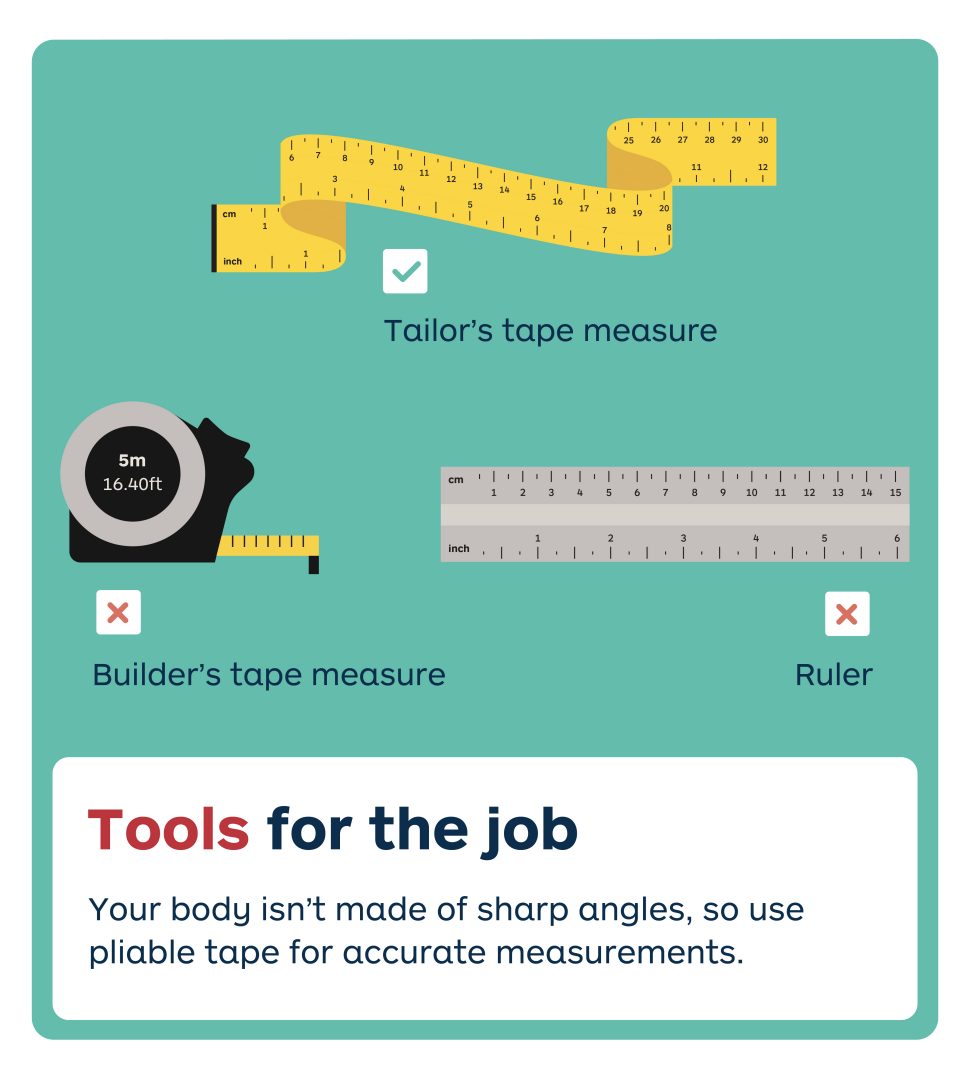 How do I find my shirt measurements?
Those numbers and letters actually refer to the neck measurement (in centimetres and inches, respectively), but size guides usually provide a bunch of other dimensions for reference. The best tool to work out yours is a tailor's tape measure. While it's not impossible to do it yourself, you'll get a more accurate reading if someone pitches in.
Neck
Also referred to as collar size, wrap the tape around your neck where a shirt collar should sit. Slip a couple of fingers between your skin and the tape so you get a comfortable fit that isn't too snug.
Sleeve
Another key dimension, the sleeve, requires two measurements. First, go from the nape of the neck (the middle top of your back, under the hairline) to the outer edge of your shoulder. Next, from this shoulder point, measure down the arm to where the shirt cuff would finish, usually just before the wrist bone. Bend the elbow slightly for this one or you'll end up with too-short sleeves when you move your arms. Add these measurements together for your sleeve length.
Chest
Wrap the tape around your torso, making sure it runs just below the armpit and over the shoulder blades. The tape should go across the widest part of your chest and sit flat on the skin—twists and kinks will give a false reading.
Waist
Find your natural waistline, which is different to where you'd measure the waist for pants. It's the narrowest part of your waist, between the bottom of the ribs and above the hip bone.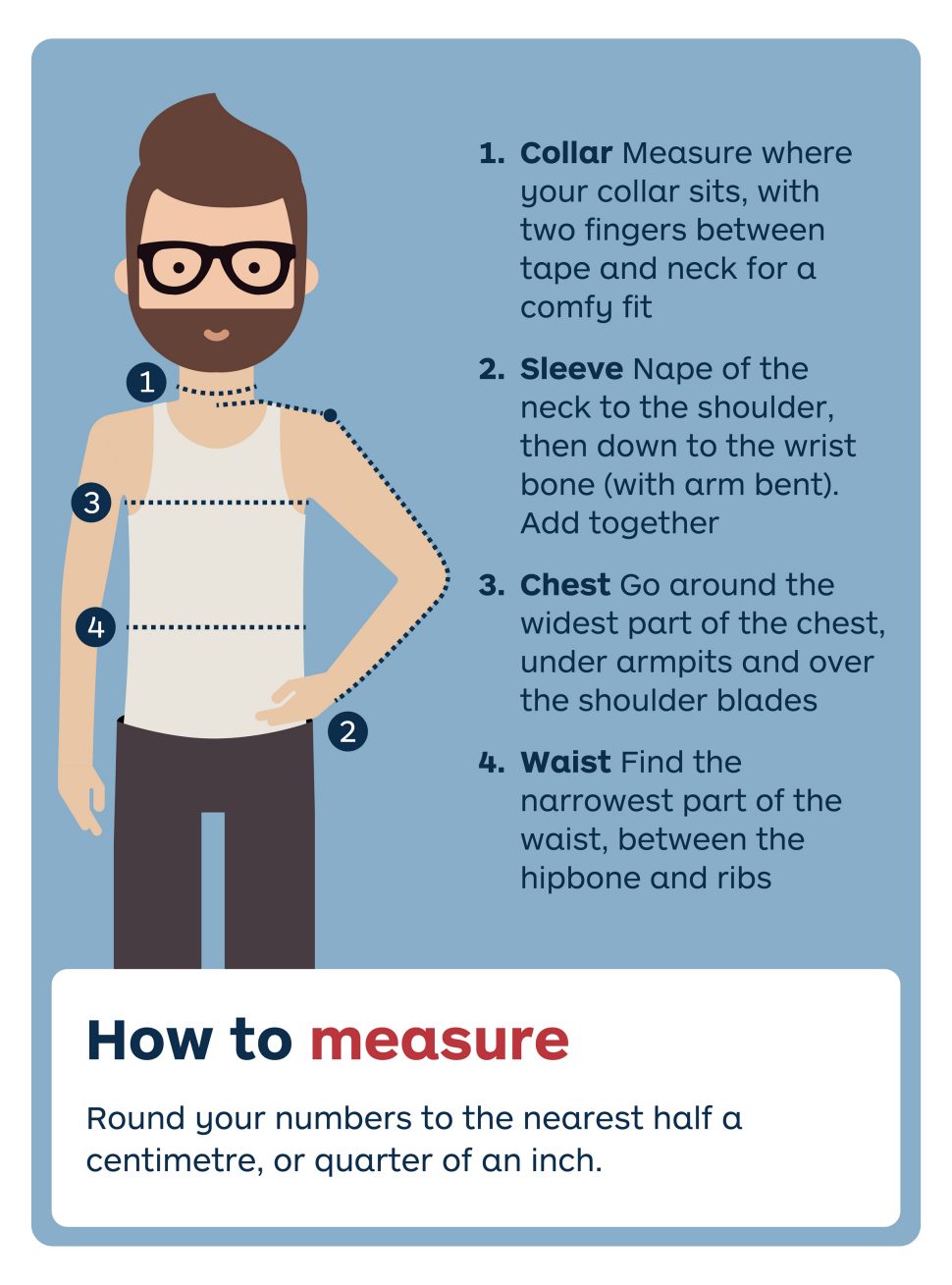 How is the fit of my shirt different to my size?
To understand the distinction, think about size as being about you and your measurements, while fit is about the shirt and how it's cut. So a brand can sell a shirt in your size but offer it in a range of fits.
What else should I look out for when buying shirts online?
Helpfully, online retailers often include other terminologies and information to give clues as to how their clothes fit.
True to size
This phrase means pretty much what it says on the box: the sizing of the garment is typical of the size indicated... so a small is a small, no mysteries.
Runs large
If you're usually, say, a medium shirt and you see these words, the brand is letting you know their clothes are made a little bigger than standard, so you may want to try a small instead.
Runs small
No prizes for guessing that this indicates sizing smaller than standard, so go up a size from what you're accustomed to.
Fabric composition
This is important information many online shoppers overlook. Even if it's the right size, colour and style, fabric will impact how a shirt looks and feels. Is it made from natural fibres (think cotton, wool, bamboo, linen, et al), synthetics (rayon, nylon, acrylic, acetate, et el) or a blend of the two? While 100% natural fabrics are often considered superior for feel and breathability, manmade fibres are added for many reasons: to add stretch (important if you prefer a slim fit and like to be able to move), for durability (synthetics are often stronger than cotton, for instance) or to cut costs. Synthetics have improved greatly since the days of coarse, scratchy polyesters but having a natural fibre component is ideal.
Textile weave
How a shirt cloth is woven is an important detail to consider. A weave such as herringbone (a smooth zig-zag style, sometimes with a slight sheen) looks a little dressier for the office, while an Oxford (basket style weave) is often seen in more casual shirts. Think about the weather also—Oxford is a thicker, warmer weave, while poplin is light and cool. There are many kinds of weave, a quick online search should explain the characteristics of each.
What about those other little details?
You may well think that once you've chosen the correct size, you're happy with the fabric and like the cut, you're ready to head to the online checkout. Not so fast…
It's always a good idea to pay attention to the other details. Shirt collars can vary greatly, from a classic (a safe bet), spread and semi-spread (wider point-to-point), button down (a more casual look), wing tip (a formal style for bow ties) or club (rounded points).
Then there are cuffs, which may be single and fasten with buttons, or double cuffs (also called French cuffs), which fold over and require cufflinks. Some online retailers allow you to personalise these sorts of details or add breast pockets. And really, that all comes down to personal taste and how dressy or casual you want your shirt to be.
Home isn't your only delivery address
With over 4,000 alternative addresses to have your parcel sent to, you can choose a location that's most convenient to you. Choose a free 24/7 Parcel Locker, a Post Office or your PO Box.