Small kitchen storage ideas: 10 ways to optimise space
From decluttering, to creating storage space above the sink or on the walls, here are some creative ways to organise your kitchen.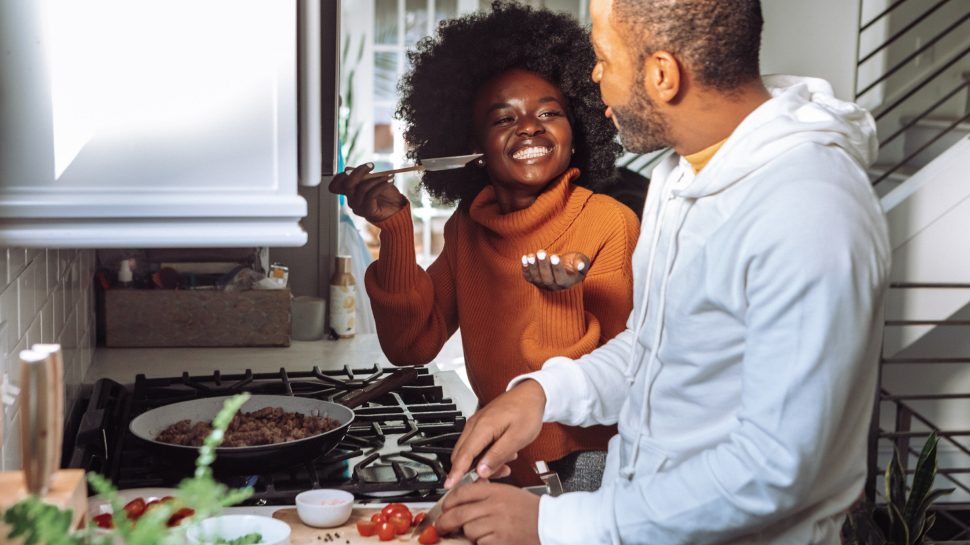 As the heart of the home, our kitchen is often the place we spend the most amount of time. But what if it lacks space? Just because you don't have room for the fanciest appliances, doesn't mean you have to sacrifice style or function. With the right kitchen storage ideas, clever planning and these simple hacks, you can make the most out of your small kitchen. Get some inspiration from these 10 space saving hacks for small kitchens.

1. Declutter and consolidate
Every kitchen needs a regular declutter to consolidate items and free up space. Remove everything from the drawers, cupboards and pantry for a proper spring clean. Say goodbye to anything that is broken, isn't being used or is an unnecessary duplicate of a similar item. If you've somehow managed to accumulate four wooden spoons or two fondue sets, consider donating spare items to charity. If you find yourself only reaching for the same few pots and pans, free up some space by getting rid of the ones that don't get much use.
2. Downsize the pantry
Pantries seem to have a magic way of multiplying items and hiding things in their dark corners. Pull everything out and get rid of items that have expired or been long forgotten. By decluttering and reorganising your pantry you might be able to free up a shelf for other kitchen storage like large pots or appliances on the top or bottom shelf. Read more tips on organising your pantry.
3. Use a bar cart
If your kitchen has a small pantry and you're struggling to make space, consider getting a bar cart for certain items. Look for a small cart to suit your space—it could be wooden, metal, have wheels, multiple shelves or drawers. Use it for items you reach for frequently like olive oil and spices or create a breakfast buffet and use it to store cereals.
4. Try a not-so-lazy susan
A lazy susan, or rotating tray, is a creative way to organise your kitchen. Whether it's in the pantry or a cupboard with hard to reach corners, a lazy susan can make things easier to access. Use a lazy susan for condiments or spices, or stack bowls and utensils in cupboards that are too deep to reach.
5. Turn walls into storage
If you're lacking storage space for utensils, pots or pans, look to the free space on the walls. By using peg boards, Command hooks or magnetic strips, you can free up space in the cupboard by hanging things on the walls. Use magnetic strips for your knives, sturdy hooks for pots and pans, and smaller hooks for utensils like whisks, wooden spoons and ladles.

6. Hang mugs and glasses
Don't let gravity get in the way of your kitchen storage solutions — install hooks and racks to hang mugs and glasses. If your cupboard spaces are tall, you might be able to hang wine glasses from the top and still have room for glasses or mugs below. For shorter shelving spaces, try using small hooks to hang mugs while still leaving space for plates or bowls below.

7. Look for clever ways to stack and store
When it comes to space saving hacks for small kitchens, it can be as simple as finding alternative ways to store items. Wine glasses can be stored alternating the way they're inverted so they sit more snugly together. Stack pots and bowls inside one another and put items that don't get much use on top of the fridge, microwave or tall cabinets.
8. Utilize the sink space
Even the space around your kitchen sink can have potential for storage solutions. If you're lacking in bench space for cooking preparation, get a chopping board that is designed to fit over the sink. If your dish rack is taking up unnecessary space, consider moving it to fit directly over the sink. You can purchase tall dish racks fit for this purpose or buy a unit that needs to be screwed into a wall or shelf. This allows you to do the dishes and let them drip dry directly above the sink. The rack can also double as storage for mugs and glasses.
9. Create more shelving space
If your kitchen is lacking in the cupboard and shelving department, it's easy to create extra spaces with affordable racks and shelves. This will allow you to take advantage of vertical spaces that would otherwise be unused. Stackable storage baskets can be used in cupboards or benches to store produce like onions or potatoes. Wooden or metal shelves can be placed on bench tops to create room for spices, utensils or crockery.

10. Choose the right appliances
The right appliances can be a godsend for a small kitchen. If you're short of space in your kitchen, you might want to choose compact appliances that are versatile and can do the job of multiple appliances. Air fryers and pressure cookers are known for being versatile appliances and could reduce the need for cooking with multiple pots and pans. If you'd like to learn more, we've answered your air fryer questions.

Looking for creative ways to organise your kitchen?

Have a look around the Australia Post Shop for innovative appliances, storage solutions and more. Enjoy free standard shipping on orders $30+.