Surviving winter with easy slow cooked meals
Winter may look cosy and magical on TV but it's rarely as much fun when you're stuck in the middle of it. Warm your winter spirit with this easy slow cooked meal that you can make in the oven or with your pressure cooker.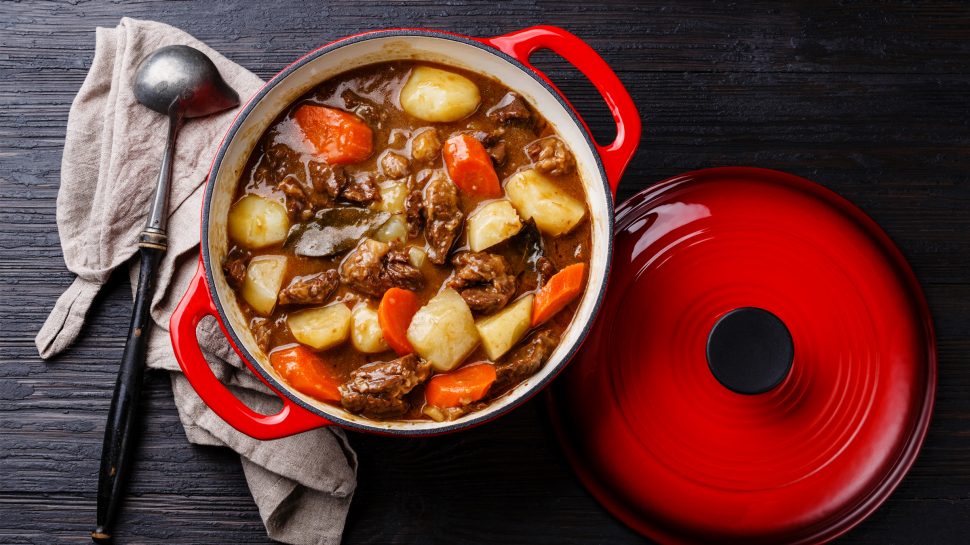 While summer is about salads and BBQs, winter is more about rugging up with your family on the lounge or going to bed early to watch a movie on your laptop. What it shouldn't be about is shivering away in the kitchen after a hard day of battling the freezing temperatures. So, how do you avoid the task of cooking for the whole family on chilly winter nights?
The answer is to whip up an easy slow cooked meal that everyone will love. The king of comfort food, slow cooked meals take longer to cook but require a whole lot less effort. Plus, they require less washing up afterwards than a traditional meat and three veg.
Whether you use a slow cooker, pressure cooker, ceramic or cast-iron cookware, this slow cooked stroganoff recipe will have the whole family wanting more.

Best slow cooker recipe for beef stroganoff
This is the sort of meal you can throw together for when you suddenly remember that parent-teacher meeting tonight that you agreed to a month ago.
Plus, almost everything below can be substituted. No beef? Go chicken or lamb or even goat. Dijon works as well as wholegrain mustard. Passing on the tin of mushrooms isn't a problem either—they're mainly there so you can pat yourself on the back for including a vegetable.
The main thing is, this meal cooks itself and will have you snuggling into your comforter on the lounge before you can say, "I cooked, so you have to do the dishes."
And the best bit? A family of four would probably have enough to enjoy a meal of leftovers later in the week!
What you'll need:
2 tablespoons of oil
1 brown onion
1kg gravy beef or cheap rump
1 tin diced tomatoes
1 tin tomato soup
1 tin mushrooms in butter sauce
4 tablespoons of wholegrain mustard
1 tablespoon of Worcestershire sauce
1 tablespoon of brown sugar
1 teaspoon of salt
1 small tub sour cream
1/2 cup preferred rice per person
Step 1: While the kettle boils, dice the onion and chop the beef into one-to-two-inch chunks.
Step 2: In the slow cooker/pressure cooker/cookware, sauté the onion in oil and then brown the beef.
Step 3: Toss in all the remaining ingredients except the sour cream and rice.
Step 4: Stir thoroughly, put the lid on and leave it to cook for a few hours until the meat is tender.
Step 5: Stir in the sour cream, cook the rice and serve.
 
This article was originally published on 01 June 2018.
Looking to update your kitchen with the latest gadgets?

Browse our selection of small appliances at the Australia Post Shop and enjoy free standard shipping on orders $30+.