Surviving winter with slow cooked meals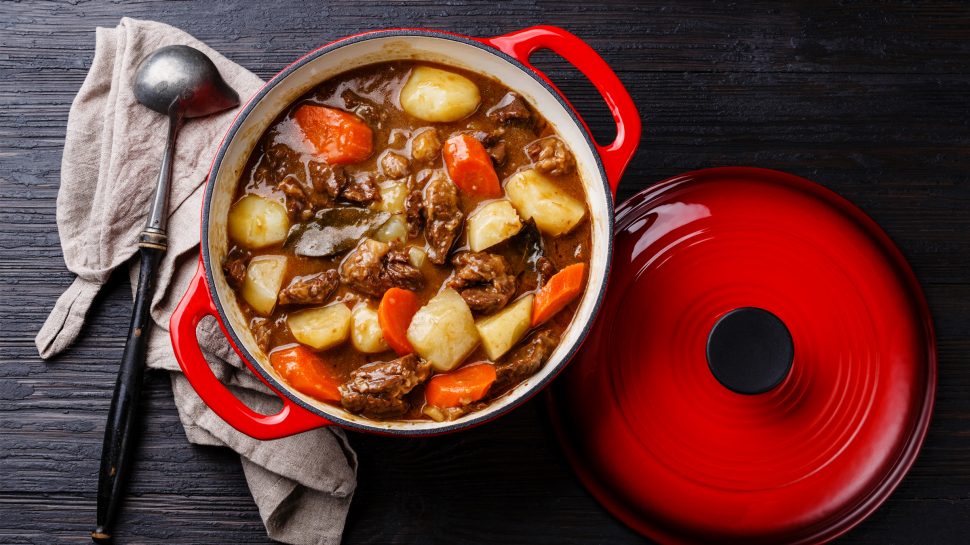 Winter is crisp and brisk, and occasionally joyously white, and absolutely wonderful…to watch other people suffer through on television.
It's rarely as much fun when you're stuck in the middle of it, though. While summer is about salads and BBQs, winter is more about rugging up with your partner on the lounge or going to bed early to snuggle and play with your phone.
What it should not be about is shivering away in the kitchen after a hard day of trying not freeze to death.
So I have a simply scrumptious suggestion. Get yourself a slow cooker. This is it. The epitome of winter cooking. The king of comfort food.
Slow cookers take longer to cook a meal while requiring less effort. Slow cooked meals aren't only the easiest way to feed a family, they also require less washing up afterwards than a traditional meat and three veg.
The only drawback of a slow cooker is how difficult it is to be in the house with it for the time it takes to turn out your meal. It is agony smelling something so mouth-watering which you won't be able to sample for several hours.
One slow cooked meal that rocks my family's collective socks is what I call 'busy day stroganoff.' I suggest you give this jaw-droppingly easy, no-frills, delicious, probably-have-everything-in-your-pantry-already, kid-friendly, wonderful-winter-warmer, yummy-in-your-tummy dinner a red hot go as the mercury drops.
This is the sort of meal you can throw together for when you suddenly remember that parent-teacher meeting tonight that you agreed to a month ago.
Plus, almost everything below can be substituted. No beef? Go chicken or lamb or even goat. Dijon works as well as wholegrain mustard. Passing on the tin of mushrooms isn't a problem either – they're mainly there so you can pat yourself on the back for including a vegetable.
The main thing is, this meal cooks itself and will have you snuggling into your comforter on the lounge before you can say, "I cooked so you have to do the dishes."
Recipe: Busy day stroganoff
You will need:
2 tbsp oil
1 brown onion
1kg gravy beef or cheap rump
1 tin diced tomatoes
1 tin tomato soup
1 tin mushrooms in butter sauce
4 tbsp wholegrain mustard
1 tbsp Worcestershire sauce
1 tbsp brown sugar
1 tsp salt
1 sml tub sour cream
1/2 cup preferred rice per person
How to whip it up:
While the kettle boils, dice the onion and chop the beef into one to two inch chunks. 
In the slow cooker, sauté the onion in oil and then brown the beef.
Toss in all the remaining ingredients except the sour cream and rice. 
Stir thoroughly, put the lid on and leave it to cook for a few hours until the meat is tender.
Stir in the sour cream, cook the rice and serve. 
We're a family of seven so this does us one meal (four cups of rice, because Master13 eats like two professional Sumo wrestlers), but a 'normal' family of four would have enough here to have a meal of leftovers later in the week.


Home isn't your only delivery address
Not going to be home? Choose a free 24/7 Parcel Locker1, a participating Post Office or your PO Box.