Spread the merry with these Christmas decoration ideas to make your home feel festive
Is it time to pull out your box of Christmas decorations? You bet. Spread the merry with these festive ideas for sprucing up your home.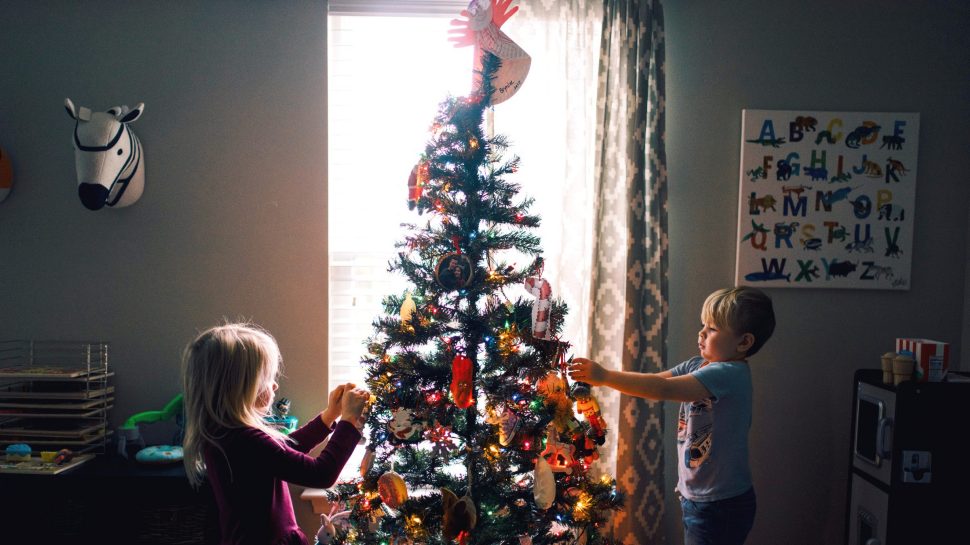 There's something truly special about Christmas decorations. The sweet scent of a fresh Christmas tree. The sparkle and twinkle of fairy lights. The unboxing of treasured family baubles and figurines. It all combines to evoke magical feelings of excitement and anticipation about the holidays ahead.
Some families and households are bound by tradition, pulling out a box of much-loved decorations every year. Others like to refresh their festive vibe with new decorations each time Christmas rolls around. Whichever camp your household falls into, there's always room for some fresh inspiration and ideas.
That's where we come in. Here, you'll find five fabulously festive ways to inject a little magic into your household this Christmas.
First impressions count
The perfect place to start with your Christmas decorations? At the front door, of course. If you're planning to welcome people into your home for festive get-togethers, hanging a beautifully woven wreath on your front door will help set the mood. Plus, it'll make your local Postie smile as he does all those last-minute parcel deliveries in the lead-up to the big day.
You could try making your own wreath using foraged materials from your garden. Or, if you'd prefer a quick, easy and oh-so-pretty option, there's this beautiful light-up star wreath available in the Australia Post Online Shop.

Add some sparkle
We're not suggesting you go all-out Griswold with your Christmas lights (although, this pack of 300 solar LED fairy lights will get you off to a great start). Instead, why not make your living room sparkle with some twinkling strings of light and bright decorations?
These star curtain lights are easy to hang across a mantlepiece or from the rafters, with the twinkling stars making the perfect Christmas decoration. In the weeks leading up to Santa's visit, you could pop these gorgeous light-up gift boxes under the tree, and watch the kids' faces light up in excitement. Or for something super fun and festive, how about this glowing reindeer, which can happily sit inside or outside casting its bright light.

Help others with community baubles
Get into the spirit of giving while you're decorating your Christmas tree this year. Australia Post has developed a stunning range of festive baubles to support each of their community partners—Beyond Blue, Australian Red Cross and the Indigenous Literacy Foundation.
The baubles cost $10 each, and for each bauble sold, $2 will go straight to the community partner.
Featuring designs by Australian artists, each one is a work of art. This year, the Indigenous Literacy Foundation bauble has been created by First Nations artist and author, Gregg Driese; the Australian Red Cross bauble by Jocelyn Proust, and the Beyond Blue bauble by Joanne Everard.

Whip up festive feels in the kitchen
Are you hosting Christmas brunch, lunch or dinner? Then you'll also need to consider your decorations for the Christmas table. The Australia Post Shop has you covered, with a gorgeous range of tableware from Lucy King Design. Find everything from table runners and placemats, to platters and sandwich trays in bright, festive colours.
Even if you're not hosting this year, you can still get festive in the kitchen. Cook up a storm with the kids using this gorgeous apron and baking set, or get creative with this cute Christmas cookie tree making set. Just dig out your favourite gingerbread recipe and start baking.

Wrap it up
Last but not least, don't forget your Christmas wrapping and postage. You can stock up on all the essentials at the Australia Post Shop, including festive wrapping paper, Christmas-themed washi tape, Christmas cards and more.


This year, we've also got a stunning selection of Christmas stamps for all the cards you plan to send to faraway loved ones. Grab a sheet of 10 stamps for $6.50—if you're sending seasonal greeting cards within Australia, it only costs 65 cents per card until the end of December. If you're posting greeting cards internationally, you'll need stamps worth $2.60 per card during the festive season.
With all your decorations, cards and wrapping sorted, it's time to start getting excited about the big day.

Spread the merry with our help this Christmas

Find festive home décor and unique Christmas gifts for the whole family at the Australia Post Shop. Plus, enjoy free standard delivery on orders $30+.