Seasonal style: what to wear on Christmas Day
As an experienced stylist, co-founder of label Andie Kids, Instagram star, and mum-of-two boys; Anna Mac knows a lot about fashion. For Christmas, she lets us in on her top picks for the ultimate Christmas Day outfit, as well as what's in store for summer trends, with all pieces under $100.

Anna Mac is hugely excited about Christmas this year. The personal stylist and co-founder of Andie Kids has two boys who "are at the right age this year to really get Christmas." What that means at Anna's home is essentially getting swept up in a festive whirlwind of family traditions, merrymaking and relaxation.
"We're really going to get into it this year!" she says. "The excitement of living Christmas through my kids is going to be so magical. And I always love getting together with my family."
Christmas preparations usually begin in October for Anna and involves deciding on a theme or colour scheme that will eventually play out over her choice of holiday fashion and décor. Here Anna shares her style guide for the season, her family's traditions and the summer fashion trends she has her eye on.
Before we get into the festive spirit, could you tell us how you found your niche as a personal stylist?
I worked in visual merchandising for a top Australian fashion label which was a lot of fun. After having my boys, I worked part-time styling photoshoots for the label's website. The next natural step for me was to explore personal styling for my own photoshoots, and then take people shopping and helping them style their own wardrobes.
What do you love most about your work?
I love working behind the camera. I'm always keen on picking up each season's trends, playing with the clothes and getting the colours to work well together.
Let's talk about Christmas now. What do your Christmas Day outfits look like this year?
We tend to get a little dressed up on Christmas Day. For me, a summer dress is always best and I've chosen one that will take me through summer at the beach. Polka dots are in trend at the moment and I'll dress it up with a nice pair of shoes.
I also have the second outfit for a summer BBQ which is a white shirt over denim shorts and swimwear. Layer that with gold jewellery and you can't go wrong.
My husband's outfit will likely be a nice polo shirt and a tailored pair of shorts. I usually keep it casual for the kids - a little polo shirt to match their dad and a pair of denim shorts is really cute.

Your other styling passion is home décor. What's your advice on keeping Christmas décor kid-friendly?
I fill a few big clear vases or bowls with Christmas baubles in my chosen colour scheme, like silver and blue or purple and gold, and I place them around the house. They achieve the desired effect without costing too much or looking like a big deal.
I also always use felt decorations for the tree so there's no stress about my children touching it. You can still have some beautiful colours and themes with these decorations. I'll usually buy one or two new pieces to inspire me and then add on to it with what I already have.
Take us through your top fashion picks for summer.
Yellow is huge at the moment and it's really my colour. I like a pale yellow with floral or prints on top of it. I love wearing brightly-coloured frilly dresses paired with sneakers so it doesn't look too girly.
This year I may also look to get a matching top and shorts set which is really in at the moment. Everyone is wearing linen suit sets right now but you can take it into summer with a cute open blazer over a singlet and belted shorts. That's what I'll be wearing.
How does your family celebrate Christmas and get it all running smoothly?
We delegate and keep it simple. When we get together with extended family for Christmas lunch, we all bring a plate so the host family doesn't have a huge job to do. With gifts, we do a Kris Kringle and we set a budget. It can be stressful buying gifts if you have a large family like mine so this makes it easy for everyone.
What's a typical Christmas Day like for your family?
It starts with waking up on Christmas morning and running out to see if Santa has had his milk and biscuits, and if the reindeer have eaten the carrots. Then we open presents under the tree and in the stockings, get dressed and race across to the extended family.
We have a firm tradition of playing my uncle's favourite song 'How To Make Gravy" by Paul Kelly on repeat really loudly throughout the day. He used to put it on to wake us up as kids. We haven't gotten sick of it yet!
Lunch is the main celebration where we do the Kris Kringle and hang out. We also get a homemade or store-bought gingerbread house to smash and eat. This was our childhood tradition that we've now passed on to our kids.
On Christmas night, we'll have a small intimate dinner around a seafood platter. It's all very relaxed. The next day we'll go to the country and start our holiday. We spend at least a week there relaxing. That's what you need straight after a big celebration.
Get your online shopping for Christmas delivered where it suits you
Update your delivery address preferences for free through your MyPost account today.
Christmas home decor shopping guide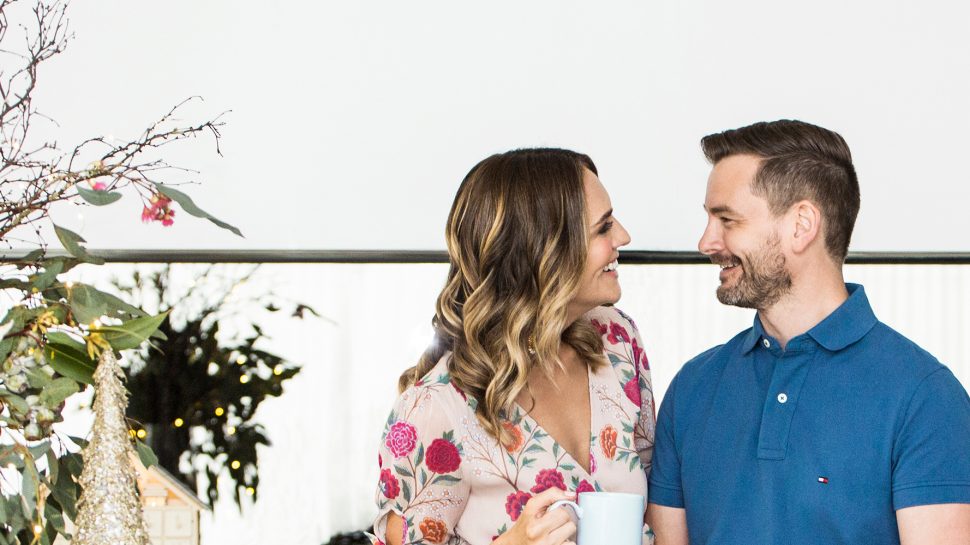 Christmas shopping guide: home décor & entertaining