6 ways to organise your pantry in time for winter
The arrival of winter is the best time for organising your pantry, so your comfort foods are close at hand. Here's our top tips for decluttering your pantry today.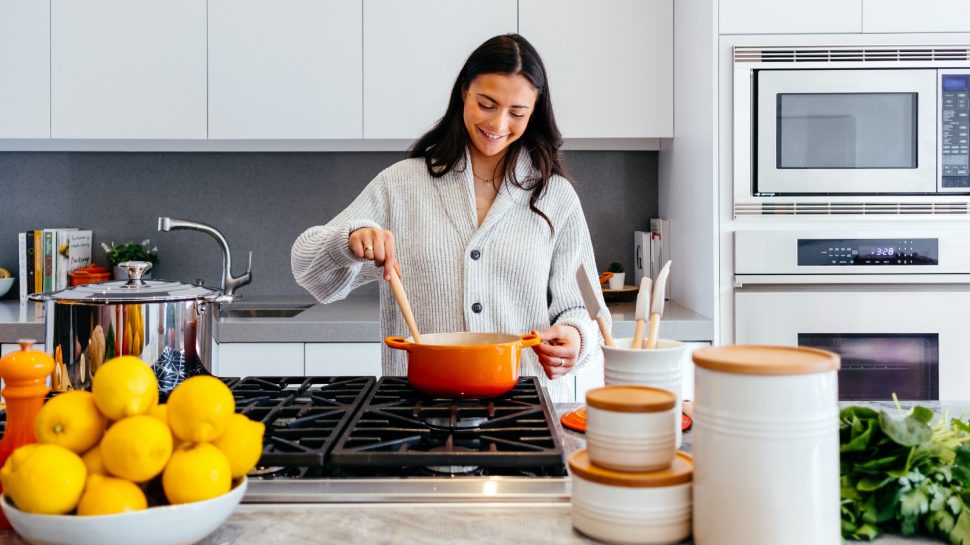 With every new season comes a new opportunity to start fresh and quash old habits—especially in the kitchen. Decluttering your pantry is a necessary step for preparing for the cooler months and with winter right around the corner, it's time to make sure those hearty ingredients are close at hand.
Here's some tips for mastering the ultimate kitchen clean-out, plus a list of our favourite small kitchen appliances from the Australia Post shop for making hassle-free snacks.
1. Start by scrubbing!

Step one in your pantry makeover is to pull everything out and give it a deep clean. Check product expiry dates and consider donating excess canned food to an organisation like OzHarvest. Keep your eyes peeled for pantry moths hidden in packets or jars by looking for spider-like webs. Lastly, wipe shelves with warm soapy water with a dash of vanilla essence for freshness.
To ensure pantry moths don't return, freeze your flour, pasta, rice, and oats for 24 hours before storing in the cupboard. This will kill any weevils that may already be inside the packaging. It's also important to decant any pasta or rice into containers—weevils love the glue used to seal the packages just as much as they like the food.
2. Assess your storage solutions
Now that you've pulled everything out of the pantry, assess what storage you'll need. Look at the categories of food and consider which items you use regularly, and which items can be tucked away. Extra tiered shelves, turntables and clear roller tubs or baskets are a great way to optimise space. 

3. Find good quality jars or containers
Finding the right storage solutions for your pantry will be a game changer. Make sure you're buying airtight containers or jars and look for glass options where possible, as they're more environmentally friendly and durable. Mesh or material bags are another eco-friendly alternative for plastic bags. Take the time to write a list of how many containers you need and what sizes, so you don't have leftover packets of food after you decant into your jars.

4. Label your jars and containers
Labelling is essential to an organised pantry. Buy a label maker, use stick on labels or write directly onto containers with a permanent marker. Make sure you note the expiry date on food too, so nothing goes to waste. Use customisable pantry labels, gluten free pantry labels and herb and spice jar labels. You can also label the food categories on each shelf or basket, so the whole family can put things back in the right place.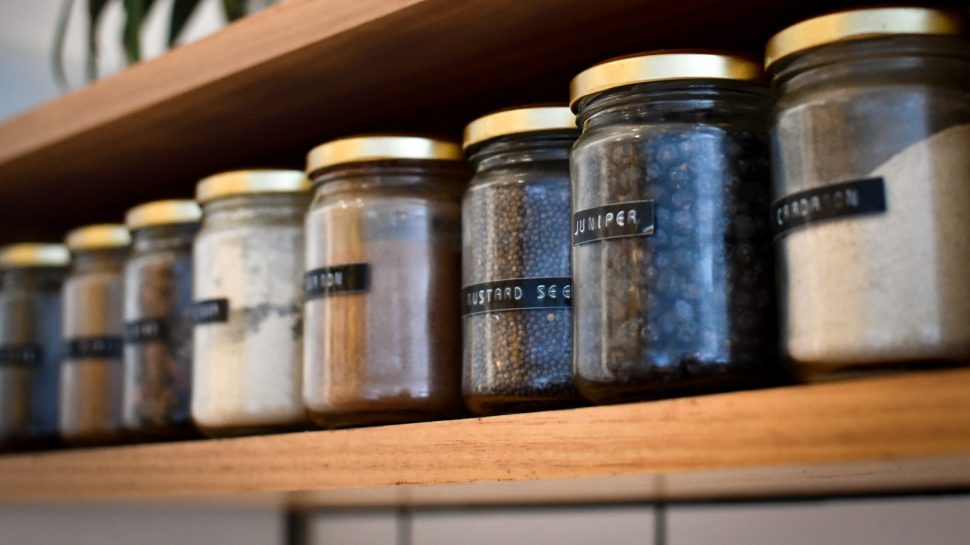 5. Group products together
To make it easier to find what you need, keep your products together. For example, store items like flour, sugar, and cocoa together for easy access when you're baking. It makes it a lot easier to have everything on hand, and then you can easily see what you have run out of. Group all your spices together, too, as well as your canned food and pasta and rice.
6. Put things within easy reach
It may sound simple but put the things you use all the time at a level that's easy to reach. Place lesser used products such as appliances, platters and big dishes on the upper and lower shelves and frequently used products on the middle shelves so you can reach everything easily. Hot tip for parents: put the snacks the kids are allowed on a lower shelf so they can access it themselves.
Our favourite small kitchen appliances
Cleaning out your pantry is a great time to assess which appliances you're getting the most use out of and which ones might be fun to add to your collection. Here are our favourite small appliances from the Australia Post online shop that are perfect for whipping up hassle-free snacks. 
Join the air fryer revolution
If you haven't heard of an air fryer, where have you been hiding? We love this 5L slimline Mistral Air Fryer in white because its longer design means you can cook everything from potato wedges to a whole fish.
A hotdog bar at home
This Mistral Hot Dog Maker is the perfect affordable appliance that'll have you hosting footy nights every weekend. It also includes an egg steamer insert to cook up to six eggs at once.
3-in-1 snack maker
Consolidate your kitchen appliances with this Mistral 3-in-1 Snack Maker. The three interchangeable cooking plates can cook waffles, jaffles and doughnuts, and the removable and non-stick inserts are easy to clean. It'll take your winter snack game to a whole new level. 

Make a carnival out of your kitchen
Nothing beats the nostalgia of good old fairy floss or cotton candy. Whatever you call it, you can make it at home with this Cotton Candy Maker. Just add sugar!

Milkshakes for days
We love the Mistral Milk Shake Maker as it's so compact and easy to clean, you can leave it out on the kitchen bench. It's perfect for protein shakes, or healthy milkshakes with nut milk and fruit.  

Wondering where to buy kitchen gadgets online?

Browse the Australia Post Shop for the latest in small kitchen appliances and enjoy free delivery on orders $30+.