Putting Traditional Place names on mailing addresses makes big impact on Indigenous communities
Richard Brown has spent years sharing his family history through his paintings. This NAIDOC Week, he talks about connecting with the land and sharing country with the rest of Australia by including traditional place names in mailing addresses.

Video: The Australia Post logo sits in the bottom right corner. A canvas is covered with an ornate pattern of concentric circles and other shapes made of hundreds of colourful dots. Text: "Filmed on Wurundjeri & Taungurung Country." A man with a dark beard wears a black and red polo shirt that features the Australia Post logo and the colourful Indigenous decal. He points to the signature and date on the back of the canvas. Text: "Richard Brown, Kaurna & Narungga man, Australia Post team member." Smiling, Richard holds up an unfinished painting.
Audio: Richard: So these are all waterholes, the reflection of the rainbow with the water and the sun's gone on it and reflected the rainbow onto the...onto the water. It was painted by me. I signed it in 2015. That's when I did it. I'm Richard Brown, born in Victoria. But my family's from South Australia. My mob are the Kaurna and the Narungga people.
Video: At a work table in his sunny living room, Richard adds borders of white dots to brown lines curving from a large concentric circle. He points to a large framed painting on the wall that features two hand prints among the elaborate dot design of concentric circles and winding shapes. Richard packs a small well-wrapped artwork in an Australia Post satchel.
Audio: Richard: I paint for myself so that I can give to my family as gifts. And I feel connected. Look, I know that if my aunties, uncles and that, the Kaurna people, and they've seen our place names on mail, I reckon you'd have...probably a couple of them would have a few tears in their eyes.
Video: As Richard addresses a satchel, a large address label is also filled out onscreen:
Mr A Sample
Wurundjeri Country
1 Sample Street
MELBOURNE VIC 1234
Audio: Richard: When sending a parcel with the Traditional Place Name, you put the name of the recipient, the Traditional Place Name, then you put the address, then it's ready to go.
Video: Richard smiles at the camera. Holding the parcel, he leaves the house.
Audio: Richard: They've been fighting for a very long time and it's a step forward. It's a recognition towards the mob.
Video: On a red screen, the Australia Post logo appears above the text "auspost.com.au/traditionalplacenames".


Richard Brown grew up with little connection to his Indigenous roots apart from his mother and his traditional name, Kartammeru, which means firstborn son. Then in his teenage years, he ran into a few cousins at a party. That unexpected meeting introduced him to a vast Kaurna and Narungga family circle in South Australia.
"I began making regular trips from Victoria to South Australia to see my elders, and each time I'd return with a migraine from the information overload," says Richard. "I was born and raised in Victoria but I feel at home in South Australia. My mob, my people and my ancestors are there. That's what it means to have connection with the land and country."
Richard lost his mother in 2001. To cope with the grief and depression, he sought refuge an old hobby – painting. Initially he planned on painting fridge magnets and jewellery to sell at local markets. But when that didn't ignite a spark within him, he decided he would paint just for himself.
Through his paintbrushes, Richard turns into a storyteller who weaves his family history and narratives into works of art. It's his way of staying connected to them, and especially to his mother. It's important.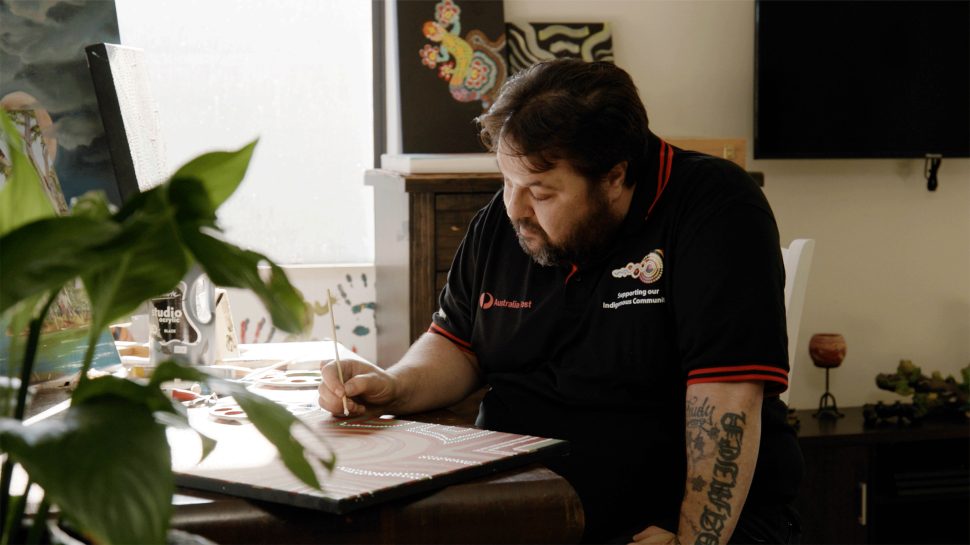 Sharing country with the rest of Australia
Another thing that is important– not just to Richard but to Indigenous communities across Australia – is the recent inclusion of Traditional Place names in mailing addresses.
What started as an idea last year by Gomeroi woman, Rachael McPhail, has resulted in Australia Post updating its addressing guidelines to include Traditional Place names and now the launch of updated packaging to include Acknowledgement of Country and a dedicated Traditional Place name field in the address panel.
Richard doesn't hold back his enthusiasm for this initiative. "It's an awesome concept! I live in Taungurong Country but if you walk down my street, I can tell you that not a single person would know that's its traditional name. So this a big step forward for Indigenous people and a stepping stone towards sharing our culture with the rest of Australia."
To find an area's Traditional Place name, Richard suggests getting in touch with Aboriginal and Torres Strait Islander Land Councils or Cultural Centres in your locality or checking the AIATIS map which shows the general locations of larger groups of people. Then write the Traditional Place name between the recipient's name and their street address.
Richard says, "It would be a proud moment for my aunties and uncles to receive mail from me with our country on it. I reckon a couple of them would have a few tears in their eyes. It'll hit them in the heart to see country being shared properly this way."