Knowing Naarm: introducing the Traditional Place name of Melbourne
As a Senior Wurundjeri (wuh·ruhn·juh·ree) Elder of the Kulin (cool-in) Nation, Aunty Joy Murphy is thrilled that Melbourne's Traditional Place name—Naarm (nar-m)—can now be used when addressing letters and parcels through Australia Post.

Video: A bearded man wears a shirt with an Aboriginal design, traditional white paint on his face and arms, and a feathered headband. He stands by a stone wall with a view of the Brisbane River and the skyscrapers beyond.
Audio: Man: This place? This is Meanjin. On Yuggera Turrbal Country, it means the spearhead in the Brisbane River.
Video: A woman with greying hair and glasses stands overlooking the Yarra River in Melbourne. A train trundles across a bridge. The dome of Flinders Street Station stands tall near Federation Square.
Audio: Woman: This place is Naarm. In Woiwurrung Ngulu, it means 'place'.
Video: A man with a grey beard and hair stands by Sydney Harbour, the bridge and opera house in the background. He rests his hand against the trunk of a large tree, then gazes out over the shining harbour. Looking up at the tree's broad canopy, he laughs.
Audio: Man: This is Gadigal. It comes from the word 'Gadi', our name for the grass trees we use to make weapons.
Video: Darwin buildings are decorated with murals. On a broad beach, a burly man rests his hand against a rocky cliff face. His other arm is missing from above the elbow. His feet leave deep prints in the golden sand. He runs sand through his fingers. Standing under the bright sun, he spreads his arms wide.
Audio: Man: And this place here is Gulumoerrgin. It's a Larrakia word for 'our land'.
Video: A young dark-haired woman emerges from a Magpie Goose store and spreads her arms wide. Her pink dress is printed with First Nations fish designs. Colourful clothes in First Nations designs are displayed on shelves and racks. Clothes are packed. The Australia Post label includes "Quandamooka Country".
Audio: Woman: We want to live in a country that honours and celebrates our First Peoples. Using Traditional Place names is one way to do that.
Video: In a back room for Clothing the Gaps, a First Nations T-shirt is packed. The address label includes "Wurundjeri Country". Staff carry sacks of parcels to a waiting Australia Post driver. A woman wearing First Nations clothes and accessories holds up a cloth that's printed with Traditional Place names.
Audio: Woman: Next time you're sending a parcel with Australia Post and you're writing down the Traditional Place names, what you're actually doing is you're acknowledging and you're paying respect to the true custodians of this country, the Aboriginal and Torres Strait Islander people.
Video: A young dark-haired woman wears socks decorated with a stylised Aboriginal flag. First Nations campaign slogans decorate her shorts and posters on the walls. She clicks her heels. A First Nations man with curly grey hair grins. A wide range of products featuring First Nations designs are taken from shelves and packed. The address label includes "Gadigal Land." The man holds up a sign that reads, "Welcome to Country".
Audio: Man: Because Australia Post acknowledges Traditional Place names all around Australia, it allows language and culture to be brought in to people's everyday lives.
Video: In a large store, a young dark-haired man wears a T-shirt emblazoned "House of Darwin". He points to a shop sign. Merchandise features the words, "You are on Larrakia Land," or a map of Australia with a smiley face filling the Northern Territory. Skateboard decks are decorated with First Nations art.
Audio: Man: We celebrate First Nations people through everything that we do. House of Darwin is all about storytelling, so you might see on all of our T-shirts different graphics and iconography that we pull from different stories around the communities and then portray over different garments.
Video: Text on a red screen reads, "To learn more about Traditional Place names, go to auspost.com.au/ourplace."
Audio: Voiceover: Embrace your place. Australia Post. Delivering for all Australians.
Video: The Australia Post logo appears above the words, "Delivering for all Australians."
The significance of the Traditional Place name, Naarm
"In the Woiwurrung (woi-a-rung) language of the Kulin nation, Naarm means 'place'," explains Aunty Joy Murphy. It signifies that the area was an important meeting place for the language groups of the Kulin nation, a collective of five Aboriginal clans: Wurundjeri, Boonwurrung (boon-wuh-rung), Wathaurrung (wo-thuh-rong), Taungurung (tan-a-rong) and Dja DjaWrung (jah-jah-rong).
The Kulin nation has inhabited the area for around 40,000 years, and prior to colonisation, was a nation of more than 20,000 people.
Aunty Joy was born in Healesville and her family has always called Wurundjeri land their home. In fact, she proudly carries the legacy of her great-great uncle, William Barak, who served as the last traditional Ngurungaeta (na-run-getta) or head man of the Wurundjeri-Willam clan.
An officer of the Order of Australia and honorary professor at Swinburne University, Aunty Joy is often called on to give the traditional Welcome to Country at many events and to many distinguished visitors. For her, having Traditional Place names acknowledged on Australia Post letters and packages is special.
"It means so much to our community, for who we are, and where we come from," says Aunty Joy. "I applaud Australia Post. It makes me feel so proud, so happy. And with their distribution everyone will know about our Traditional Place names around the world."
"Being able to see Traditional Place names and learn them gives us our right of identity here in Naarm—we want people from wherever they come from to understand that we have a belonging."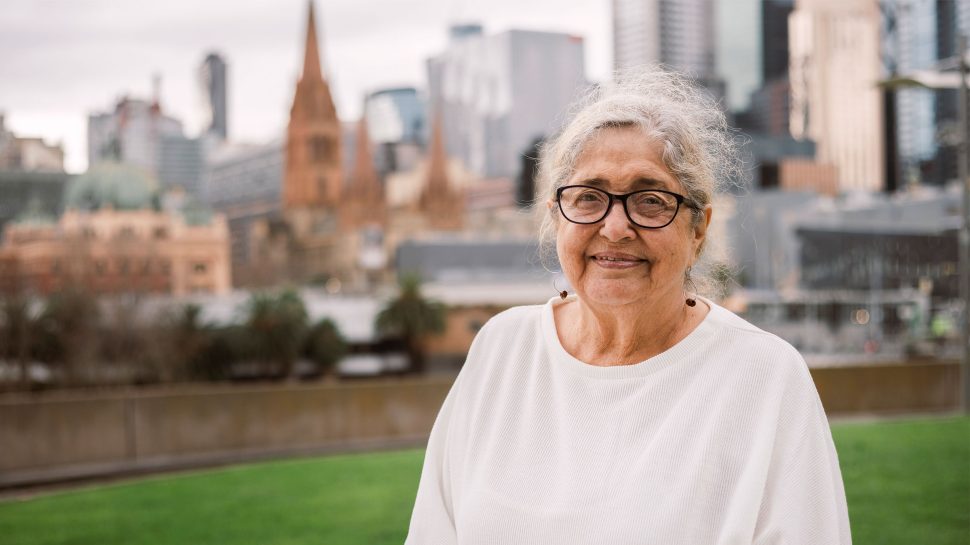 Introducing Traditional Place names at Australia Post
In November 2020, Australia Post made a significant stride during NAIDOC Week by revising the addressing guidelines to incorporate Traditional Place names. This progressive move aimed to recognise and honour the enduring connection between Indigenous Peoples and the land they inhabit.
After Gomeroi (guum-a-roy) woman Rachael McPhail advocated for the inclusion of Traditional Place names in mailing addresses on various social media platforms, an overwhelming response of interest and support from the general public followed suit.
To build on this important initiative, Australia Post has created an empowering video on what Traditional Place names mean to Indigenous peoples—in their own words.
The video features Indigenous Elders, like Aunty Joy, as well as Indigenous community leaders and business owners, sharing and celebrating Indigenous language and inspiring everyone to use Traditional Place names.
For Aunty Joy, having all Australians use Traditional Place names when addressing letters or parcels through Australia Post is an acknowledgement of the past and the future.
"Reclaiming traditional language is an honour," says Aunty Joy. "An honour that we're giving back to the ancestors when they spoke their language forever."

Embracing the movement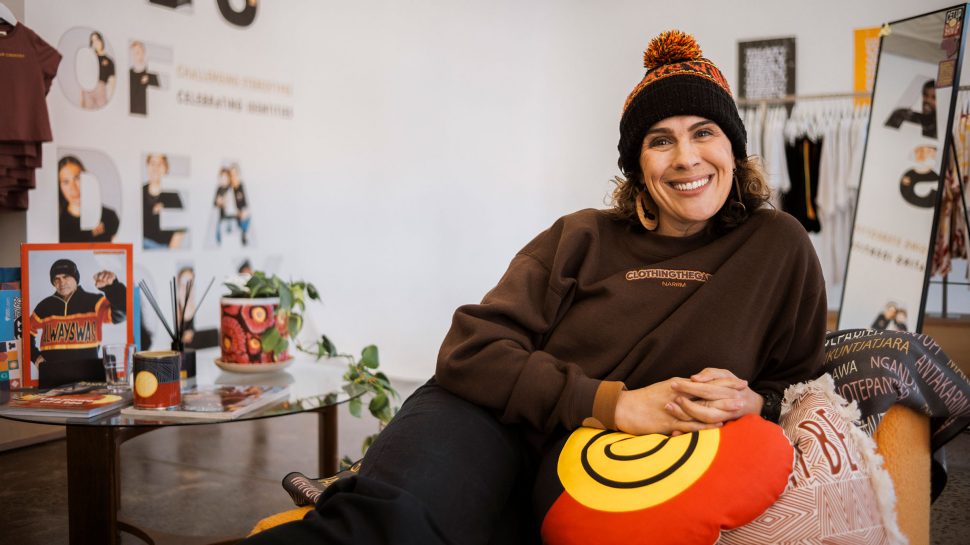 For Laura Thompson, proud Gunditjmara (goon-dich-(uh)-mah-ruh) woman embracing Traditional Place names is a no-brainer. Laura is also co-founder of Aboriginal-led and controlled, and majority Aboriginal-owned social enterprise, Clothing the Gaps.
A dynamic fashion label located in Naarm that celebrates Aboriginal people and culture, Clothing the Gaps has a huge online business which uses Traditional Place names in packaging every day. But Laura has seen more people, businesses and organisations embracing the practice.
"We write on parcels and we send letters every day, and the mere act of just acknowledging the Traditional Place is one way to start the truth-telling process and recognise the First Peoples as the true custodians of this country," says Laura.
"There are more and more people choosing to use not just Traditional Place names but also traditional names of spaces like lakes and rivers and mountains and other areas."
For Laura, embracing the use of Traditional Place names strengthens the country as a whole.
"Aboriginal language is in our everyday vocabulary. That's a great thing. There are over 250 language groups in this country, and the more we start to use and include them in everyday language, the better Australia will be," she says.
"This is part of the reconciliation in this country. And it's a simple act. I think this is a great thing that we can do for future generations."
Embrace your place: start using Traditional Place names on your parcels today
To find an area's Traditional Place name, check the map on the AIATSIS website or get in touch with Aboriginal and Torres Strait Islander Land Councils or Cultural Centres in your area.

Using Traditional Place names

Here's a handy guide to addressing mail and parcels with Traditional Place names.