Magpie Goose: Why all Australian businesses should send mail using Traditional Place names
Aboriginal owned social enterprise Magpie Goose empowers Aboriginal artists and their communities through textiles and fashion. Owners Amanda Hayman and Troy Casey are celebrating First Nations culture by using Traditional Place names on their parcels and encouraging others to do the same.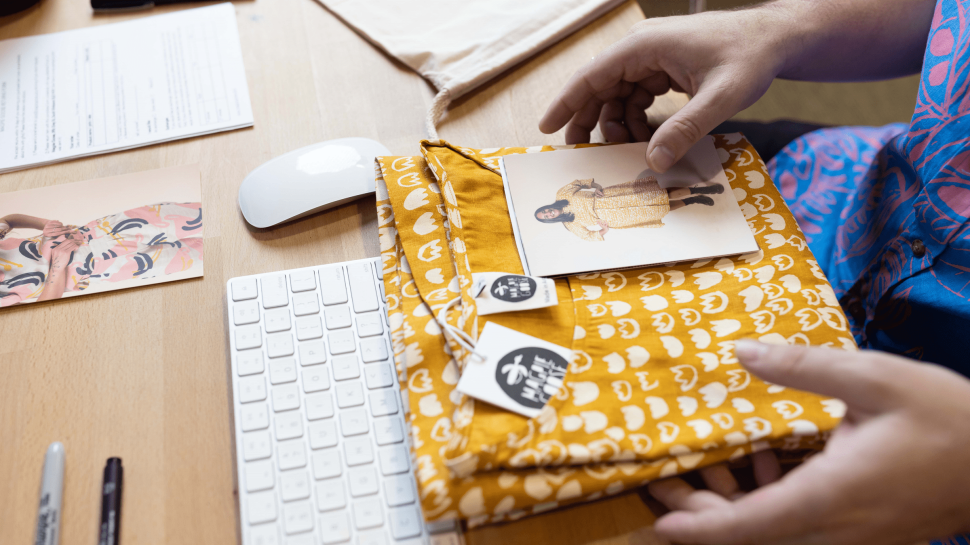 Fashion brand Magpie Goose has been collaborating with remote Aboriginal communities across Australia since 2016. Their vibrant and contemporary clothing designs bring Aboriginal culture and their stories to the broader community. With each fabric commissioned and designed by Aboriginal artists, Magpie Goose co-owner, Troy Casey, tells us that the clothes become a vehicle for conversation and change.
"By people wearing it, they often engage in conversation with others in the broader community about that story, about that place, and about that artist. It's bringing remote Australian Aboriginal stories to the forefront through fashion," Troy says.
Magpie Goose has proudly incorporated Traditional Place names in their online shop – encouraging further conversations and acknowledgement of First Nations culture. 
Magpie Goose – a social enterprise at heart
Synonymous with Aboriginal culture, co-owner Amanda Hayman says that Magpie Goose is community-focused. "We are about supporting and empowering our community and we try to scaffold as many development opportunities as possible."
For each collection, Magpie Goose introduces Aboriginal artists to fashion and the plethora of career pathways within the industry. This includes running educational textile design workshops and teaching the whole process – from design to production, photography, marketing and sometimes even small community fashion parades.
"We keep building their skill set with ongoing engagement. These skills are transferable, and each opportunity builds confidence through new experiences," Amanda says.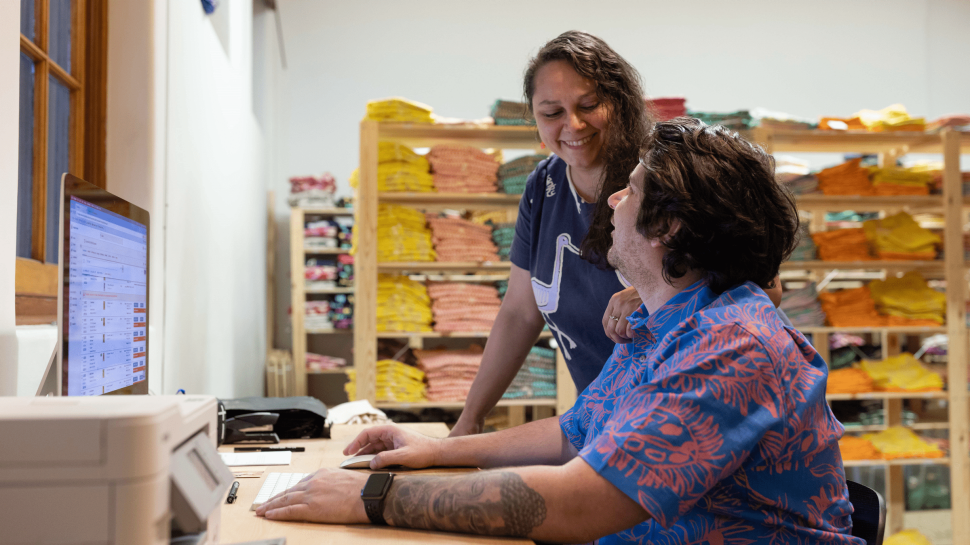 Making an impact on Aboriginal Communities
By reinvesting profits into the business and paying the artists' copyright fees, Magpie Goose is driving change through economic outcomes and opportunities. 
"Financial stability, even in the short term, is really important – it can create other positive outcomes and changes in people's lives," Troy says.
With the payment for their designs, Troy has seen artists purchase simple items with the money that we take for granted such as a fridge, washing machine, or car – items that have made a massive difference to their own health and wellbeing, as well as their families and children.
The other big contributor to social and emotional wellbeing is pride in culture. "Pride in who you are and where you come from is something that is hard to measure, but one of the things that we think is making the most change," he says.
Starting a conversation with Traditional Place names
Following a campaign by Gomeroi woman, Rachael McPhail, Australia Post has proudly updated its addressing guidelines and launched packaging to include Traditional Place names. Magpie Goose was an early adopter, promoting it on their online shop and parcels, and helping other business owners and customers to follow suit.
Troy explains that using the Traditional Place name on parcels may prompt someone to do some research and spark a conversation with family or friends.
"It's all about starting a conversation... the more we talk about this stuff, the more opportunity the nation has to change. These little things may seem insignificant but can have a huge impact."
Pride and culture
As an Aboriginal business owner, Amanda believes that: "Using Traditional Place names instils a sense of pride in our culture, and recognition and acknowledgement of all of the traditional owners around Australia." Sending out Magpie Goose parcels every day, Troy says: "When we print out the labels, we get to see all the different [Aboriginal] countries these parcels are going to around Australia. Every time you read one you're thinking, that mob is being acknowledged in some way, shape or form right here, right now, on that label. As little as that might seem it's a step in the right direction."
Amanda adds that it also gives the opportunity for whoever's sending or receiving the parcel, "just to stop and think about where we are and the history of this country as well. It's good to remember that this place had a name before Brisbane, and has a history longer than colonisation. Also that people are still custodians of country regardless of whether it's now a city or not, Aboriginal people still have a connection to and a responsibility for country."
Magpie Goose's customers have responded with lots of positive feedback. "It's another way for our customers to show their respect and their allyship," Amanda says.
Troy adds, it's a great opportunity to find out the Traditional Place name and learn about the traditional custodians or the name of the traditional owners. "It's a great starting point for a lot of people," he says. "Next time you're filling in one of the mailers, jump on Google and find out. It's that easy!"
This article is proudly published as part of our NAIDOC Week coverage. When addressing your next parcel, check out our addressing guidelines. Shop the collection at Magpie Goose online store.

We acknowledge the strength and resilience of Aboriginal and Torres Strait Islander peoples, communities, and our commitment towards a united and reconciled Australia for all.