Why we're delivering millions of free postcards to households across Australia
To help people look after their mental health and wellbeing, Australia Post is proud to partner with Beyond Blue to distribute prepaid postcards encouraging connection and raising awareness of mental health services.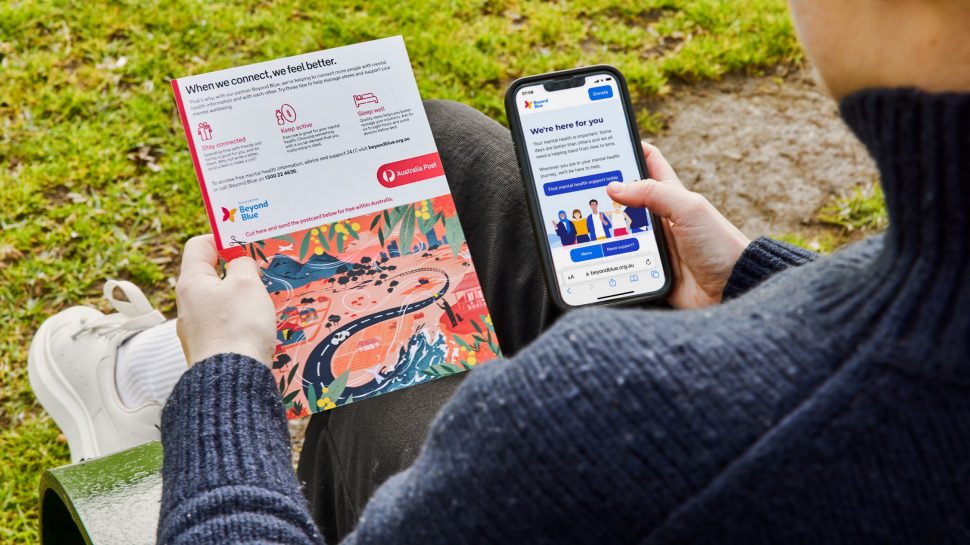 Australia Post will distribute four million prepaid postcards to regional households in Australia to help combat loneliness.

If a 'ding' on your phone is known to give you a little hit of dopamine, then what about a hand-written note in the post? Sending a postcard or a letter to someone is a great way to lift their spirits.
Yet, sadly, postcards and personal letters are few and far between in most letterboxes. Posties slip plenty of bills and business mail through letterbox slots, but not enough handwritten notes.
Australia Post and Beyond Blue want to change this. It's why, for the past few years, we've been running a postcard campaign. "It all started during the lockdowns in 2021 in a bid to help address the growing mental health crisis in Australia. We wanted to use our national network to connect more people with mental health information," says Jessie Downs, Community Relations & Partnerships Manager, Australia Post. "Based on the wonderful feedback we received that year, we decided to keep it going."
In September, four million postcards will be distributed to regional households in Australia. The postcards contain two parts. The first includes mental health tips and strategies from Beyond Blue that anybody can apply to their everyday lives. The second section is detachable—it's a beautifully illustrated, prepaid postcard that people can use to write a thoughtful note to someone they hold dear.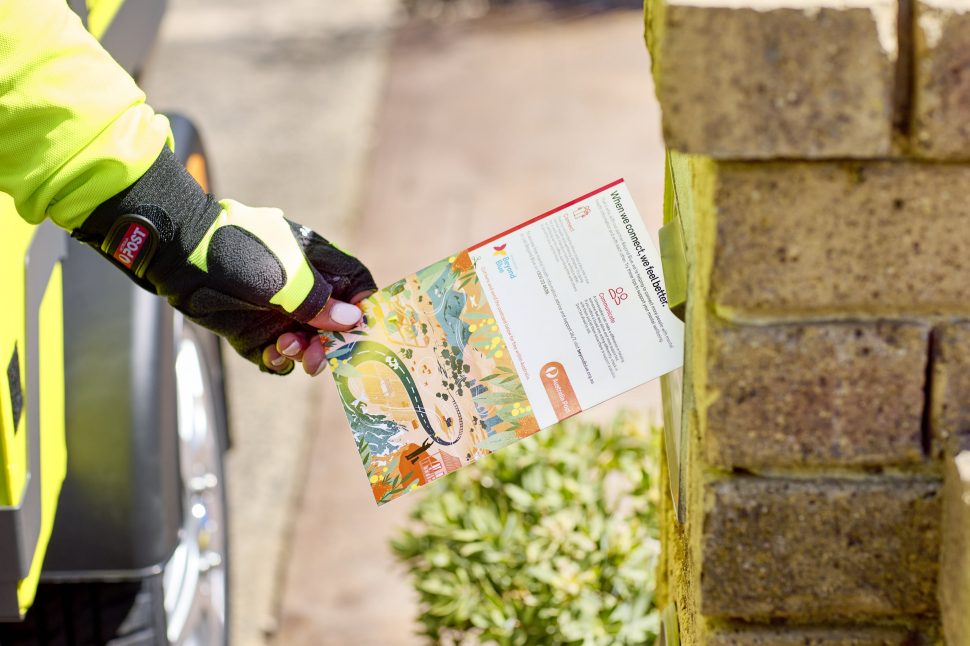 The postcards include mental health tips and strategies to help all Australians.

Forging impactful connections
Sending postcards like the ones supplied by Australia Post and Beyond Blue isn't just a nice thing to do. It leaves people with a positive glow. Last year, 73% of those who sent the card to others felt that it had a very positive effect on their own wellbeing.1
Tim Hoopmann, a volunteer Beyond Blue speaker, says the postcards bring real joy to people. "In the middle of lockdown, I got to my mother's house and there were two Australia Post/Beyond Blue postcards. One was from my sister-in-law, checking in with Mum to see how she was, and the other was from a very good friend of Mum's who she hadn't heard from in about a decade. My mother was so excited to be reconnected with someone she hadn't spoken to in a very long time," he says.
Helping to overcome loneliness
As humans, we're wired to connect. From saying hello to someone at work, to waving to our postie, to bumping into a friend on the train—small moments like these all add up, helping us forge connections that make us feel good. And, as many of us experienced during the Covid-19 restrictions, the opposite can have a detrimental effect.
According to data from the State of the Nation Report – Social Connection in Australia 2023 (PDF 7.9MB), almost one in three people in Australia experience loneliness, while people in rural areas are more likely to feel lonely. Loneliness can affect your mental health, leaving you more prone to anxiety or depression, not to mention other physical impacts.
Dr Grant Blashki is a GP, associate professor at the University of Melbourne and lead clinical adviser at Beyond Blue. He says that, during times of loneliness, we can get caught up in common thinking errors of mind-reading and self-criticism. "Loneliness also has quite significant impacts on physical health, including higher rates of high blood pressure, heart disease, obesity and more hospital admissions."
It's no wonder, then, that it can feel like our bodies crave connection. Even brief moments of connection can go a long way towards making people feel valued. You can learn more about this in Beyond Blue's Connections Matter booklet (PDF 13MB).
Who will you send your postcard to?
If you live in regional Australia, watch out for a postcard in your letterbox soon. Take note of the mental health advice on the top half, then detach the bottom half to pen a note to someone you haven't spoken to in a while.
For those who don't receive an Australia Post/Beyond Blue postcard this year, why not pull out a piece of paper and a pen, and sit down to write a letter to a loved one? For inspiration, read author Isobelle Carmody's musings about the joy of letter writing and think of the joy and sense of connection you'll forge with whoever you're sending it to. Or, revive the art of letter writing with the kids for a fun afternoon activity.
You can make a donation to Beyond Blue at any Post Office.
We're delivering the goods for mental wellbeing across Australia
Together with our community partner, Beyond Blue, we're helping to deliver mental health information to millions of households across Australia. Learn more about our partnership and how you can access mental health resources and support.