"I'm part of a community": When PostPride joined Beyond Blue in the Mardi Gras Parade
Australia Post's first foray into the Mardi Gras Parade was proudly alongside our partner Beyond Blue. We speak with participants from PostPride about dancing with Buddy the community van down Oxford Street and how Beyond Blue supports the LGBTQIA+ community.

Jade, Mark and Alison from Australia Post's PostPride community at the Mardi Gras Parade.
When our partner Beyond Blue invited members of PostPride to take 15 spots in their Mardi Gras Parade float, the excitement level around the office was intense. Knowing how important the mental health service is to the LGBTQIA+ community added another layer to the possibility of being in the iconic event.
But that excitement was nothing compared to the vibe on the night itself.
A dream come true being part of the Mardi Gras Parade
Australia Post team member Mark Polchleb says Mardi Gras was an important influence on his early years. "Growing up, I was a closeted teen for many years. I used to watch Mardi Gras on TV and see thousands of people who are like me – and that helped me feel like I'm part of a community. Now, with the opportunity to be in the Parade, I hope that other kids are watching – if they aren't quite comfortable yet being who they are, they can see people who used to feel like that too."
This sense of connecting with community is why Mardi Gras is so important to Mark. "It's a celebration of likeminded people who feel like they're part of something because they're together."
At the Parade, Mark and other PostPride members joined Buddy, the iconic Beyond Blue community van sponsored by Australia Post, and more than 60 volunteers dancing their way along Oxford Street as part of the Beyond Blue float.
For Mark, taking part in the Parade alongside Beyond Blue holds a special meaning. "Mental health support and the LGBTQIA+ community go hand-in-hand, and need to always go hand-in-hand. The fact that there are so many young LGBTQIA+ people in the community who suffer daily just because they identify in that way is astonishing. To be on a global stage with Beyond Blue is pretty special; what they do for the community is fabulous."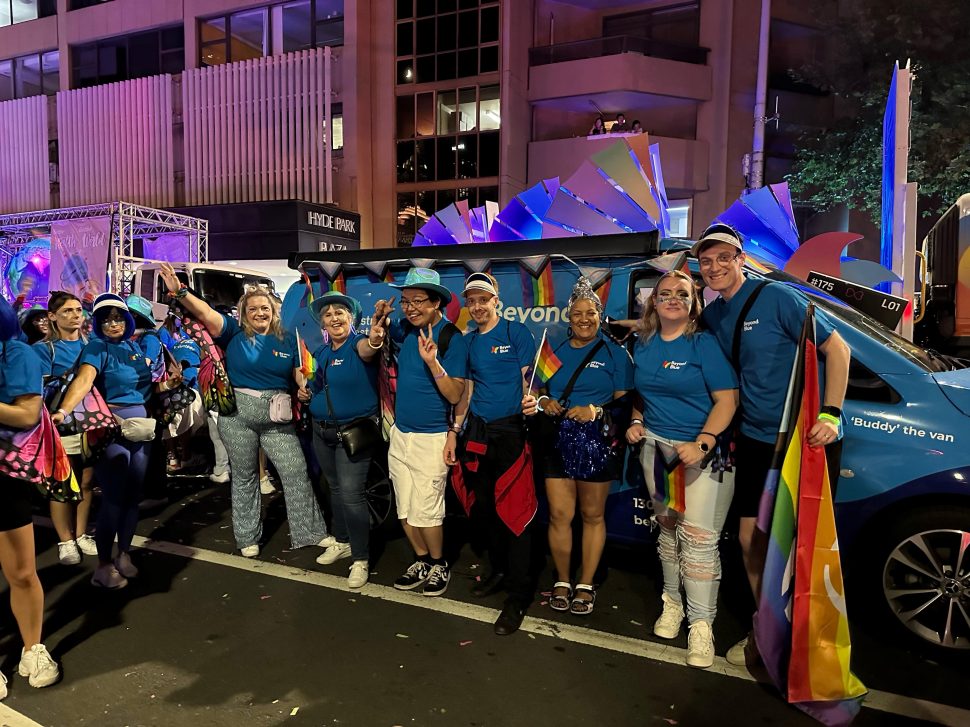 PostPride joined Beyond Blue's community van, Buddy, at the Mardi Gras Parade.

A once-in-a-lifetime opportunity for members of PostPride
PostPride, Australia Post's community for LGBTQIA+ team members and allies, provides an important opportunity to connect with likeminded people. The initiative includes online catch-ups for team members around the country, in-person events (like being part of the recent Midsumma Pride March in Melbourne) and access to the Rainbow Peer Support Group.
Mark says that being part of PostPride means he feels more supported at work. "It means there are familiar faces, so if I ever need to reach out to someone, I have an instant connection with them because we're part of the PostPride community."
Alison Oblak, who describes herself as an ally to the LGBTQIA+ community, is taking part in the Mardi Gras Festival with PostPride and Beyond Blue because she believes it's important for allies to be there. "It shows other people who are more passive with their allyship how important it is to show up for the LGBTQIA+ community, whether they're family, friends or colleagues," she says.
"It's important to show that you support them, that they can be themselves around you. And the more allies who can show that support, the more comfortable and safe people will feel to be themselves."
This support is being shown on the global stage at Mardi Gras, which filters back to the effect of having a community like PostPride at work.
"Since PostPride marched at Midsumma, we've had more and more enquiries from people wanting to be part of PostPride and reaching out for resources they can put in their facilities to show they're an inclusive place," Alison says. "We're on a really good track. I think PostPride does a good job of trying to make sure that people have support if they need it."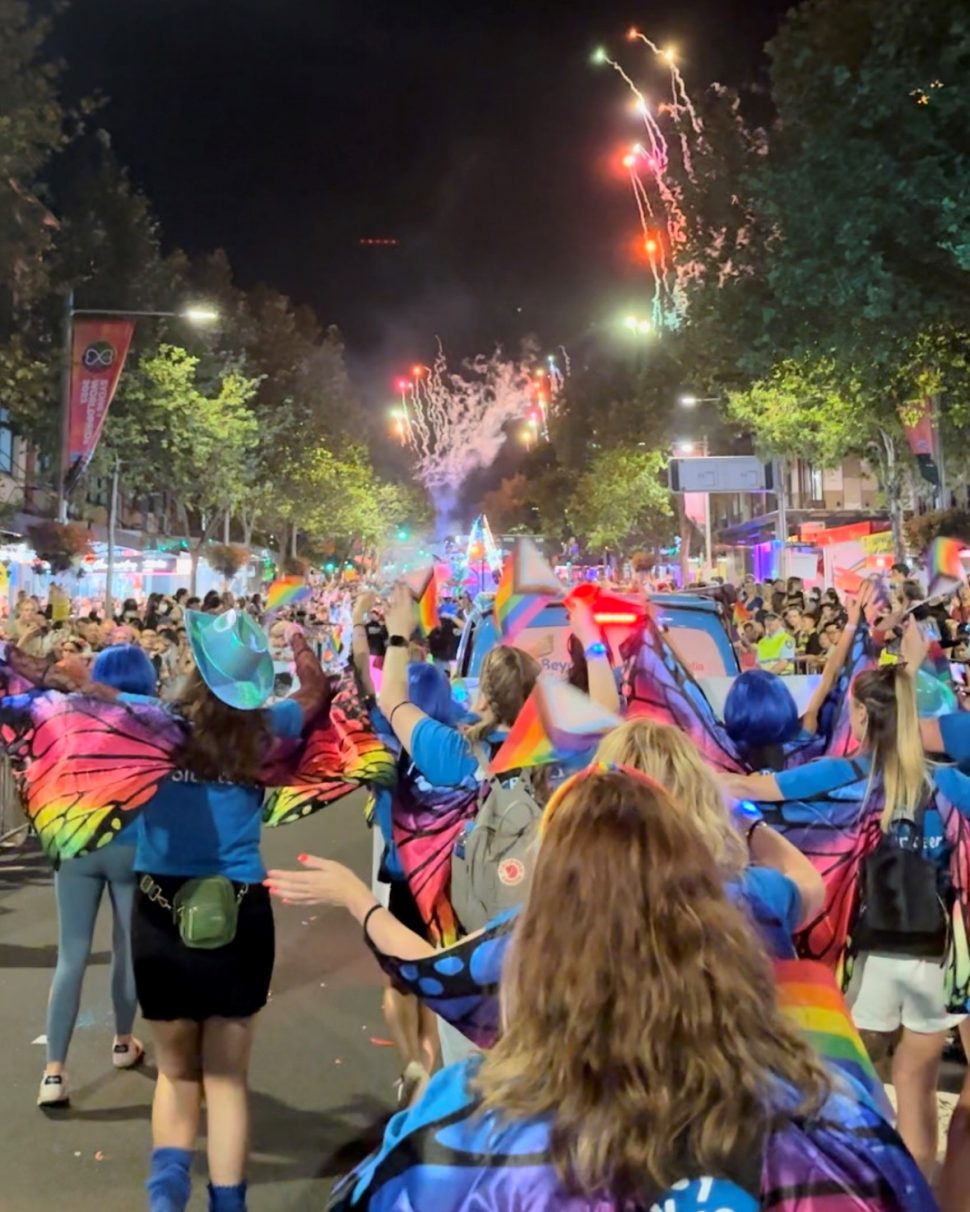 An inside look at the Mardi Gras Parade.

Why Beyond Blue supports the LGBTQIA+ community – and how to get support if you need it
Patrice O'Brien, Chief Community Officer at Beyond Blue, says, "We know the majority of LGBTQIA+ people lead happy, healthy and fulfilling lives and we recognise and celebrate their strength and resilience and diversity. But we also know from research and from real life experiences that people in these communities have an increased risk of depression, anxiety, substance abuse, self-harming and suicidal thoughts."
New research from Headspace shows that young LGBTQIA+ people are more likely to reach out to a mental health service than to their family or friends when they need help.
Patrice explains, "That means services like Beyond Blue are vitally important, and it's critical that people in the LGBTQIA+ community know we're a safe space. And we know that being at events like Mardi Gras is a really great way for us to remind people of that."
"We want people to reach out and seek help as early as possible," Patrice says. "When they see us at events like Mardi Gras and then feel empowered to make contact with us, that absolutely cements that it's important for us to be there.
"We want you all to know that we're here for you."
If you need to reach out, get in touch with the Beyond Blue Support Service, seek support from other community members in the Beyond Blue forums or contact other LGBTQIA+ support services. 
Australia Post is proud to support our partner Beyond Blue. Together, we aim to connect more people with mental health and wellbeing resources and services, and each other—because when we connect, we feel better.