Stu founded a local Rainbow Peer Support Group for LGBTQIA Employees, and then took it Australia-wide
Stu founded a local Rainbow Peer Support Group, and then took it across the nationwide Australia Post community. He now hopes it inspires other organisations to support their LGBTQIA+ employees.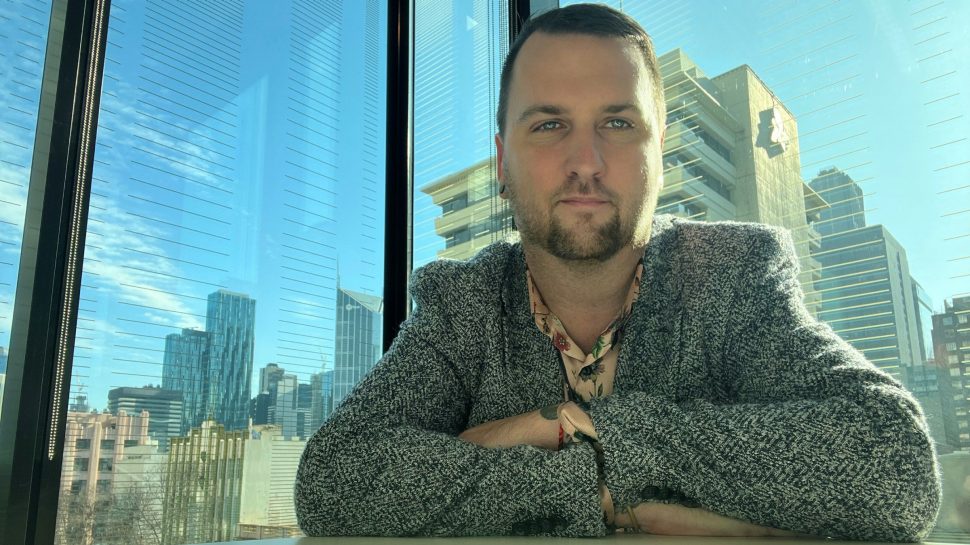 Stu Reynolds was chatting with a colleague when the idea for the Rainbow Peer Support Program came to him.
"It was like a penny-drop moment: why does the business not have this?" says Stu, a senior manager in Australia Post customer services. "It was a moment in time when we thought about it, realised there was nothing like this available, and decided to do it. It needed to happen."
The Rainbow Peer Support Group is an Australia Post initiative that provides support to employees who identify as LGBTQIA+. Employees can contact someone in the peer support team, knowing that these are safe people to discuss likeminded issues with. The peer support team's role is to listen, and then refer the person to other services where needed.
The conversations had in peer support cover a range of issues. "We've spoken to people who are transitioning and want to change their workplace bank details, so we advise them on how to do that," Stu says, "and we've helped people whose children have come out to them, giving them advice on what to do, human to human."
Creating an Inclusive Environment for LGBTQIA+ Employees
Support for employees all around Australia
Established two years ago, the Rainbow Peer Support Group began in Australia Post customer services. But it didn't stay small for long: when Stu approached the Group Communications team about his idea, the initiative was quickly implemented across the entire organisation.
The peer support team of six community members and allies are now able to be contacted by the whole Australia Post workforce of more than 64,000 people.
"We've made this peer support available to the entire country, by either our phone numbers or a centralised email address where people can contact us confidentially," says Stu.
The idea to take the Rainbow Peer Support Group nationwide came from an understanding that those in regional areas may not have the same levels of support services available as those in capital cities.
"Australia Post has a very unique position in this country, with retail and delivery networks scattered right across the country to make us available to every household, so it was a no-brainer to extend this out to the wider business," Stu says.
"Australia Post is everywhere, and LGBTQIA+ people are everywhere."
Diversity & Inclusion in the workplace - The benefits of peer support
Peer support is not designed to provide professional help, but a casual conversation with people who need a little support. This is generally recognised to help people feel accepted and improve their wellbeing.
"We are not counsellors. You are approaching a mate in a safe space to have a conversation about an issue, knowing there's confidentiality and no judgement," says Stu.
He is proud that the Rainbow Peer Support Group is helping people who identify as LGBTQIA+, whether it's a big issue or a seemingly small thing. "These can be very sensitive topics for people to talk about. If someone doesn't understand something or is stuck, giving them the thing that gets them out of the rut and moves them to the next step, that's what it is for me. It's all about kindness."
An organisation where everyone is included
A leader in promoting an inclusive workplace, Australia Post has four core values, known as TIES. The 'I' stands for inclusivity and the 'S' for safety, both of which fit with the aims of the Rainbow Peer Support Group.
Stu says that having the idea implemented across the organisation has been one of the greatest achievements of the Rainbow Peer Support Group. "It's up and running, it's being promoted and is clearly visible, and every employee across the country knows about it."
This promotion happens through the Australia Post intranet, OurPost, which includes a dedicated page about how to contact the Rainbow Peer Support Group. The group also sits alongside the PostPride network of LGBTQIA+ employees and allies, showing Australia Post's long-term commitment to inclusion.
"This purely demonstrates that Australia Post is diverse and accepting, and they value their employees enough to put something like this in place and to market it the way they have," says Stu. "It's an inclusive workplace. We (the LGBTQIA+ community) are at the table saying this is important and our people need this."
Having worked with Australia Post for more than eleven years, Stu says this is the latest step in the organisation actively encouraging employees to bring their whole selves to work. "Every year I've been here, I've seen them do more and more in this space, which is phenomenal to see."
But the Rainbow Peer Support Group doesn't stop evolving here. Stu has a vision for the service to grow, with more people volunteering to be part of the peer support team in order to increase access around the country.
He also hopes it inspires other organisations: "I'd love for other people to take this idea back to their own workplaces. There is a need in many more places for this type of thing."

Join our inclusive team today
Our diverse and inclusive workplaces bring out the best in our people. We're all ages, genders and abilities, and we come from all walks of life. That's how we deliver for Australia—together.