Four ways Mitcham Charity Knitters are changing lives through the power of knitting
With a little help from an Australia Post grant, the Mitcham Charity Knitters are busy making blankets, beanies, scarves, mittens and clothing for people in need. Here are four ways this local organisation is making a difference, one stitch at a time.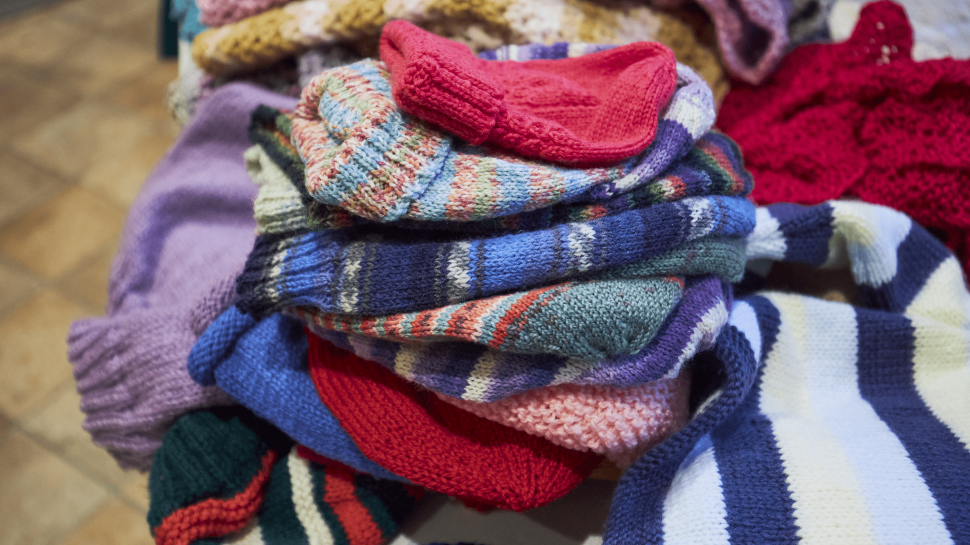 Community members, including Maria Tessari, were joined by only one other person on their first knitting night. Since then, Mitcham Charity Knitters has grown to a group of dedicated knitters who get just as much out of their organisation as those who receive their knitted goods.
Maria Tessari is part of our Australia Post team, working at the Customer Contact Centre Southern and she knows first hand how a grant can power a local organisation like Mitcham Charity Knitters.
They'll use the grant to purchase yarn to create adult booties, mittens, scarves and beanies for the vulnerable community members. Here are four ways this local organisation is making a difference, one stitch at a time.
1. Keeping the homeless warm this winter
With the help of an Australia Post grant, Mitcham Charity Knitters are knitting pairs of adult booties for people who seek shelter with Whitehorse Winter Shelter. They'll also be knitting mittens, scarves and beanies for Eastern Emergency Relief Network, a community-based organisation that supports Indigenous Australians, refugees and those who are struggling due to long term illness, unemployment, homelessness, domestic violence or lack of family support.

2. Supporting kids in need
The versatile nature of knitting combined with the skills of the Mitcham Charity Knitters means they can craft just about anything for someone in need. In 2022, with the help of their grant, they'll continue to support an organisation that provides backpacks for children who are displaced due to domestic violence. The knitters will craft baby blankets and cot blankets to be added to the backpacks.
3. Knitting a tight community
While the Mitcham Charity Knitters continue to support a range of charities, the members seem to get just as much out of the group as they put in. For most, the group has a range of benefits for members' social and emotional wellbeing including a sense of inclusion, community and safety.
"Many people are on their own and Mitcham Charity Knitters allows them to meet up as a group and make new friends, overcome anxiety and also give them comfort knowing they have one or twenty people they can lean on in times of stress," says Edith Wanko, Mitcham Charity Knitters Assistant Director.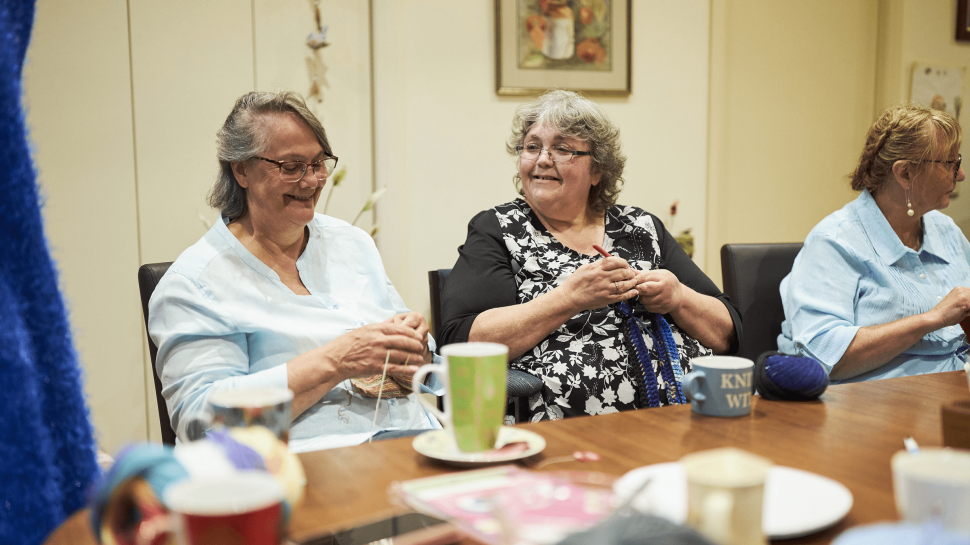 4. Tapping into the therapeutic power of knitting
For some, the benefits of knitting run deeper than the social opportunities it provides. Maria reflects on the therapeutic powers of knitting and says the group has had benefits for people who have gone through trauma.
"Knitting and crochet have been proven to be a therapeutic hobby. And especially for people who have gone through trauma — PTSD, ADHD — and they take it up and use it to focus a lot more. And I've found out that there's a lot of ex-defence people who have come back from Afghanistan or Vietnam, and they've taken up crochet to help them with their life," says Maria.
Not only is knitting and crochet a mindful craft, the added aspect of doing something for someone else is an honour for the Mitcham Charity Knitters. "For me to give that little bit of time to make another person happy and comfortable in their life is nothing to me," says Maria.

Connecting local communities
Our people are passionate about helping local organisations make a difference, and our People of Post Grants program supports the community projects that our people are passionate about.