How Hairdressers With Hearts is making a difference one haircut at a time
With a little help from an Australia Post grant, local organisation Hairdressers With Hearts is providing hairdressers and barbers with resources to support clients in domestic and family violence and elder abuse situations.

Warning: this article may be emotionally confronting to some readers.
Being a part of every community means we understand the importance of connecting and supporting one another in local communities. So, we were proud to award an Australia Post grant to Hairdressers with Hearts after Ingrid Gardner, an Australia Post team member nominated the organisation.
Hairdressers With Hearts has tapped into the power of the safety zone that is a hairdresser or barber's chair. The local organisation is using their Australia Post grant to produce resource packs for hairdressers and barbers, extending their reach and helping more Aussies communities. But that's not all - from connecting people with resources to building stronger communities, these are all the ways Hairdressers With Hearts is making a difference, one haircut at a time.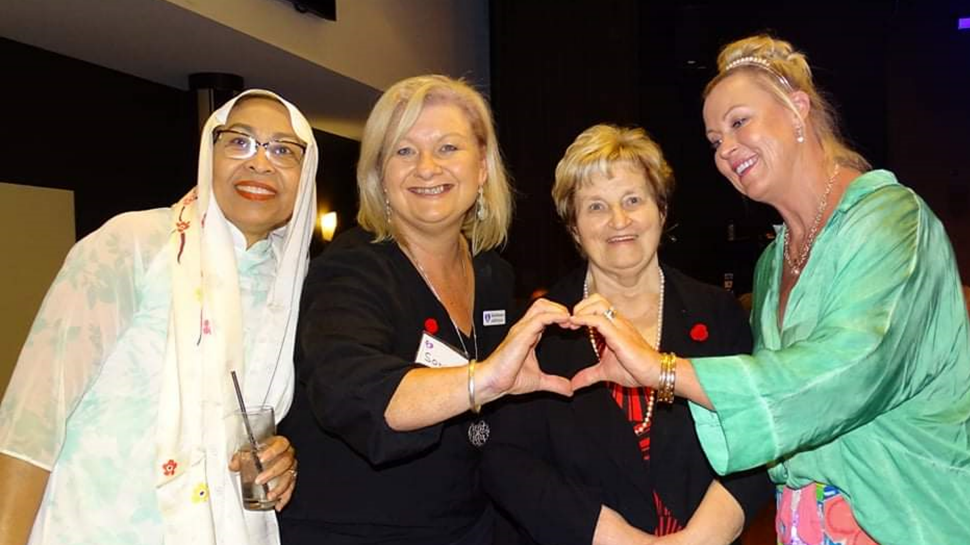 Harnessing the power of hairdressing salons
A country free from domestic and family violence or elder abuse is both everyone's right and everyone's responsibility. But where do you start? Hairdressers With Hearts founder Sonia Colvin started where she knew best, the comfort of her hair salon in Bribie Island. From there she's been able to grow a community, raise awareness and empower hairdressers and barbers to support their clients. 
Hairdressers and barbers have long been known for their ability to create a safe place for clients to open up, connect and share while getting a haircut. Hairdressers and barbers are frontline in the community, reaching people in a casual environment, having intimate conversations with clients on a regular basis.
The Hairdressers With Hearts online training course equips hairdressers and barbers to better support people who may be experiencing domestic violence, and connects them to professional help. When asked about the power of hairdressers, Sonia explains, "I think the most important thing is that we're a comfortable environment."
Crossing cultural and socio-economic barriers
The success of Hairdressers With Hearts stems from the simple fact that everyone needs their hair cut. The organisation has the ability to cross cultural and socio-economic barriers because hairdressers are a part of all communities. For people who have experienced domestic violence, family violence or elder abuse, being able to speak to someone in their own language can be the difference between them choosing to seek help or not.
"When you look at domestic violence, it doesn't discriminate. You could be the wealthiest or the poorest. It doesn't matter what nationality, what culture you are," Sonia says. That's why she's campaigning to make the Hairdressers With Hearts training a compulsory module for all apprenticeships.
Reaching those who need support
While Hairdressers With Hearts is thoughtfully designed to reach people of all genders, the ingenuity of the program lies in its ability to create a network of connections that reaches all community members experiencing domestic violence, family violence or elder abuse.
Sonia says "It's not always the person sitting in your chair that you're helping. It could be the grandmother [of a victim] and I'm giving her the right phone numbers to help [her granddaughter, for example.]"
Elder abuse can take many forms, including financial, physical, psychological, emotional and sexual abuse, or neglect. Sonia says, "The mobile hairdressers, they're going into the homes of the elderly and the disabled, they are reaching some of the most vulnerable and the most at risk. I think mobile hairdressers are probably one of the most powerful."
With the program extending to over 66,000 salons across the country, there are certified hairdressers and salons reaching people in every state. 
Supporting hairdressers
The Hairdressers With Hearts training takes into consideration the role of the hairdresser and the toll their empathetic role can take. The training now includes a module on self care that teaches hairdressers about compassion fatigue and vicarious trauma.
Sonia says the importance of hairdressers being armed with a proactive solution is significant for their mental health. "I've recognised the signs and [they] can go and get help. I'm not taking it on board anymore," says Sonia.

Connecting local communities
Our people are passionate about helping local organisations make a difference, and our People of Post Grants program supports the community projects that our people are passionate about.

If this article has raised any issues for you there are services which can help. Here are some organisations you can speak to:
Beyond Blue – Trained mental health professionals available 24/7. Call 1300 22 2636 or visit the Beyond Blue website.
Lifeline – 24/7 crisis support and suicide prevention. Call 13 11 14 or visit the Lifeline website.
Kids Help Line – 24/7 phone and online counselling service for young people aged 5 to 25. Call 1800 55 1800 or visit the Kids Helpline website.
1800 RESPECT – National sexual assault, domestic family violence counselling service. Call 1800 737 732 or visit the 1800 RESPECT website.
Bravehearts - Counselling and support for survivors of child sexual abuse. Call 1800 272 831 or visit the Bravehearts website.