Dr Dinesh Palipana OAM shares the pearls of wisdom he's learnt on his journey
Dr Dinesh Palipana OAM, the 2021 Queensland Australian of the Year, reflects on keeping an open mindset and squeezing every drop out of life.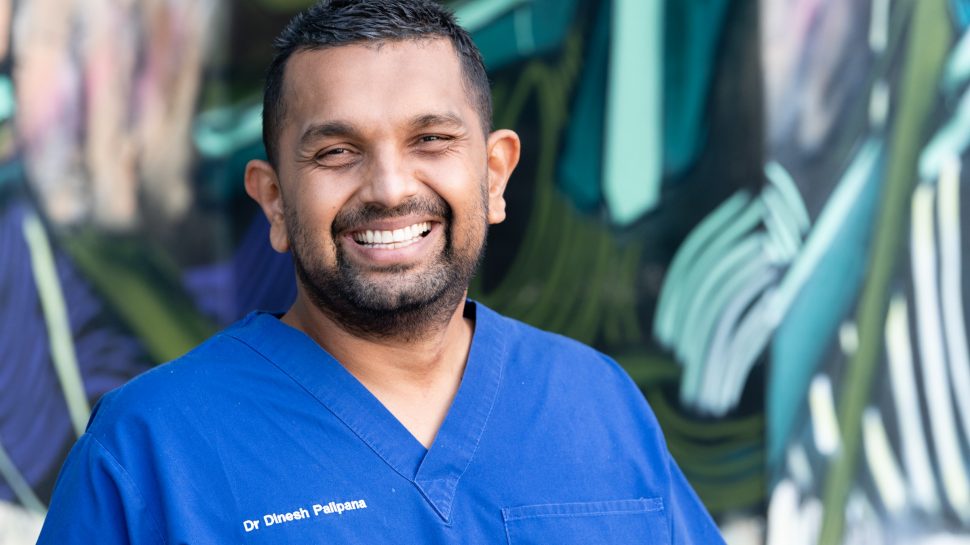 Dr Dinesh Palipana OAM is the 2021 Queensland Australian of The Year, a doctor, lawyer, disability advocate, and researcher. Known for becoming the first quadriplegic medical intern in Queensland and the second person to graduate medical school with quadriplegia in Australia, Dinesh is an inspiration for a myriad of personal and professional achievements.
From moving to Australia from Sri Lanka, navigating multiple careers and experiencing a spinal cord injury, Dinesh's story is greater than the sum of all its parts. Throughout his life, Dinesh has gained perspective and wisdom that feels almost ancient in its clarity and simplicity. Amongst the cliches there's valuable and inspirational lessons for everyone, no matter their background or ability. Here, we talk to Dinesh as he shares what he's learnt on his journey.
1. Life is never a straight line
For Dinesh, finding his purpose hasn't been straightforward but he's grateful to be where he is now. Born and growing up in Sri Lanka during a war, Dinesh moved to Australia as a kid where he attended school and university.
It was during his time studying at university that he sustained a spinal cord injury causing quadriplegia. Since then, he has gone on to become a senior resident doctor and advocate for inclusivity in medical education and employment.
Reflecting on what the Queensland Australian of the Year award meant to him, Dinesh said it made him reflect on his life and what it means to be Australian.

"It meant the world to me because my life to get to this point hasn't been straightforward. It got me thinking a lot about what it means to be Australian.
It made me not just be grateful for everything, but it made me realise that these kinds of milestones aren't points where we sit down and rest on our laurels. I think they're reminders to keep going and hold ourselves to a higher standard and to do more," says Dinesh.
2. Squeeze every drop out of life
Not only is Dinesh an emergency doctor, he's a lawyer, co-founder of Doctors With Disabilities Australia, a doctor for the Gold Coast Titans physical disability rugby league team and he's even given a TEDx Talk on the barriers to becoming a doctor with quadriplegia. Dinesh insists that his work and all the opportunities that have come his way are a form of fun.
His ethos is about making the most of what life has to offer. "I like trying different things. Recently I went skydiving, which is amazing. And I'm going to learn how to fly — there's a plane that's adapted for people with spinal cord injury. I feel like there's so much in this world for us to experience and you've just gotta squeeze every drop out of life," Dinesh says.
3. The goal isn't to fill our own cup
Dinesh has discovered his purpose in medicine and more broadly speaking, he's found joy in helping others.
"One of the biggest things I've realised is that sometimes we go through life, and we think that by filling our own cup we will find happiness. Whether it be material things, titles, social status or Instagram likes, we get distracted.
What I realised was happiness actually comes from giving outwards and looking outwards, seeing what we can do for people, for this world, for the community and for our country.
When I met all these different Australians of the Year, I felt that's what they're about. And all of them are really about service and giving and they're not about themselves at all. So I really, I really loved that," says Dinesh.
4. Anything is possible
For Dinesh, there's no greater hero in his life than his mother and by the sounds of it, she deserves an Australian of the Year nomination herself.
Before Dinesh sustained his spinal cord injury he experienced a period of depression. "Today I have a spinal cord injury and when it first happened, I felt like I was trapped in my body when I woke up in the ICU. But when I was going through depression, I felt like I was trapped in my mind. And I think that is far worse," says Dinesh.
It was his mother that got him through this period of his life and continued to be his biggest supporter and advocate when he sustained his injury. It is from his mother that Dinesh has gotten such a strong dose of courage and tenacity as she was the one that drilled into him that "anything is possible!"
5. If you inspire one person, it's worth it
As the first quadriplegic medical graduate and medical intern in Queensland, Dinesh lacked exposure to the representation of people like him pursuing a medical degree. He now works to make sure this is not a reality for other people with a disability.
He has worked with the Australian Medical Association to pioneer national policies for inclusivity in medical education and employment. Through his work he continues to inspire all Australians with different backgrounds and abilities to chase their dreams.
"Someone came up to me and said, 'I moved here from a different country. I couldn't speak the language so I didn't know whether I could pass the exam. And then I saw your story and I knew I could do it. So it kept me going.' And this doctor said, 'You're the reason why I'm here today,'" Dinesh explains.
"If it's just one person [that I inspire], I think this entire journey, every challenge and every hardship has been worthwhile."

Nominate an inspiring Australian
Do you know someone who deserves recognition? Nominate them for an Australian of the Year Awards. Nominations close 31 July.