Have a simple idea like 'connect over a cup of tea'? An Australia Post Community Grant could help
When applying for a Community Grant, it's tempting to think your project should be huge. But sometimes the simple ideas are best. We look at how simply enjoying a cup of tea together can help a community connect.

Video: In a rural area a white hall with a red roof sits among leafy trees.
Text reads, "Introducing Budgeree Hall Committee: A 2020 Australia Post Community Grant Recipient." The Australia Post logo sits in the bottom right corner. A woman with short blonde hair is interviewed near the hall and a sign reading, "Budgeree Hall. Budger-Tea, Thursdays 10:30-12:30. Starting Feb 18. Free. All welcome."
Text: Leanne Potter, Budgeree Hall. Reserve Committee Secretary. Rolling green farmland is punctuated by trees and scattered buildings.
Audio: Leanne: My name's Leanne Potter. I'm the secretary of the Budgeree Hall Committee. And we're a farming community, so we're on big farms, most of us. We don't get to see each other very often, so we don't get those opportunities to catch up, have those chats that we know is so important for connecting and keeping our wellbeing in place.
Video: Inside the hall, people chat near a table covered with pastries. A large red teapot sits on a stand. A bearded man stands outside the hall. Text: Anthony Watts, Local Community Resident. Inside the hall, many teacups are arranged on a counter. People holding mugs chat.
Audio: Anthony: To have this here in Budgeree is just brilliant and I can't thank Australia Post enough, and I'm sure that I speak on behalf of a lot of people. I think there should be far more of this type of thing where people can come together and touch base with other people that are going through the same thing. It is just so invigorating and it's uplifting.
Video: Leanne sits in front of the hall. Inside, old wood chairs are marked "Budgeree Hall" in faded ink. People have morning tea together around a table. Many are elderly.
Audio: Leanne: One of the outcomes of Budger-Tea is to connect the community to each other. We know connection is, you know, a sign of wellbeing for communities, for individuals, and we know being lonely is a red flag that someone's mental health may be deteriorating, and so part of Budger-Tea is just checking in to make sure that we haven't got that loneliness happening just because we're physically isolated from each other. And we run it every week. Part of that is to make sure that if you miss one, you know, it's not a long time before you can come back and reconnect with everyone again. 
I really want to thank Australia Post. It was a very simple concept that we were going with that we knew would work, but it's going to have a big impact on our community. Yep, a scone and a cup of tea, that's all it needs, and somebody to talk to.
Video: A man waves as he leaves the hall. Inside, pastries are arranged on a stand. Teapots with different patterns sit on a table.
Audio: Anthony: When we connect, we feel better.
Video: The Australia Post logo appears in white on a red background. Text: auspost.com.au/grants  
The Budgeree Hall, built in 1910, is the one communal building in the small rural town located in Gippsland, in eastern Victoria.
At a glance, it's simply a lovely old building. Look closer, however, and you'll discover it's the people within the venue who are providing the real magic. They are harnessing their community spirit to help those in their farming town feel less isolated, and more connected – all in the name of positive mental health and wellbeing.
The hall that inspired community connection
The hall plays host to all kinds of events including talks, meetings and weddings. Leanne Potter, the Secretary of the Budgeree Hall Volunteer Committee, is happy to see the hall bring couples together on their wedding days.
"We had one couple who just wanted a country picnic, and everyone sat around on the grass on rugs and it was beautiful," Leanne says. 
"And we had one couple who wanted to arrive in a semi-trailer and no other wedding venue would allow a semi-trailer in. We were like, 'Yeah, sure, if it fits under the trees, it can come through.' We let brides and grooms have the wedding they want here."
It's also the one space for the community to come together.
"We don't get to see our neighbours very often," Leanne says of the community members, most of whom live on large farms. "And when we do, it's sort of just a wave in the car as we go by. The hall is the only place we can get together and talk and chat and see each other."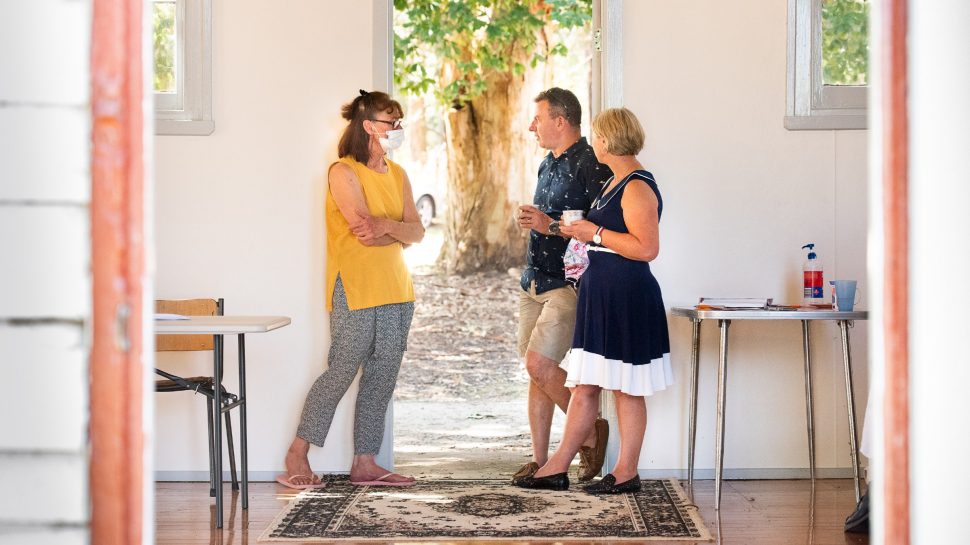 Budgeree Hall is the perfect spot for connection between people in this regional community.
Tea, cake, conversation and more: a regional Community Grant supported the Budger-Tea initiative
As a rural community, Budgeree experiences issues of isolation and disconnection. 

That's why they established Budger-Tea, a weekly catch-up at the hall funded by an Australia Post Community Grant. The idea is a simple one: tea, cake and conversation. But there's much more happening at these get-togethers.
"We know that connection is a sign of wellbeing for communities and for individuals, and we know being lonely is a red flag that someone's mental health may be deteriorating," Leanne explains. "One of the big outcomes of Budger-Tea is to connect the community to each other – friends with friends, neighbours with neighbours – so that a support network is there in times of need.
"Budger-Tea was a very simple concept that we knew would work for our community."
"The biggest changes happen in the simplest conversations," says a Budgeree community member.
A weekly gathering means they can check in with some of the more vulnerable community members and start the conversations that are so important for community connection and wellbeing. 

"Being physically isolated doesn't mean you have to be lonely," says Leanne. "The biggest changes happen in the simplest conversations."
The Budger-Tea project also provides Mental Health First Aid training for community members, to better to help those who are facing mental health challenges.
The Budgeree Hall Reserve Committee's hope is that this initiative continues for years to come. "This is very much community-led, so we're hoping that once we get momentum going, the community will take it over. We'll have facilitators who come in and do it every week, and it will continue on past the length of the grant," Leanne says.
Connecting local communities

Australia Post is delivering the goods for local communities with grants to support mental wellbeing. Because when we connect, we feel better.