Sienna Byron Bay: Australian-made luxe, vegan nail polish
Local Byron Bay business Sienna Byron Bay hits the nail on the head with cruelty-free nail polish.
Video: We open on a scene outdoors showing a close-up of a leafy tree.
Audio: (Upbeat instrumental music)

Chelsea: I have found the most delightful business here…
Video: Cut to inside a funky clothing and gift store. Two relaxed and well-groomed women - Chelsea Thomas from bargain hunting blog I Heart Bargains and Danielle Egan owner of Sienna Byron Bay nail polish - sit on chairs next to each other, facing the camera.A display of different coloured nail polish sits on the table behind them.
Chelsea: ... at Habit Byron Bay that has so many different businesses in the one place and I'm here with the beautiful Danielle who came up with this little idea which is luxe vegan nail polish. Tell me all about it.
Video: Close-up of nail polish display. A hand moves some of the nail polish containers.
Danielle: I'm a trained nail polish technician and I was looking for the perfect product to put on the market in Byron Bay, being that I was a small local business. I couldn't find anything that was clean or anything that was kind of perfect enough for what our local community wanted. They want clean, organic, vegan, cruelty-free, shopping local, as such, and shopping small as well…
Video: Cut away to footage of a sunny beach scene featuring surfers and palm trees.
Danielle: ...because you're supporting your local community, your local economy. There's a few different ingredients that are animal-derived that are traditionally used in nail polish. So we've created a range that doesn't have anything like that in it.
Video: Cut away to footage of a lighthouse on a cliff.
Danielle: Businesses use things like fish scales - there's no need for it, really so that's why we use what we use because we found a better way.
Video: Cut away to footage of nail polish display
Danielle: We started out hand making everything at home.
Video: Back to Chelsea and Danielle seated.
Chelsea: Wow!
Danielle: Oh yeah. I haven't mentioned that.
Chelsea: No. That's pretty big. I think about all the little bottles and getting it into all the bottles. You've really done the hard yards to get it to this.
Danielle: Yes. Definitely.
Chelsea: Talk to me about the packaging as well.
Video: Close up of Danielle holding a nail polish bottle, pointing out its wooden cap.
Danielle: I work with local woodturners to create the little wooden caps. I go out and collect the timber myself and…
Chelsea: That's so good!
Danielle: I know it's gorgeous, isn't it?
Chelsea: That's a great story.
Danielle: Yeah yeah. It's a hundred percent local in that regard. The only thing that's not produced locally is the glass which is produced in Europe and that's produced there for its quality. There's no glass manufacturers in Australia who can produce what we need, so that's the only thing out of the country.
Chelsea: You obviously have to post this everywhere.
Video: Some cut away footage included of Chelsea & Danielle standing at the nail polish display chatting; an Australia Post post box on the street; and a close up of Danielle painting her nails.
Chelsea: This is a very strong online business. And obviously you also have a shop front as well. How does this little baby get around to everyone in Australia?
Danielle: We've always used Australia Post. We've just started with our business account - eParcel with Australia Post.
Chelsea: And tell me about that. You were saying before the complications... you were getting massive orders.
Danielle: Yeah. We'd have heaps of orders in a day. I'd be writing everything by hand on the front of the order. So since we've had the Australia Post account we've got all our systems set up so we literally just push a button, a sticker comes out with everything, we put the sticker on the box and it's shipped away. The amount of time that it's cut for us is fantastic. And for a small business if we can make any kind of saving that's incredible.
Video: Cut to footage of various scenes of nature around Byron Bay: sunset over the beach, view from a curved road on a hilltop with onlookers overlooking beach, rocky hill overlooking water, and waves crashing against a cliff drop.
Danielle: I first came here 18 years ago. I was literally staying for one night. So I was one of your classic girls who rocks into town in her van, does some fire twirling on the beach. That was 18 years ago.
Chelsea: (laughing) I love that. Now you're doing this (holds up nail polish).
Danielle: And now 18 years later…
Chelsea: Big business, girlfriend.
Danielle: Nail polish is my life.
Video: Final cut away shot of nail polish display.
(End frame featuring Australia Post logo and the following text)
Text: auspost.com.au/smallbusiness
Danielle Egan arrived in the NSW coastal town of Byron Bay 18 years ago. She bustled into town with a crew of circus goers and very few belongings; a common story for many long-stay Byron locals.
Many people living in the area are attracted to the healthy and alternative lifestyle. There's a big market culture, and a community of talented artisans who create beautiful, handmade wares.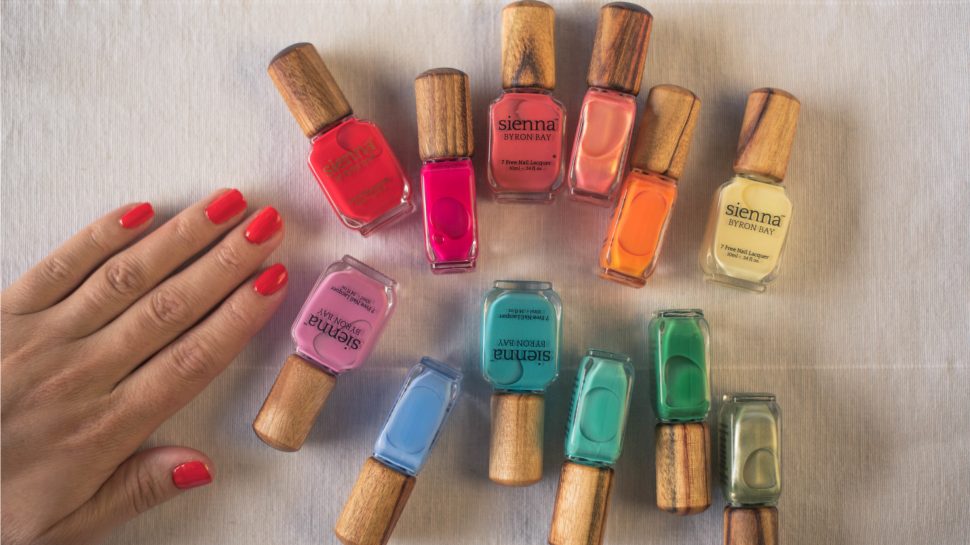 Danielle never ended up leaving Byron Bay. Its natural beauty - beaches and a laid-back lifestyle - holds a special place in her heart. But with the whimsical, dreaminess of the place comes a harsh reality.

"You have to be able to create your own business in Byron," Danielle says. "You have to have a product that stands out and that meets the needs of the people living here."
After some time trying to work out what it was she wanted to focus her attention on, Danielle recognised a gap in the relaxed coastal town, and it surprised her at first. "Whether you're local to Byron Bay or a visitor on holidays, women always like to get their nails painted. It's generally quite warm, so there's always a demand for it. Us girls paint our nails, rain, hail or shine, right?"
However, there wasn't a nail polish available locally (or anywhere that Danielle could find) that didn't include animal products like fish scales. "Many people don't know that most nail polishes include animal products but there was a heightened awareness in Byron Bay about this issue."
"In Byron everyone is looking for the healthy alternatives. They will seek out a sunscreen that has no additives and do their research on where to buy the freshest fruit and veggies," she says.
Danielle knew if she could research the right environmentally-friendly nail polish formula, she'd have a very attractive product to sell to local nail salons. "At least then people had the choice if they wanted it," Danielle says.
It wasn't until September 2014 that Danielle was able to launch Sienna Byron Bay to the public. Her aim was to produce a handmade, luxe, vegan nail polish with no nasties and no animal testing. After years of research, Danielle launched the label with $300 to her name.
Sienna is different to any other Australian-made polish on the market because it's the "cleanest formula and is handmade to ensure top quality coating".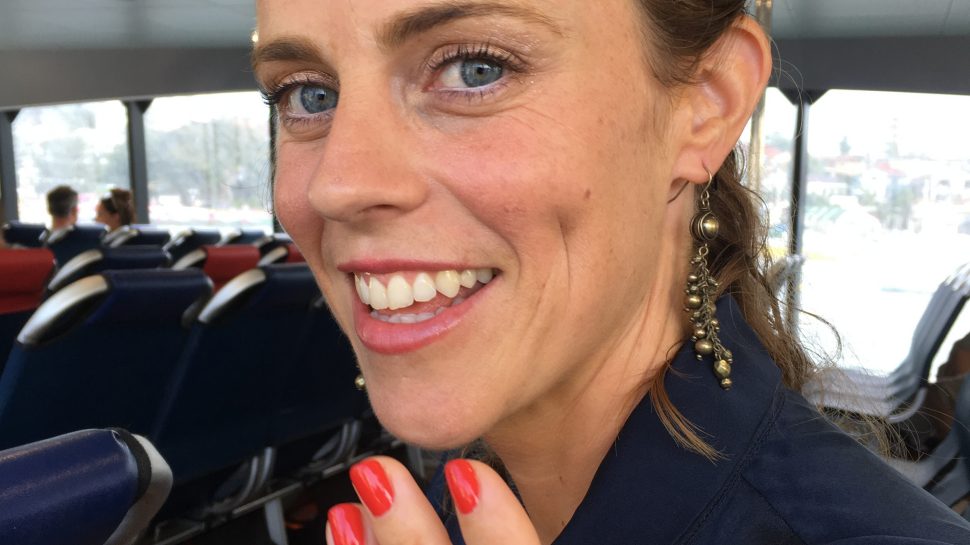 It's obvious Danielle is very precise at getting the product right. Right down to the wood-based lids, which are from wood sourced locally in and around Byron, every little part of Sienna is well thought out.
"We don't sell a turnkey product, which is where you purchase something already made by a manufacturer and put your brand name on it. Instead, we work with 30+ suppliers. We're a resilient bunch and when we put our heads together, it's amazing how quickly things can happen," says Danielle.
The business quickly turned into an online-based business because Danielle realised she was fulfilling a niche that no one else had thought of. "Our online orders which are serviced by Australia Post are growing every day," she says. "People all over the country want their favourite Sienna polish."
Danielle has come to realise that sales for luxe, vegan nail polish aren't exclusive to the people of Byron Bay, even though it's where the concept originated.
"Over the years, consumers are taking a more active stance with wanting to know what's in the products they are using in their homes and on their bodies, and Sienna ticks those boxes for the conscious shopper."

Vegan & cruelty-free nail polish

Ethical and eco-conscious beauty, made in Byron Bay. Choose from over 70 gorgeous colours.

Sienna isn't just nail polish anymore, either. The brand offers acetone free nail polish remover and glass nail files (that can be reused over and over).
Australia Post helps to service Sienna's online shopping audience. She also has stockists all over the country but online is a major part of Danielle's business. Her Instagram following sits just over 25,000 and provides daily updates to fans about new colours and nail trends.
When Danielle started, she hand poured the nail polish herself. There were 13 colours available then. Now, the Sienna range boasts over 70 different colours, satisfying the Byron Bay market and beyond. "There's something for everyone," Danielle says, "every skin tone and every personality."
For those wondering what the colour of the month is, it's "hands down, Merlot. I'm not sure if it's the warm, deep, red colour that they love, or the fact that we all like a good glass of red during winter." For those that enjoy brighter colours a "bright fuchsia like Luscious will break through the bleak cloudy days."
Image credits: Sienna Byron Bay.