Sue Salthouse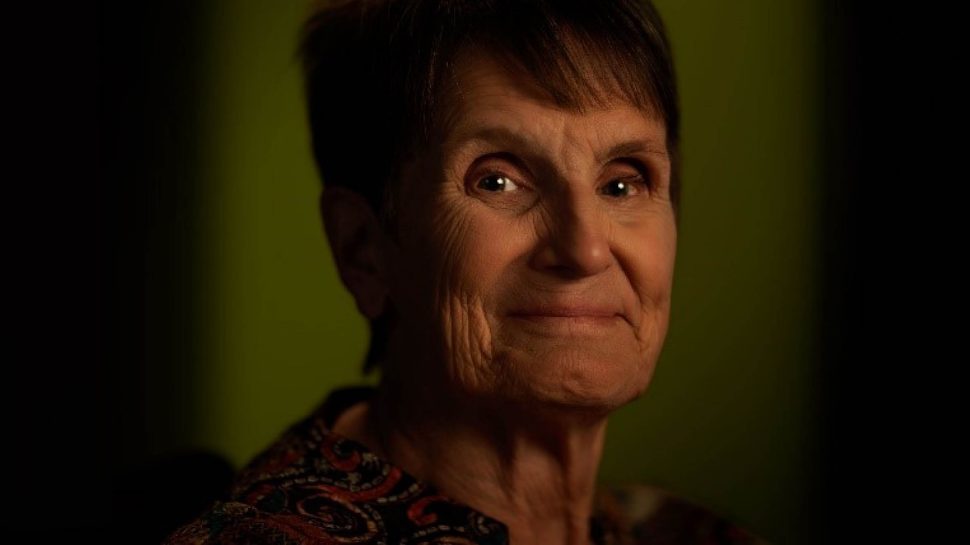 2020 ACT Senior Australian of the Year
Leader and disability advocate
Australia's disability sector lost one of its fiercest advocates with the passing of Sue Salthouse on 21 July 2020. Her life is hailed as one of service and contribution to her community, especially in championing the recognition of women with disability who make huge contributions to the workplace and in leadership roles. Sue was also named Canberra Citizen of the Year in 2015 and the ACT Senior Woman of the Year in 2014. This interview was published a few weeks before her passing. Australia Post is deeply saddened by the news and our thoughts are with her family.
Sue Salthouse experienced the systemic inequality facing people with disabilities after a horse riding accident put her in a wheelchair at the age of 45.

Determined to bring about positive change, she began advocating for the right of people with disabilities to accessible housing, economic security and the chance to contribute to society.
Sue now runs a consultancy company specialising in disability rights advocacy and works in the disability sector.
We spoke to Sue about how receiving the 2020 ACT Senior Australian of the Year Award, what courage looks like to her and what she'd like people to better understand about people living with a disability.
What does it mean to be named ACT Senior Australian of the Year?
It was an unexpected honour. I've been recognised for the work that I'm doing to improve the status of women with disabilities and getting them into employment and inclusion. It's very good.
How has this recognition given you more opportunities to serve your community?
The ACT is a very well networked community. We have good access to our public servants and media outlets. Since receiving this award, I've had several opportunities to go on radio to bring wider community attention to issues facing people with disabilities.
Daily life has changed enormously for people with disabilities. The two emerging scenes in Australia with the bushfires and pandemic have severely impacted those who are already isolated. We've seen real gaps in how emergency services are alerted to where people need help.
We have to be alert to where the at-risk groups are and make sure our policies for reaction include strategies for these groups. We also have to make sure the at-risk groups know they've been consulted and considered. A seat at the table is an essential part of change.
What does everyday inspiration look like to you?
People who speak out against injustice. I'm fascinated by investigative reporters. Their research gives us clarity about where we need to focus our activities and makes politicians, citizens and corporations accountable for their actions. When we pursue action we need it to be value based.
When did you recently see courage in action?
During the bushfires. It was unbelievable that there were people standing with a hose or a camera between those walls of flames. That's the greatest courage I've seen. I also admire the courage and conviction of young people for climate change. I'm inspired by their depth of knowledge, eloquence, ideas and focus on the outcomes they want for this world.
What has been your greatest lesson in resilience?
Australia's Indigenous people are our greatest role models in resilience. They show resilience through their dignity and respect for each other and non-Indigenous communities, and even to those who are directly responsible for the loss of their culture. We have a lot to learn from them.
What would you like people to better understand about those living with a disability?
I'd like them to understand three things. Firstly, it's simple to relate to us. If you want to help but are not sure how, just ask! That's one of the most straightforward ways to connect with us.
Secondly, being a good neighbour means taking responsibility for checking in on the person with a disability living next door. We've heard dreadful examples recently of people with disabilities whose death was a result of being tortured, neglected and abused. A neighbourly act of popping in to say hello could have made all the difference.
Thirdly, recognise that everyone has a place in our community. People feel welcomed when communities give them a chance. All of us blossom when we are valued by the people around us.
Why should Australians put in a nomination for the Australian of the Year Award?
There are people who are making a leadership difference in communities. Every older Aussie I know is continuing to use their skills and humanitarian experience to volunteer. Their work goes largely unnoticed but they still go on doing it and they should be recognised for it.  
Nominate an inspiring Australian
Do you know someone who deserves recognition? Nominate them for the 2021 Australian of the Year Awards. Nominations close 31 July 2020.