Ita Buttrose AC, OBE: Not letting anyone put the brakes on her trailblazing life
Ita Buttrose is hailed as an icon for her ground-breaking career in journalism. As part of our Inspiring Australians series, she talks about the importance of immersion in one's community, dealing with setbacks and being named 2013 Australian of the Year.

Video: The Australia Post logo sits in the bottom right corner. The elegant Ita Buttrose stands casually as she's filmed by three people. She laughs with a man. White text reads, "Find out why Ita Buttrose AO believes in the importance of community." Her office has a view of the ANZAC Bridge. Smiling, Ita moves through an ABC foyer.
Text: "Ita Buttrose AO OBE, ABC chair & 2013 Australian of the Year."
Audio: Ita Buttrose: I think life is full of surprises. It constantly... It constantly takes me by surprise. That's the whole purpose of life, that...that you're always on a journey of discovery and...and you never know where life is going to lead you. I'm Ita Buttrose and I was the 2013 recipient of the Australian of the Year Awards. And I'm currently chair of the ABC.
Video: Ita walks through an ABC building. Split screens show TV studio equipment and Ita talking to a blonde woman on a set. Ita poses with camera equipment in the background. From a balcony, she gazes out at the city.
Audio: Ita Buttrose: I used my year as Australian of the Year to talk about dementia - its impact on Australians, its prevalence, why we needed to do more, why we needed to respect people with dementia, make them feel a valued member of the community. And Australia Post is practising what I so believe in, and that is giving back to the community. And it helps organisations that we're all familiar with, like the Red Cross, like Beyond Blue, like the Indigenous Literacy Foundation, and it's providing that important link, that important connection for communities and with the rest of Australia and, as I said earlier, with the world.
Video: The Australia Post logo appears on a red screen. Below, text reads, "auspost.com.au/InspiringAustralians." "Australia Post is proud to sponsor the Australian of the Year Award.

Mornings were a special time for a young Ita Buttrose. She would rise early to make breakfast for her father, who was then an editor at Sydney's Daily Mirror, and then settle at the table to chat with him about the day's news stories. Beneath her keen interest lay a steadily growing conviction that her father's path was also hers to tread.
"I was 11 when I knew I wanted to become a journalist," Ita says. "Everything I did with my life from there on was in pursuit of that."
Ita's initiation into the media world took place at age 15 as a copy girl at The Australian Women's Weekly. She worked her way up through various titles and subsequently became founding editor of Cleo. The magazine's first original print run sold out in two days. From then on, there was no slowing this rising star.
Ita travelled full circle back to Australian Women's Weekly, this time as its editor, and then went on to become the first female editor of an Australian metropolitan newspaper - the Daily and also the Sunday Telegraph. She was also the first woman appointed to the News Ltd Board. Then came the pinnacle of her already stellar media career.
Ita was attending the 2019 Australian of the Year Awards when she received a message that Prime Minister Scott Morrison, who was also present that night, wanted a word. After exchanging pleasantries, he offered her the job of chair at the Australian Broadcasting Corporation (ABC).
"I was speechless because it's not something I expected," Ita recounts. "But I knew immediately that this was a job I'd really like to do. So, I rang Mr Morrison a couple of days later to accept the position. It's an honour to chair this media and cultural institution - the most important of its kind in Australia. I'm really thrilled to be here."

A life spent giving back to community
Ita's life isn't short of honours. More notable among them are Officer of the Order of the British Empire (OBE), Companion of the Order of Australia (AC) and 2013 Australian of the Year. Ita received the prestigious award in recognition of her brilliant media career and her championing of medical education and healthcare.
"Being Australian of the Year is one of the greatest honours your country can pay you," she says. "It's quite humbling. You're very conscious that you're following in the footsteps of many distinguished Australians. It also gives you a platform and an authority to speak about issues of concern."
Ita chose to speak about social and health issues, in particular, dementia. As the national president and now ambassador of Dementia Australia (formerly known as Alzheimer's Australia), she used her time as Australian of the Year to talk about the impact of dementia on people in Australia and the urgent need for more medical investment into its treatment.
"I travelled a lot as Australian of the Year and wherever I was, I always found a way to weave the topic of dementia into my speeches. It was a fantastic platform to raise awareness about its impact.
"My mother taught my brothers and I to give back to our communities. She worked for many charities and involved us in whatever she did. If you can give someone a helping hand, why wouldn't you? It's very rewarding and it helps you grow as a person."
That early sense of community remains with Ita to this day. It's second nature for her to go out of her way to connect with her communities, especially in her inner Sydney suburb where "people talk to each other."
"Human beings are social animals; we're not meant to live in isolation," she says. "Being in touch with people keeps you grounded. It's also important to check in on older neighbours who are more likely to be isolated. It's about looking after the people in your community."
She adds that the Post Office is one of the country's key community hubs. "It's such a conduit for connection, and not just with other people but with the world."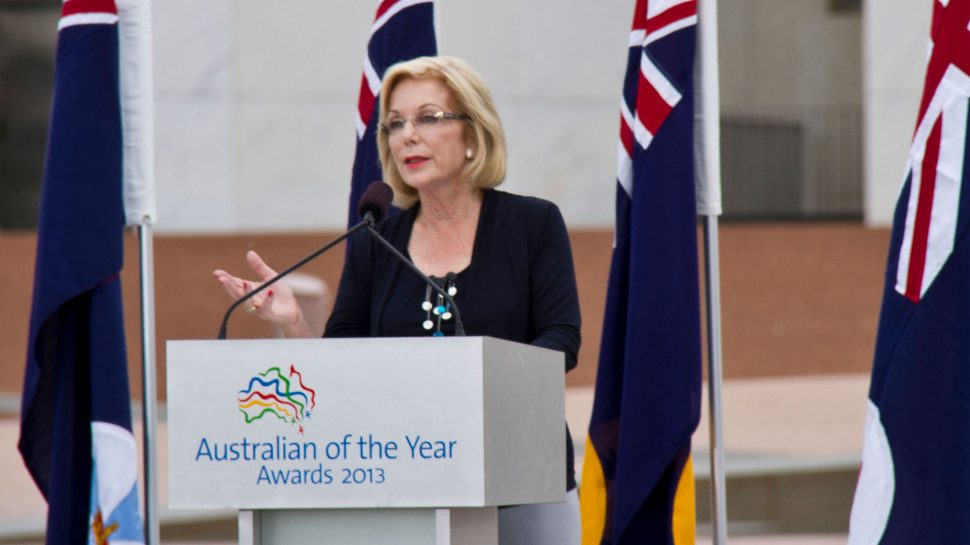 Resilience in the face of life's curveballs
Like many ground-breaking careers, Ita's too is built on a deeply rooted sense of self and a willingness to accept obstacles as an inevitable part of life.
Her personal modus operandi when being dealt setbacks is to accept the turn of events before finding a way around it. And if things go irreversibly wrong, she allows herself to grieve but – and she stresses this point - always picks herself up after because "nobody else will do that for you."
"I get over things by taking responsibility for me. Nobody makes me do what I don't want to do. Nobody puts brakes on me. I tell myself I'll overcome this and get going again - and I usually do.
"Life is full of surprises. Sometimes you come to crossroads and think, "I could take the safe path, but the other path looks really interesting." I usually go down the unknown path and end up loving what I discover."
Last year, that unknown path was the change of lifestyle forced upon us by the pandemic. As the best laid plans went out the window, Ita once again took the uncertainty in her stride. Instead of filling the open days with indoor activities, she opted to slow down and reflect on her life thus far.
"I think it's been a revelation for most Australians to think about their life and reset their priorities," she says. "I've certainly reset some of mine. I discovered time and I got lots of it back. And I'm determined not to go back to the absolutely flat-chat pace that was my life. I quite like having a bit more time for myself."