Dinesh Palipana: Rewriting his life's story
QLD 2021 Australian of the Year, Dr. Dinesh Palipana OAM, talks about navigating life as a quadriplegic, championing inclusivity in medicine and the privilege of helping those in distress.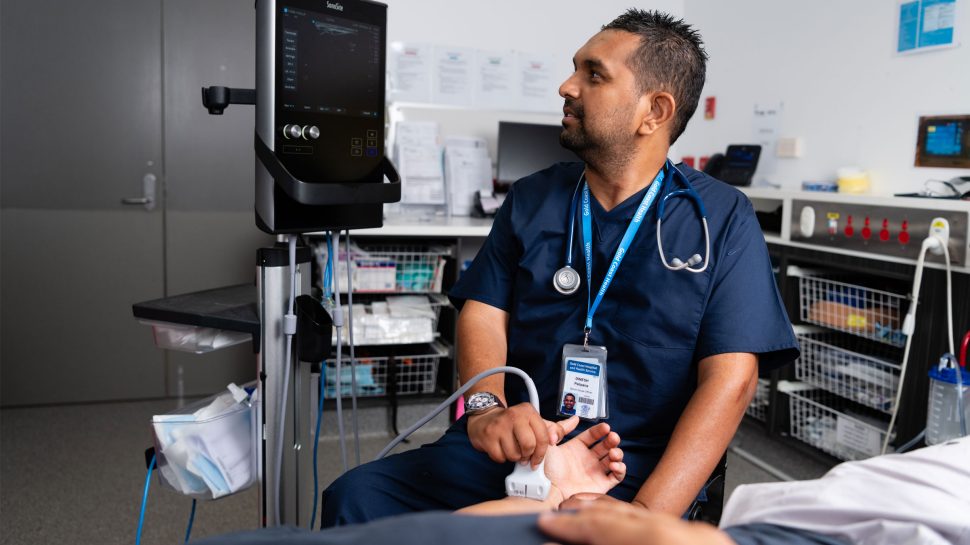 Dr. Dinesh Palipana's life changed on what was otherwise an ordinary night in January 2010. One minute he was driving on Brisbane's Gateway Motorway and the next, his Nissan X-Trail was rolling. When it finally stopped, the car was destroyed and Dinesh had lost all feeling from the chest down.
Dinesh was midway through medical school at the time so he knew what his diagnosis was – a spinal cord injury. And just like that he went from medical student to the 'Man in Bed 10' at the Princess Alexandra Hospital in Brisbane where he remained for the next seven months.
His first challenge during those months was getting through rehabilitation. The challenge for the many years after was learning to navigate the world as a quadriplegic.
"What I realised in those months was that life is temporary and transient," Dinesh says. "I was attached to a certain way of life and within seconds, it was pulled from beneath me."
As Dinesh relearnt the daily tasks that most of us take for granted, he found his thoughts returning to medicine. Like everyone else, he had assumed that quadriplegia meant an end to that dream. Then he spoke to staff at his old medical school, Queensland's Griffith University, and suddenly being a doctor was a possibility again.
"Life after the accident was incredibly difficult but also presented an opportunity. Starting from scratch allowed me to think about who I was and who I wanted to be. You're in control of your life and you have to take hold of your destiny or live with regrets."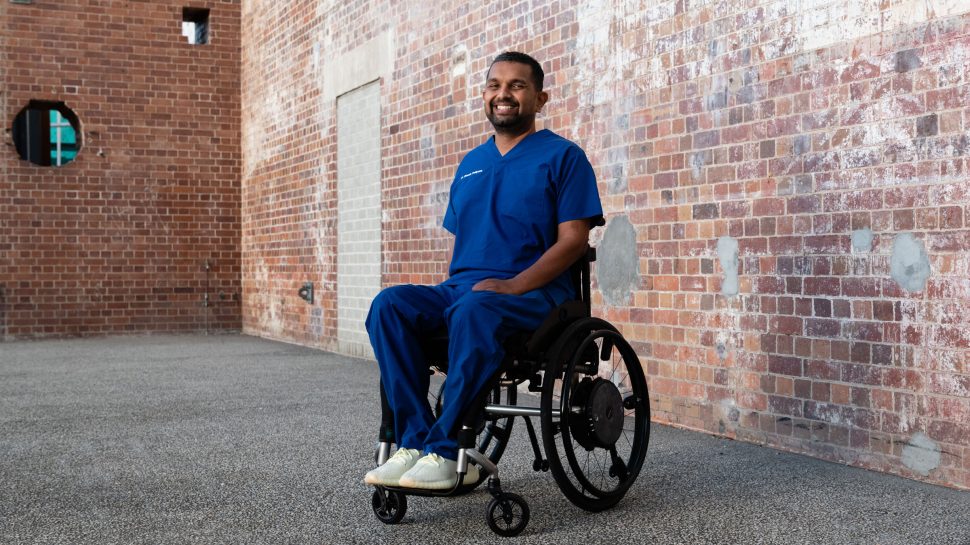 Picking up from where he left off
Dinesh returned to medical school with a renewed sense of self, courage and fierce determination. Nothing was too big a sacrifice anymore. He would wake up at 4am to get ready for school or hospital and study in the library until the last train left. This was his routine six days a week for two years.
"I wanted it so badly and I gave it my everything," he says simply. "I had to go to the extreme because only one Australian had gone through medical school with similar challenges before. My friends told me I had to behave like an Olympian - throw myself into it and be extremely disciplined and motivated. So that's what I did."
He also had to think outside the box for ways to do things without using his fingers, like inserting an intravenous cannula, holding a stethoscope and using the part of his hand that still has sensation to feel someone's abdomen.
In 2016, Dinesh became the first quadriplegic medical graduate in Queensland and the second in Australia. But there was one more hurdle – getting a job. While his classmates were accepting internships through the state's central process, Dinesh was made to undergo medical assessments and eventually told he wouldn't be starting work with everyone else. The news was crushing.
Then word of his availability reached the Gold Coast University Hospital who wasted no time snapping him up. Dinesh is now a senior resident doctor at its emergency department, one of the busiest in the country.
His difficulty in securing employment led him to co-found Doctors with Disabilities Australia, a disability-led organisation that aims to eliminate physical, attitudinal and systemic barriers that people with disabilities experience in medicine. The organisation also provides resources, mentoring and peer support for doctors and medical students.
"Right after I returned to medical school, the Medical Deans of Australia and New Zealand (MDANZ) created a policy document that could exclude medical students with disabilities from pursuing their studies. I remember sighting an email from a committee member which gave me an insight into that mindset. It was disappointing and hurtful."
Through DWDA, Dinesh has worked with the Australian Medical Association to create first-of-kind national policies for inclusivity in medical education and employment. During the COVID-19 pandemic, he advocated for equitable treatment for people with disabilities, including as a witness to the Disability Royal Commission.
Dinesh has also given input into how other professions and corporations practise inclusivity and his advocacy work has now extended beyond medicine and Australia's borders.
Last October, Dinesh was named QLD 2021 Australian of the Year, a recognition he says that has spurred him to push further and do more. "These awards matter because recipients are held to a higher standard and given the platform to take important issues forward and create change."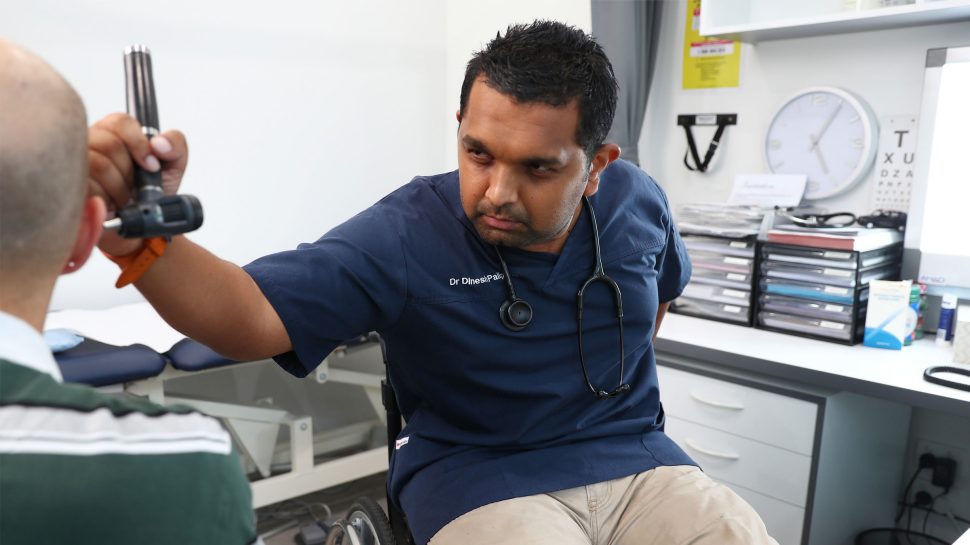 In the business of looking after human beings
Dinesh's own experience of being a patient has hugely shaped the way he treats those under his care.
There were many difficult interactions during his time in hospital, he says, when he felt disempowered, ignored and disconnected from decisions affecting his life.
"I was really frustrated and scared. So whenever I see a patient going through a tough time, I anchor myself back to that experience and remind myself that we're in the business of looking after human beings. It's made a huge difference in my work.
Emergency medicine, in particular, is a very raw human experience because we see people at their most vulnerable after their lives have changed. To be able to contribute positively at that point of time is an incredible privilege. That's what I love. And that's what I get to do every single day."
Outside his scrubs, Dinesh is a lecturer at Griffith University, is deeply involved in researching spinal cord injuries and is the doctor for the Gold Coast Titans physical disability rugby team. The most recent feather to his cap was being admitted as a lawyer. He's now a member of the Queensland Law Society Diverse Abilities Networks.
"I'm lucky to have trained as both a doctor and a lawyer because I can now contribute to creating a more inclusive society. It allows me to give back to our community as a doctor and fight for people. I had a great community who fought for me, spoke up for me and supported me. I'm now doing the same for others."