Meet Australia's first candle subscription club
Hand poured and shipped from Byron Bay, The Candle Library runs the first candle subscription club in Australia.

Video: We open on a close-up of the tattooed arms of a young man (Tom). Wearing gloves, he scoops up some beads of wax from a box using a big metal cup, and presses the wax down neatly.
Audio: (Upbeat instrumental music)
Video: Cut to mid-range shot of Tom pouring wax into a metal machine, then a close-up. Cut to an interior shot of Chelsea Thomas emerging through a storage room doorway into a small candle-making warehouse. A big metal stand, filled with candle moulds is on her right. As she walks, Tom appears to her right, standing behind a tray of candles.
Chelsea: Here we are. I'm legit behind the scenes of The Candle Library based in Byron Bay.
Video: Cut to Tom taking a tray of candles from a shelf on the big metal stand, cleaning them, trimming wicks, and sticking on labels. Back to Chelsea and Tom, standing next to each other.
Chelsea: This is Tom – hubby – one half of The Candle Library doing the pouring.
Video: Footage speeds up as Chelsea makes her way into another room where a woman holding a young baby is packing orders.
Chelsea: This is the packing station. What a cool office. This is Ange, the other half of The Candle Library, clearly a family-run business. She does everything here including the packing and holding little Frankie too.
Video: Footage speeds up again as Chelsea walks from the packing room into a shopfront with a staff member behind the counter. He picks up an Australia Post parcel post satchel.
Chelsea: If you come into The Candle Library – the store – Neil is your guy. He knows so much about candles. He's also packing your orders from online.
Video: Chelsea explores the store further with lots of clos-up shots of the candle products.
Chelsea: And then we've got all of the beautiful product. This is what it looks like when it gets to your house. And they have a subscription service so you can get one for every single month of the year.
Video: (End frame featuring Australia Post logo and the following text)
Text: auspost.com.au/smallbusiness
Walk down any shopping strip or head to any shopping centre and you're likely to find gift shops selling candles: lavender fused with lemon, patchouli, vanilla bean; you name it, the scent exists. For anyone looking at starting up their own scented candle business, you need a point of difference; The Candle Library has that.
In 2014, entrepreneurial husband and wife duo, Angela Honeywell and Tom Scholly noticed a surge in candle sales while running their Byron Bay gift shop Liberty Trading Co. and Angela decided to create a dedicated candle brand.
After moving on from Liberty Trading Co., The Candle Library was born (in true entrepreneurial style, the couple also own and run popular local restaurant, St Elmo).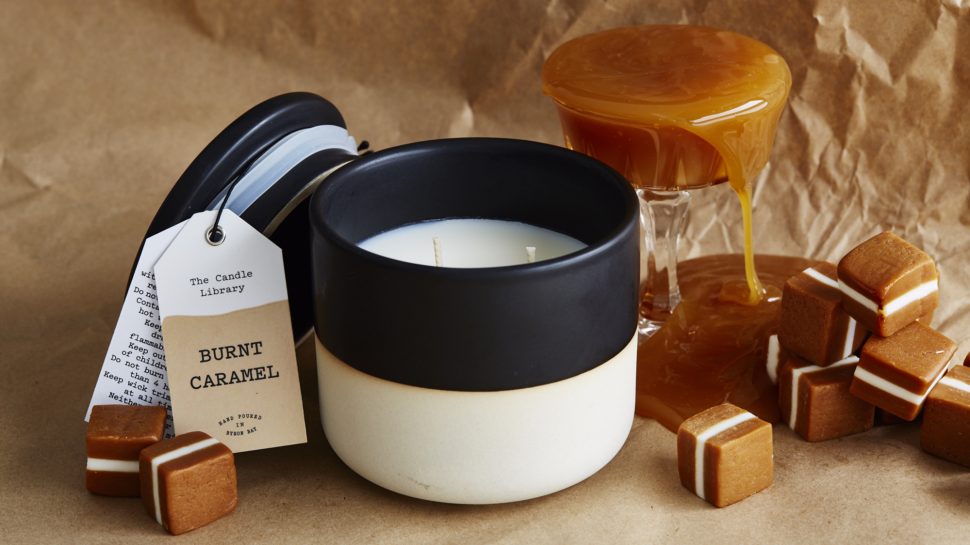 Initially, the business plan for The Candle Library was simple. It involved the wholesale and distribution of American candle brand P.F. Candle Co, in addition to an online market place for a variety of candle brands.
"At first, we had no plans to produce our own line of candles," Angela says. But in true visionary style, Angela and Tom thought they'd give it a shot.
Angela and Tom are the sole Australian distributors for the PF Candle Co range but also produce, hand pour and wholesale three of their own ranges: premium ceramics, new classics, and Bougie Blanc (launches next month).
Each candle is made from luxury soy wax with a focus on reusable design. Whether you're looking for citrus, earthy, floral, or woody scents, you'll find something to suit you (sample scents include Peachy Keen, Whiskey O' Clock, Sun Bleached Denim, Coffee, and Nature Trail).

The premium ceramics range is 100% Australian made. The ceramic vessels are handmade by Australian potters and designed to be used long after the flame goes out. The signature, custom fragrance oils are locally produced before being mixed with 100% natural eco soy wax.
The New Classics range is an affordable candle for everyday use. The scents featured in this range are named after their most recognisable scent note, and are hand-poured into a ceramic pot, with a silicon seal on the lid.
The Candle Library brand candles are packaged in Australian manufactured boxes, made of paper that is 100% recycled from waste paper and is carbon neutral. Each candle is then individually poured by hand in small batches in their Byron Bay warehouse.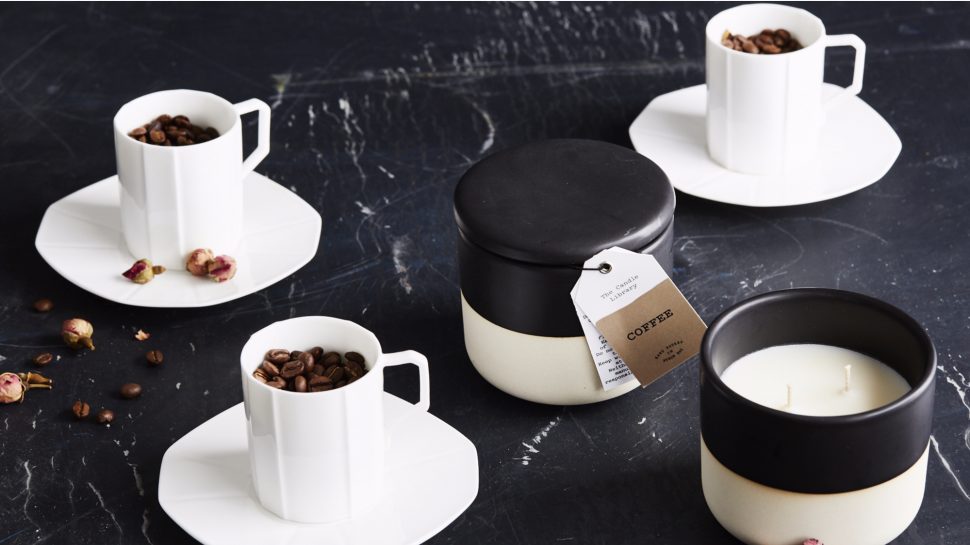 "Here, at our warehouse we produce store stock for wholesale, pack and ship online orders via Australia Post, and run the business. We also have a lovely retail shop that is open Monday to Friday," Angela says.
"We have also just signed a contract to be the sole Australian Distributors of US Candle Brand Boy Smells, an exciting addition to The Candle Library retail and wholesale family," says Angela.
But what really sets The Candle Library apart is their subscription service. "We are the first in Australia to launch a candle subscription service called The Candle Club where we ship out a surprise scented candle each month to our lovely club members," says Angela.
Candles delivered to your door each month? Yes please!
The Candle Library also offers one-on-one specialist consultations to produce custom candles for events, stores, brands and collaborations.

Australia's premium selection of scented candles

Quality products produced by artisans, whether a gift or just to treat yourself.