Chic Little Abode: home décor to swoon over
Mum-of-three Cammy Peters sells candles and gifts through her online business Chic Little Abode. The surprise stars of the show are the wooden pallets made by her husband Todd.

Transcript
Video
Audio

Video

We open on a close-up of two women's hands, picking up and looking at small wooden pallets, painted in pastel colours.

Audio

(Voice of Chelsea Thomas)

"I'm here with Camy from Chic Little Abode. Super excited about meeting her…"

Video

Wide shot of the same two women – Chelsea Thomas and Camy Peters – sitting on a rug next to each other in a leafy green park, both colourfully dressed.

Audio

(Chelsea speaking)

"…because I have been following you for a long time on Instagram and I just want to show everyone what you've got."

Video

Chelsea reaches behind Cami and picks up a small pallets to demonstrate it, then we cut to a close-up of the pallets

Audio

(Chelsea speaking continued)

"It started with just a normal sized coaster. Then we got a little bit…"

Video

Chelsea lifts up a medium size pallet.

Audio

(Chelsea speaking continued)

"…bigger."

Video

Close-up of various pallets in plain wood, black and pastel colours

Audio

(Chelsea speaking continued)

"Then we went into…you've gone into colours as well

Video

Chelsea lifts up a large size pallet and holds it in front of her. It covers her whole head.

Audio

(Chelsea speaking continued)

"And then you've got the…what was it called?

(Camy speaking)

"Big Mumma Board."

(Chelsea speaking)

"Big Mumma Board. For the centerpiece of tables.

(Camy speaking)

"Yeah. So I came to the idea one day with Todd."

Video

Cut to Todd in workshop doing various tasks: drying out painted pallets on shelves, spray-painting pallets, and sanding pallets.

Audio

(Voice of Chelsea)

"Todd is hubby?"

(Voice of Camy)

"Yes. Todd's hubby. He's a builder by trade so he is the manual labour side of it. I'm the orders, the photos."

(Voice of Chelsea)

"You bring the customers and he makes them."

(Voice of Camy)

"Yes. That's it."

Video

Back to Chelsea and Camy sitting on rug, talking.

Audio

(Chelsea speaking)

"From when you started has the way you've posted and got product out to customers changed?"

(Camy speaking)

"Oh it's so easy now. So basically once the order is packaged I log on to Australia Post, get it all ready, all sorted, print the label off, whack it on, go to the post office, you weigh the order, and off it goes."

(Chelsea speaking)

"Wow. Fantastic."

(Camy speaking)

"No more standing in line. It's really good."

Video

(End frame featuring Australia Post logo and the following text)

auspost.com.au/smallbusiness

Audio
If you're an avid fan of Instagram, chances are you probably follow a handful of small businesses with very stylish-looking accounts. One such account is Chic Little Abode, a business run by Queensland mum-of-three Cammy Peters.
At first, Cammy simply enjoyed creating stylised imagery. Being a stay-at-home mum with small children meant that she could dedicate her nights to building and curating her Insta feed. However, it didn't take long for her to realise that there was a business opportunity waiting to be launched.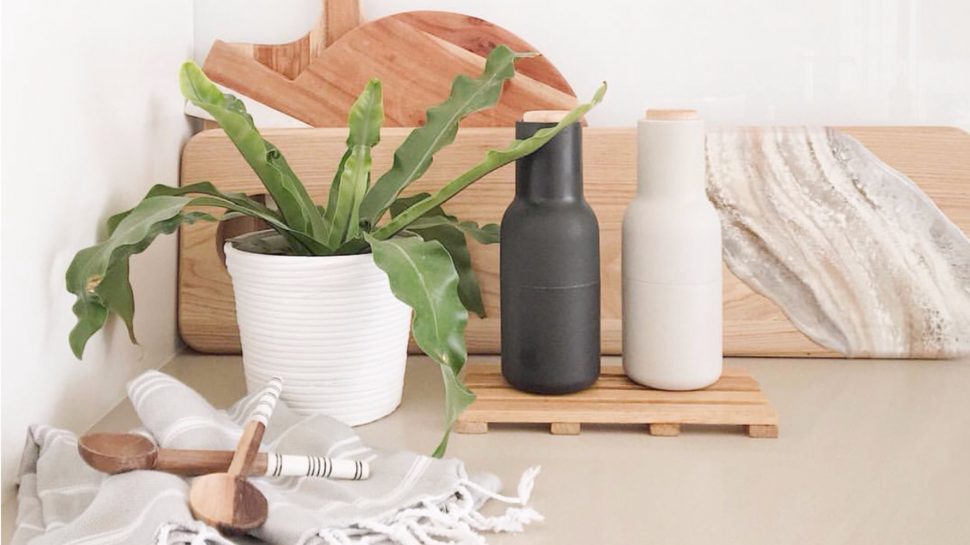 "I'd been styling for small businesses for some time and mentioned to one of them that I would love to start up a website and sell products. She offered me her products for wholesale and so did other businesses," Cammy says.
The first products available for sale were candles and wall prints. A close friend suggested Cammy research selling her own products and pouring her own candles. Again, this was a very easy transition seeing Chic Little Abode already had an audience that liked to browse and shop direct from her Instagram page.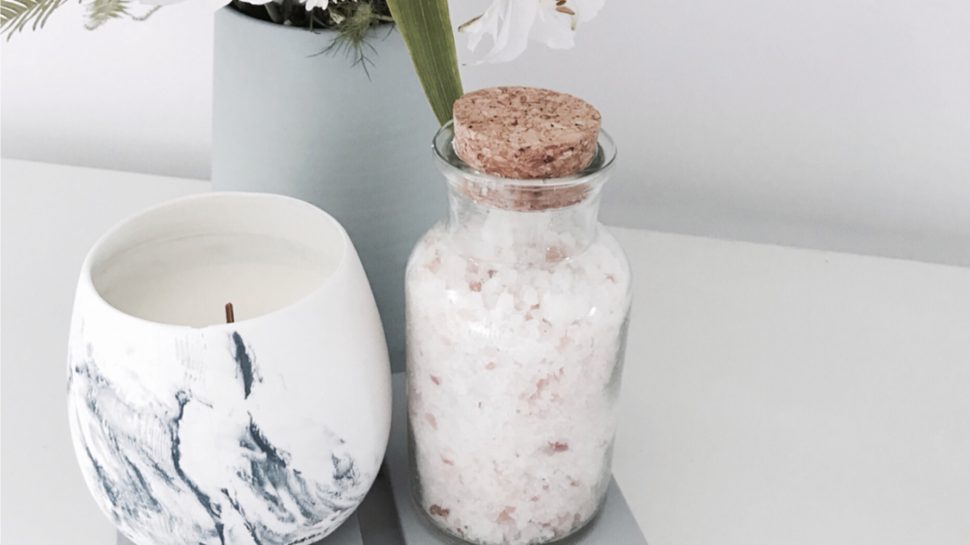 "Instagram has been huge for me," Cammy says. "It's a free platform for getting your name and products out there; I wouldn't be where I am today without it. Facebook has been a great platform too but not as successful as Instagram."
With a little bit of help from Cammy's aunty, her website was built, and she says this was "integral to ensuring orders were being processed quickly and seamlessly."
The typography prints and hand poured candles were popular from the early stages, but like all small businesses over time, Chic Little Abode needed a refresh: a new product to wow Instagram audiences with. This was when Cammy's tradie husband Todd started to experiment with pallet designs.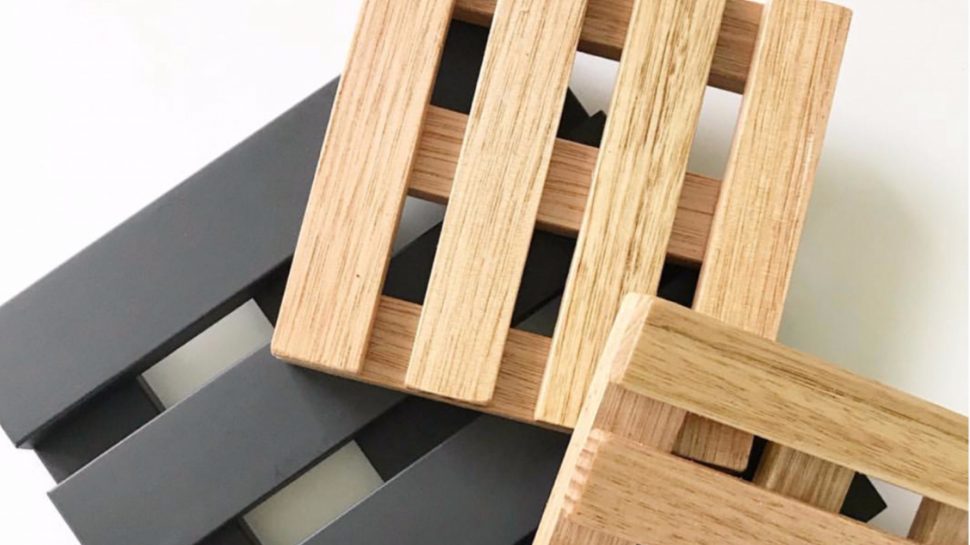 "Todd is a builder by trade and very handy with his hands, quite a perfectionist. I had this idea of the pallet designs, I knew they would work," she says.
The pallets are designed and handmade from scratch in their home garage and come in a variety of colours, shapes and sizes. They've also been tried and tested to withstand placing hot dishes on, straight from the oven.
It's not uncommon for husband and wife duos to form a working relationship, especially when the orders start flowing in. Cammy and Todd are both big supporters of utilising Australia Post to send orders domestically.
"A MyPost Business account is so user friendly, especially when juggling three kids while running a business. You simply book online, enter all your information, pay, and print off the address labels. Then I hand over the parcels at the post office and it's done. No measuring and weighing and then paying; it's all done through my account beforehand."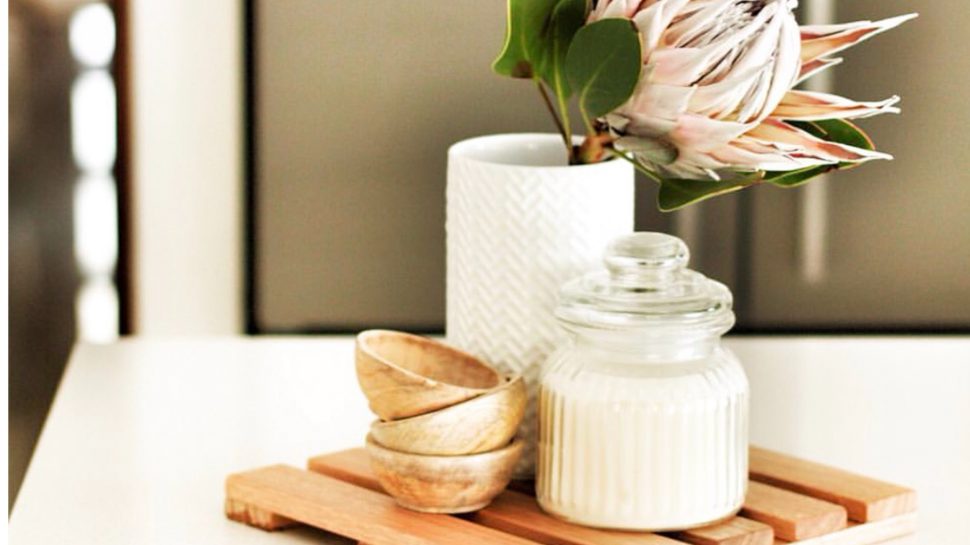 Cammy said having the three kids in tow is never an issue because she does all the leg work at home and online. The post office visit is purely a 'drop and run scenario' which is perfect for all small businesses, short on time.
"My local post office stocks the perfect size packaging, right for my parcels, and this alone is a massive help," Cammy says.
Chic Little Abode is continuing to grow its product offering, now venturing into office and desk products and their new most sought after item - bath caddies.
"The dream is for me and Todd to build up our business so that he is able to step away from his building trade and we can work from home together, raising our three kids."
That's a pretty special dream to work towards.

Spruce up your home decor
Spend $70 or more and get a free coaster pallet board.