How a local Post Office is making business easy for Uncle John's Licorice
Many businesses rely on the local Post office for parcel deliveries. But for Uncle John's Licorice, their local Post Office helps with parcel delivery, supplies their stationery and even stocks their licorice.

Video: A male employee packs confectionery, including licorice, into an Australia Post parcel.
A woman with blonde highlights is interviewed in a warehouse. Text: Catherine Jenner. Uncle John's Licorice. Australia Post customer.
The male employee shifts a plastic tub full of confectionery to a counter. Piled parcels on a trolley are wheeled through the warehouse.
Audio: Catherine: When licorice was first invented, everybody made it this way and we still do. COVID's shown us that our business can change, just not the recipe. So, before COVID, our online sales were around 2% of our business and now we're sending up to 150 parcels a day.
Video: At an Australia Post shop, Catherine views a parcel box. Later, she chats to a man, Dai, who's behind the counter. A female employee passes behind him wearing a face mask.
Text: Pick-ups not available in all locations. Charges and conditions apply.
Various stationery items hang on a wall in the shop. Catherine sits in the warehouse.
Audio: Catherine: So, I've been working with Australia Post and Dai for the last 12 months. He comes to pick up the parcels. Not only that, but he also delivers my stationery, packaging, anything else I need. From Australia Post, we get anything from paper to envelopes, pens, tape guns for the factory - you name it.
Video: A confectionery bag is marked "Uncle John's Licorice. Black molasses Licorice. Traditional." It sits on the counter before Dai.
The male Uncle John's employee labels a parcel. Beside the man, Catherine places licorice in a parcel.
Audio: Catherine: I think Dai putting our licorice into his post office just cemented the fact that he's got a vested interest in us. Not only do the Australia Post systems save time, but, using their packaging, it also saves money.
Video: The white Australia Post logo appears on a red screen. Text: Shop now auspost.com.au/shop
Audio: Catherine: In the long run, I think we'll have a bigger and better business.
Catherine and Jason Jenner are stewards of a 35-year-old batch-style, traditional molasses licorice recipe in Victoria. That gives their business, Uncle John's Licorice, the enviable status of being one of the last of Australia's old-fashioned, small-batch licorice makers.
"We've never changed our recipe," says Catherine, the General Manager of Operations for Uncle John's. "When licorice was first invented everyone made it this way and we're doing it still. Our licorice is made in batch style which is really important for getting the right texture. It's a lot like baking bread."
In late 2019, the Jenners realised it was time to expand the reach of this old-time treat through an improved online presence. This was compounded by the COVID-19 pandemic which put a stop to most physical selling.
"When COVID-19 hit, we lost 55% of our business just like that," recalls Catherine. "The Royal Melbourne Show is our biggest event of the year, so when that and other shows and markets in Tasmania, Sydney and Victoria were cancelled, we realised we were in trouble."
While her eCommerce platform had the potential to keep the company afloat, she still needed help managing the unexpected delivery disruptions over Easter. So Catherine placed a call to the Australia Post Local Area Marketing team who introduced them to Dai Nguyen, the Post Office Licensee and Local Channel Business Partner of Australia Post's Licensed Post Office in Dingley.
From their very first meeting, Catherine and Jason immediately felt how much Dai would support and care about Uncle John's success. And they knew they had found the right partner.
Picking the right packaging started with understanding their needs
The Dingley Post Office is a five-minute drive from the Uncle John's factory. Dai worked with the Uncle John's team to quickly coordinate a daily pickup service offered through the business' eParcel agreement, which makes regular parcel pick up quick and easy.
"He's a person with a family who owns a business," Catherine says. "He gives us the service we like to give our customers, that sense of a small family business where we can call him anytime. He's so accommodating, always just around the corner."
As Uncle John's grew, Catherine turned to Dai to discuss the best Australia Post packaging for her products. She now uses regular parcel boxes, and Express Post flat rate boxes to ship her licorice and a growing lolly range.
"I know I can ask Dai what other people are using and about different packaging options. And if he doesn't know the answer, he'll go and find out for me," says Catherine.
For instance, when a customer said that the products were not travelling well in the heat, Catherine and Dai explored using aluminium packaging and other alternative shipping methods.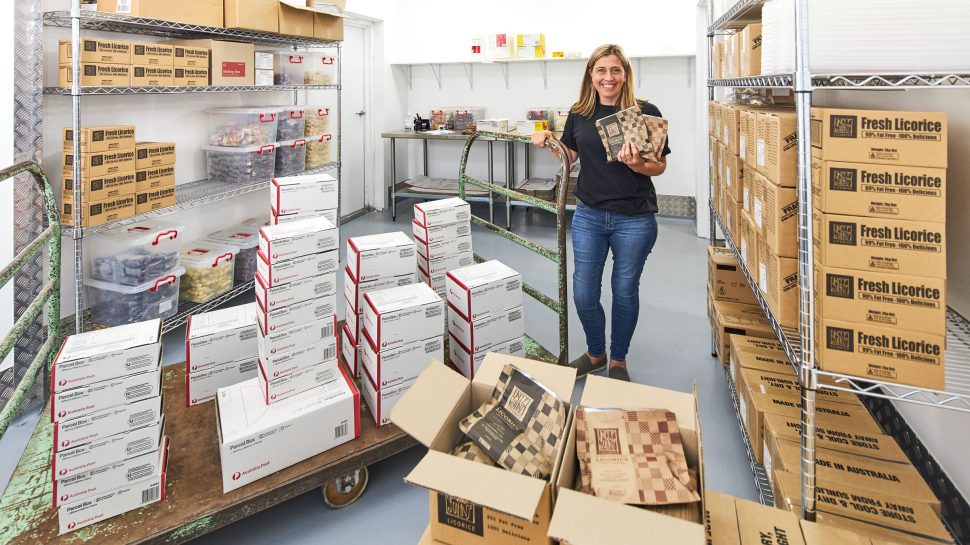 Shortening the to-do list
In his years of running the Dingley Post Office, Dai has built strong relationships with many local small businesses in the area. Over time, many of those businesses have gone from using Australia Post as their sole delivery partner to using it as their primary packaging and stationery supplier too.
For Catherine, having all their business purchases on one monthly invoice makes it easier to track cash flow. It also means less time spent visiting different stores and less factory space used to store essential office supplies.
Dai says understanding the needs of local businesses lets him help them get the most out of the Post Office. "I can get a better idea of what they might need. Then I can find ways to sort that for them – and save them more time by not having to go to multiple stores."
This is especially appreciated when businesses are getting ready to stock up on office supplies at the start of a new year. This year however could be a little different.
The economic impact of COVID-19 could mean businesses are looking to only purchase essential work supplies. Dai's Post Office is among the 4,000 Post Offices nationwide that offers a range of these supplies from pens to laptops to computers, printers and ink cartridges. Most of the packaging can also be bought in bulk, along with Reflex paper, at a discounted rate.
Doing business together
By the end of 2020, Uncle John's was sending about 150 parcels a week of licorice and confectionery to customers across Australia. Their email list has grown from 500 to 5,500 subscribers and online sales have grown by a factor of ten.
Catherine is confident that these numbers will remain strong in 2021 and that Dai will be there to help every step of the way. "I feel like he has a vested interest in our business because he carries our licorice at the Post Office."
Dai says that when COVID-19 hit he wanted to help open other doors for Uncle John's and offered to sell their licorice. "Our customers love it and now it's a permanent part of my product list."
"For me, helping businesses grow around me is the nicest thing I can do in my profession. We're not here just to make money – we care about the businesses in our community and want to help them grow."


Need to stock up on office supplies?
Pop down to your nearest Post Office or shop online.