Polli: sustainable, Australian-made jewellery
Your search for jewellery that's ethical, Australian-made and on-trend ends here thanks to Byron Bay business Polli.

Video: We open on a shot of a collection of quaint shops in a Byron Bay street.
Audio: (Upbeat instrumental music)
Chelsea: Are you sitting in a café in Byron going the eye and these kinds of designs'? Does it work that way?
Video: Cut to Chelsea and Brooke, owner of Polli sitting next to each other in Brooke's workshop. Chelsea holds up one of Brooke's designs.
Brooke: (Laughing) Sounds cliché but yes.
Chelsea: (laughing) Do you? No way!
Text: Polli
Video: Back to a wider shot of Chelsea and Brooke seated. A selection of Polli jewellery sits on the table in front of them.
Chelsea: I'm here with Brooke from Polli. I'm in accessories heaven here. Brooke is a jewelry designer and she makes all these earrings and designs. Tell me about your business and all these beautiful products.
Video: Cut away to close-ups shots of the products and Chelsea holding them up to inspect them.
Booke: We create earrings and pendants from recycled stainless steel wooden, acrylic; huge range.
Video: Back to Chelsea and Brooke seated. Some cut away shots of the workshop with machines.
Chelsea: This is your amazing space. You're not doing it out of home. How many girls do you have working here?
Brooke: Um, there's three of us (laughs).
Chelsea: Wow.
Video: Chelsea and Brooke are in the very neat storage area of the workshop.
Audio
Chelsea: My inner OCD is so excited right now. Because wow, you've taken organisation to a whole new level here.
Brooke: We have to do it. There's thousands and thousands of bits.
Chelsea: Of course.
Brooke: It's the only way to stay sane.
Video: Back to Chelsea and Brooke seated at table.
Chelsea: So we're in the heart of Byron, which is so beautiful. How does that inspire the ranges and collections that you bring out?
Video: Cut away footage of various scenic locations around Byron Bay: waves breaking against a cliff.
Brooke: For us there's a certain vibe here.
Video: Back to Chelsea and Brooke seated at table. Some cut-away footage of drawings of the jewellery designs and Brooke making a piece.
Brooke: I'm not going to say boho (laughs).
Chelsea: But…
Brooke: But lots of patterns and shapes and figures that we get kind of from the environment here.
Chelsea: And colours and creations.
Brooke: Yep. Exactly.
Video: Back to Chelsea and Brooke in the storage area, standing around a table.
Chelsea: Let's talk about the packaging at Polli. I can see that your presentation is amazing. How would I receive a pair of earrings if I was to buy some?
Brooke: We package them all up in these reusable canvas bags…
Chelsea: Beautiful.
Brooke: So you can keep your jewellery in for travelling and stuff like that. That's actually a big focus of ours, just to minimise that single use packaging.
Video: Cut to a close-up of Brooke packaging up an order.
Chelsea: What happens on those days when it's just overloaded? Are you guys all going back and forth to the post office or how does that work?
Brooke: We usually do a bit of a production line.
Video: Back to Chelsea and Brooke in the storage area, standing around a table. Some cut away shots: Brooke standing, smiling; Byron Bay scenery; Brooke showing Chelsea how to put together some earrings.
Brooke: We just walk around to the post.
Chelsea: Are you close?
Brooke: Yeah it's literally around the corner.
Chelsea: Great.
Brooke: So we don't actually require anyone to come and pick it up – we can just drop it in.
Chelsea: And do they know you there?
Brooke: They do.
Chelsea: Hi Brooke.
Brooke: Yeah the ladies are great down there.
Chelsea: Some small businesses here they must be so successful here and they're pumping out their orders so much they have an account manager…
Brooke: That's true
Chelsea: …at Post. Do you have access to that?
Brooke: We do. We found it really, really easy.
Chelsea: Yep. And do they help you out.
Brooke: They do. Yeah. Our account manager, we just call them up and they sort it all out but the people around the depot are always so helpful.
Chelsea: It's very community around here obviously too.
Brooke: Absolutely.
Chelsea: So there must be a lot of businesses doing the run to the post office.
Brooke: There's an incredible amount of volume just at that tiny little depot.
Chelsea: I find that because you're working shorter hours it breeds that creativity.
Brooke: I think so. And also just the freedom that having an online business gives you. You can do what you love and work from anywhere so you may as well work in paradise.
Chelsea: Absolutely.
Video: End frame featuring Australia Post logo
Text: auspost.com.au/smallbusiness
Earrings are big business. Just ask the owners of Polli - Brooke Johnston and Sarah Thornton - who've been managing and driving the brand's unique jewellery designs since 2014.
Tucked away in the industrial estate of Byron Bay, Brooke talks exclusively to Australia Post about her career in jewellery making and what it takes to continually produce top-selling collections.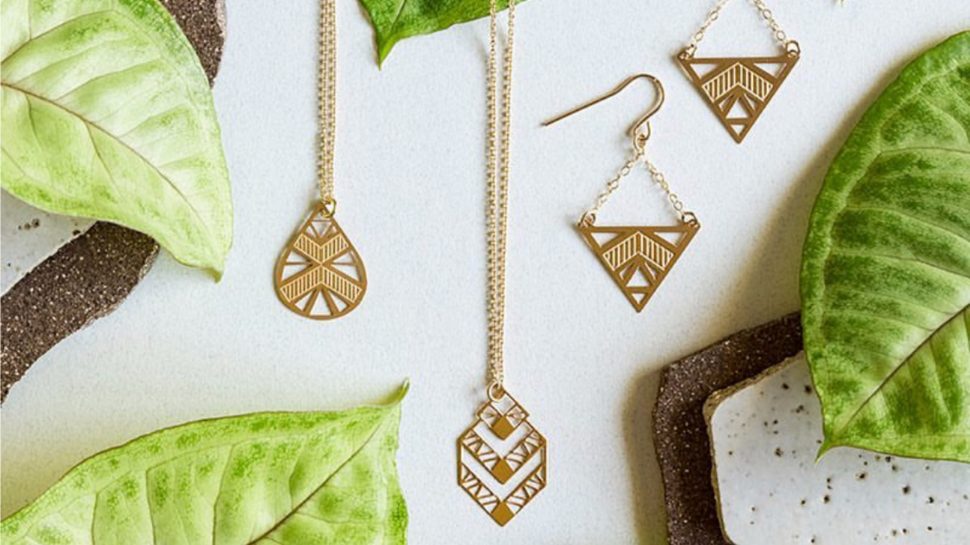 It's a very relaxed mood at the studio and Brooke talks about being a mother and balancing the demands of running a small business. "I have one daughter who is three and Sarah has two children, Lily who is six and Phoenix who is also three, so it's a constant juggle."
Brooke originally studied jewellery and object design and then got her trade certificate in jewellery manufacturing. By the sounds of it, there's many years of making, creating, drawing and sourcing before you hit your strides in the art of creating beautiful jewels. It's hard work, but a job that Brooke and Sarah find massively rewarding.
They've built a very loyal following on social media, with just over 12,000 earring fans on Instagram and you can tell they get excited when a new batch drops on their website.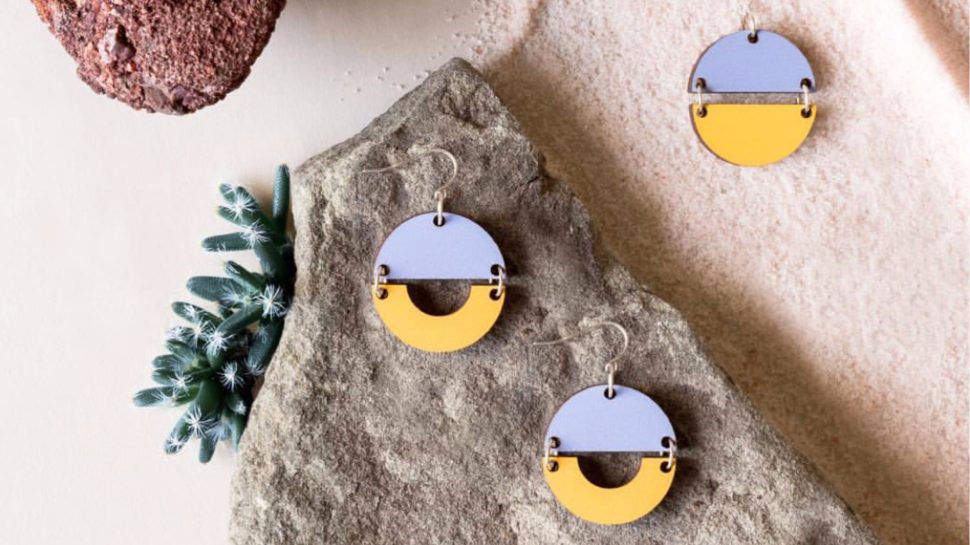 "We have a lot of fun with colour and texture, which has always been a huge driver for us aesthetically. Earrings are having a moment in the spotlight and we're responding to our customers' desire for big, bold, splashy statement pieces," says Brooke.
Offering free domestic shipping for orders over $75, all Polli jewellery is proudly Australian made. All designs are hand assembled using quality materials, built to last. To craft their pieces Brooke and Sarah use fine recycled stainless steel and Australian Hoop Pine Ply, sourced from local manufacturers.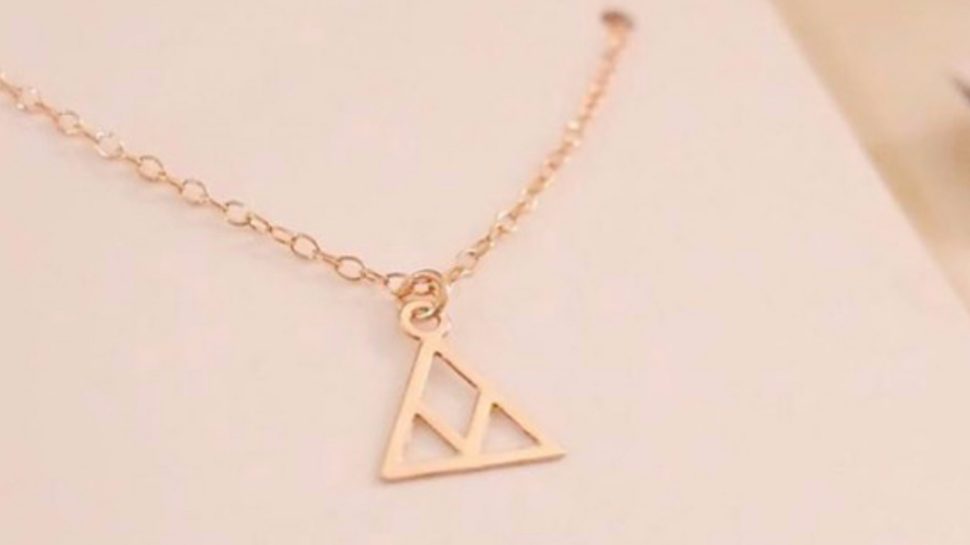 When asked about their inspiration points, Brooke says they are constantly drawing on their surroundings to create new collections and designs (some of the names of their collections include Modern Bohemian, Mystic River and Wildflowers).
"We are so lucky to live in an area with such abundant natural beauty, it's hard not to be positively affected. Strong, simple and balanced are some elements we follow during the design process and we keep these ideas in mind when completing a collection," she says.
They've learnt many things along the way too, especially the importance of investing in photography and styling to grow an online presence.
"Something we learnt very early on is that your pieces are only as good as your photography," Brooke says.

Brooke also notes that excellent customer service and simple, yet classic packaging helps to build a loyal customer base that keeps coming back.
"We love our regular customers and we always offer a personable experience and cute, environmentally friendly packaging," Brooke says.
"We add details such as gold foiling and custom size cards and present each piece in a branded calico drawstring bag that the customer can reuse. We hope shoppers get a sense of individuality and attention to detail, which we try and focus on in all our branding," she says.
Ethical jewellery made in Byron Bay

Free shipping within Australia for orders over $75.