Temporary suspension of Priority Letters
Due to the significant impacts of COVID-19, the Priority Letters service is temporarily unavailable from 1 June 2020 until further notice.
A temporary alternative Priority timetable is available for Domestic letter with tracking Imprint.
Please note: web page and documents may not yet reflect this change.
What can I send?
Domestic letter with tracking Imprint is a service for sending documents or similar flat and flexible items. Examples of acceptable items include:
licences or ID cards
tickets
debit and credit cards
membership or loyalty cards
SIM cards
gift cards
The minimum mailing volume is 10,000 items annually. Please note that this service is available on a contract basis only and is subject to pre-approval.3 
 
How it works
Each letter has an article ID and a two-dimensional barcode. When the barcode is scanned, data is captured about the item as it travels through our delivery network to the recipient.
With our Imprint service, you create your own unique barcode based on our specifications and print it onto your mail articles. That way, each item is linked to your account, making it easy to track the status of multiple items at once.
 
Get started
This service is available to customers on a contract basis only. To qualify, you must:
be sending acceptable content types
be able to generate and print GS1 DataMatrix (2D) barcodes
lodge a minimum of 10,000 items per year. There is no minimum quantity of items per lodgement
lodge at the approved lodgement facilities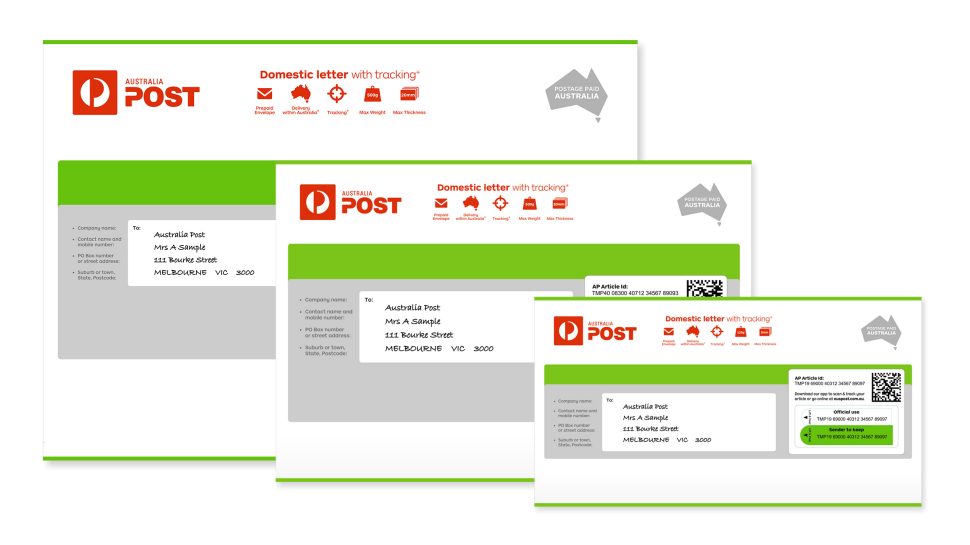 Sending smaller volumes?
If you're sending fewer than 10,000 items annually, use Domestic letter with tracking prepaid envelopes, which are available individually or in packs of 10.