How Steph Pase Planners improves the delivery experience
More than 'just another mummy blog', Steph Pase has built a fast-growing eCommerce empire around her love of organisation and belief in empowering women. She shares how Australia Post helped her scale up order fulfilment to meet insatiable demand here and overseas for Steph Pase Planners – with 300% growth in 2020.

Video: A stylish blonde woman sits on a wicker sofa. Text: "Steph Pase, Steph Pase Planners." Planners with pale covers, gold spirals and embossed gold writing are displayed on a table. Steph packs some in a box.
Audio: Steph: In 2016, I started my blog when my first daughter, Harper, was born. I really wanted to connect with other parents and talk about all things organisation and just tips to how to make your family routines run better. I always wanted a planner that had absolutely everything. So I worked with a designer, we got it manufactured, and in my first launch I sold 10,000.
Video: On a laptop, Steph uses an Australia Post website. In a warehouse, an Australia Post driver collects parcels. Steph wraps a planner in pink paper. She helps the driver carry parcels out to a van.
Audio: Steph: When I first started my business, I was with another carrier, but there were so many problems that arose and we had no customer service or support. So I jumped on with eParcel. Now we know the local Australia Post team by name and they come by twice a day. Before eParcel, I used to get up at 3am and I had to print out labels one by one. Now that would take another whole full-time staff member just to keep up with the hundreds of orders that we get.
Video: White text on a red screen changes from, "Delivering for Business," to, "Delivering for Australia." The Australia Post logo appears above "auspost.com.au/business".
Audio: Voiceover: Saving time on sending - it's another way we're delivering for Australia at Australia Post.
 
Key points
Steph Pase started her blog as a new mum, and now has over 200,000 followers on Instagram.
She channelled her love of organisation into an empowering life planner, and quickly exceeded initial sales targets.
In 2020, Australia Post and eParcel helped Steph's growing team ship over 23,000 planners around the world.  
Blogger Steph Pase is on a mission: to provide everything you need to enjoy a more organised life. So when the eCommerce arm of her content empire grew faster than she had ever imagined, she wanted a delivery partner who could also give her the systems and support she needed to stay on top of that momentum.
Having started Just Another Mummy Blog in 2016 when her first daughter was born, Steph quickly amassed hundreds of thousands of followers across Instagram, YouTube and Facebook. And she built a strong community around her fashion, lifestyle, home styling, mental health and beauty content.

But above all, she is known for her love of organisation.

"I always wanted a planner that had absolutely everything, rather than having to buy all those add-ons. And one day I had a crazy idea: what if I made it myself? And it just started from there," explains Steph.
Turning social influence into enterprise
Steph Pase Planners launched in 2019 with the 2020 edition of Steph's signature planner – an all-in-one life admin tool packed with budgets, bill trackers and shopping lists, recipes, workout planners, gift planners, daily to-do lists, habit trackers… and so much more. It's a tangible embodiment of her personal philosophy: to be her best self and take charge of her life – while also keeping things real.

"My ultimate goal was to sell 2,000 planners. That first year, we sold over 10,000," she says.

Steph admits the shift from blogging to online selling was a big learning curve. "I'd never manufactured or produced anything before. We did a lot of samples with the manufacturer, and I wanted to make sure we had enough cash flow buffer to place that first order."

Steph Pase planners are made overseas, but designed and packed here in Australia. As the orders kept rolling in, Steph and her husband had to turn their garage and shed into a fulfilment centre. It was then she learned just how important having a reliable delivery partner would be.

"That first shipment, I was using a different carrier and there was just no support. So I talked to other business owners in my online communities, and they all told me to switch to Australia Post."

Steph immediately signed up with Australia Post eParcel – which is more suited for businesses sending over 2,000 parcels a year – and hasn't looked back.

"It was so much better. I finally had someone to talk with, an Account Manager to answer my questions and help me get my business where it needs to be."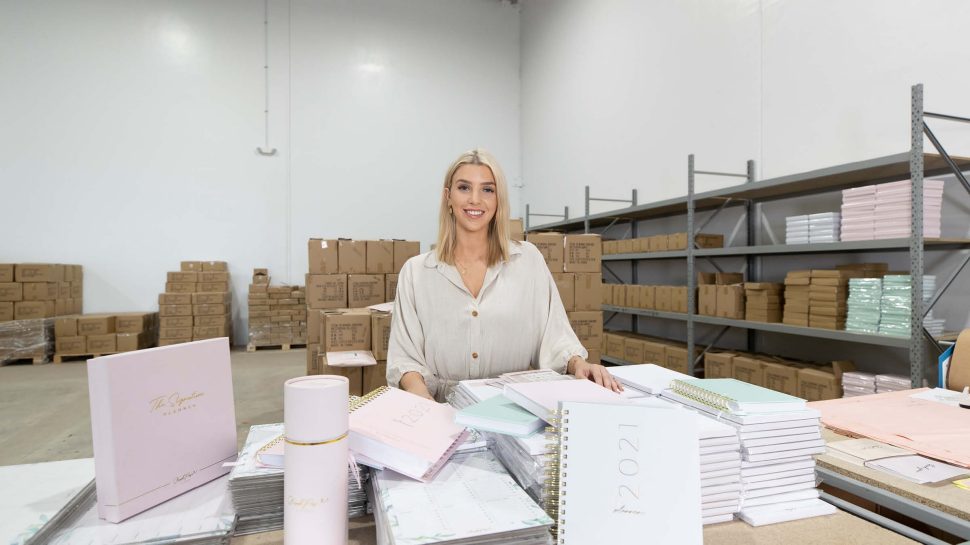 Sorting orders in a few simple clicks
Life in COVID lockdown spurred even more Steph Pase fans to get their lives organised, and the business grew 300% year-on-year in 2020.

"We sold around 23,000 of our 2021 planners, and added to the range with to-do lists and magnets. It's not just a seasonal business, although the period we call 'planner season' really is a marathon!" explains Steph.

'Planner Season' typically runs from October through to March, and is an all-hands-on-deck experience for Steph and her growing team – now operating out of a bigger 550 sqm warehouse.

"We now get twice daily picks-ups from Australia Post, and we know our Post team by name," Steph says. "I feel like Australia Post is now a really big part of our business. And it's what my customers see."

She admits that without the efficiency of eParcel, she'd probably have to hire at least one other person just to get through all those orders.

"We usually send out about 200 orders a day – when we have enough stock! eParcel seamlessly integrates with a 3rd party platform which makes printing labels and manifests so much quicker. It automates tracking, which our customers love.1 And it's also really easy to manage returns – just a few clicks and we know where it is, and our customer can see it's in the system."

Talk to an expert
Find out how we're making eCommerce easy. Request a call back to speak to an account specialist.

Shipping Steph Pase to the world
Steph also uses eParcel to send a growing number of orders overseas. "About 15% of our orders are international – New Zealand is our biggest overseas market, then the US and UK, and also South Africa… we even shipped planners to Paris," she says.

"We were able to adjust our website settings to calculate the shipping rates for international orders. In the future, I'd like to look at wholesale distribution options for the range, to make it more affordable for international customers."

Steph says she always adds a few freebies in with those orders. "Because I appreciate our planners don't cater for their holidays! But they seem to love it."

In the lead up to Christmas, when international delivery networks were under extra pressure, Steph decided to upgrade all her international parcels to express shipping. "It was super easy to do that with eParcel," she notes.

She suspects a lot of her sales, whether Australian or overseas, come from customers telling their friends. "And we support that with our own Facebook community, where everyone can share what they're doing that week with their planners – ideas for their challenges and goals."

This strong community is Steph's best sales tool. They have become advocates for her products as well as her life philosophy. And she plans to keep expanding her offer – with tailored planners for students, a smaller compact planner for people on the go, and online courses.

"Everything is online now. If I didn't have eCommerce, I wouldn't have a business. And I love having this deeper connection with my customers and my community," says Steph.

And with Australia Post ready to scale up to Steph Pase Planner's next phase of growth, she's confident she has the right partner with the right platforms to keep her eCommerce business organised.