Building a thriving online community with Steph Pase
What started as 'just another mummy blog' has turned Steph Pase into a go-to guru on all things organisation-related. She's grown her brand by building an engaged online community, and says their support for her genuine approach and advice is what has helped her business grow.

Key points
Steph Pase started her blog as a new mum, and now has over 200,000 followers on Instagram.
Her brand has expanded to launch a range of planners, her online presence allowing her to reach customers around the world.
She believes her online community is her best sales tool, advocating her products to their friends and family.
When Steph Pase started her blog after the birth of her first child in 2016, it was a way to share her thoughts and ideas with like-minded women on her motherhood journey. And it has grown into much more than 'just another mummy blog' with an engaged community of over 200,000 followers on Instagram and 73,000 YouTube subscribers.
This community has changed Steph's life, turning the blog into a career as an influencer and entrepreneur. And she continues to build her brand through this genuine connection with fans and followers.
With her blatantly honest posts on issues from postnatal depression to staying on top of family life chaos, Steph is best known for her mission to provide everything her followers need to enjoy a more organised life. And while there's no doubt her posts look beautifully organised (including a Pinterest-worthy pantry), her purpose is more about creating rituals and routines that make people feel more positive and in control.
Building trust and loyalty
Latest data from We Are Social shows Australians are spending an average of 1 hour and 46 minutes per day on social media, accounting for roughly one third of the time spent online. And more than one in three users turn to social media to gather information about brands they are considering.1  A brand's social presence is becoming an increasingly important tool for communicating what they stand for, and what they offer.
Steph's consistent social presence helped develop trust in her brand. And that loyalty gave her the perfect opportunity to expand her business revenue streams. When she launched Steph Pase Planners in 2019, she fully realised the power of her online community.
"As everything grew, I thought "What if I made a planner?" and it just started from there. Personally, I've always wanted a planner that had absolutely everything, the one-stop shop for the perfect planner. And that's how it all started," she said.
The 2020 edition of Steph's signature planner launched as an all-in-one life admin tool packed with budgets, bill trackers and shopping lists, recipes, workout planners, gift planners, daily to-do lists, habit trackers… and so much more. It's a tangible embodiment of her personal philosophy: to be her best self and take charge of her life – while also keeping things real.
"My goal was to sell 2,000 planners. That first year, we sold over 10,000," she says. "And then we sold around 23,000 of our 2021 planners, and added to the range with to-do lists and magnets. It's not just a seasonal business, although the period we call 'planner season' really is a marathon!" explains Steph.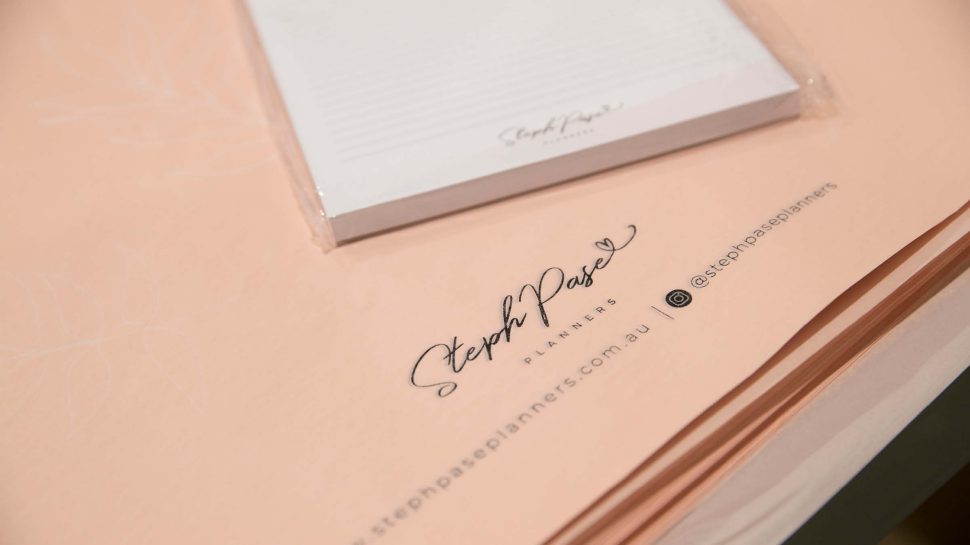 Initially promoting her products on her Instagram, YouTube and Facebook channels, Steph also added a new Instagram account dedicated to the eCommerce side of her business. This allowed her to differentiate content according to the different needs and interests of followers. A private Facebook group creates a dedicated community around her core product, allowing fans to share their planning goals, tips and inspiration.
Steph believes many of her sales come from customers telling their friends, and some don't even know she has a blog. She also plans to keep expanding her offer – with tailored planners for students, a smaller compact planner for people on the go, and online courses.
How to connect and grow your social presence
For Steph, a strong social community is her best sales tool. They have become advocates for her products as well as her life philosophy. Here are three tips to help build and engage communities online.
1. Be genuine
If your content doesn't feel relevant and authentic, people might question your motives rather than share it. And most importantly, they might not become an advocate for your brand.
Steph's community turns to her for guidance on all things organisation, interior styling, fashion, beauty and motherhood. Her role as an influencer is to create useful, practical and beautiful content that inspires and motivates – while keeping it real and staying relatable.
2. Be consistent
Steph uploads a new video to her YouTube channel every Monday. She knows her audience now expect that, and it's her job to follow through.
Your community needs to know you'll be there for them. This includes customer service enquiries, Instagram DMs and Facebook comments. Respond in a timely manner and post regular content to stay present in the minds of your audience.
This also works for the algorithm. Instagram will move your post to the top of follower feeds if you generate good engagement.
Test different days, times and frequencies to work out how active your audience wants you to be. Then you can develop a consistent posting schedule.
3. Have a plan
If you're just starting out, don't worry about being present on all platforms. LinkedIn may work for you, but TikTok may not! Think about your audience and where they're most likely to be, and focus on making those platforms the best they can be. It's better to have aligned, honest and consistent content on one platform than stretching your brand message too thin across several.
The 'give and take' of social platforms
Steph gives a lot to her online communities but she also turns to them for support as well. When she needed advice on choosing a new delivery partner, she says "I talked to other business owners in my online community, there are some really amazing businesses that are very open and I'm the same. They all said Australia Post has really good service, and you can actually talk to someone. We changed over, and it was just so much better."
In this way, online communities are more than a 'push' communication channel. It's not just about having a presence, but being open and willing to have a conversation. If you can engage more people through online communities, you have the potential to reach more customers and grow your business like never before.

Talk to an expert
Find out how we're making eCommerce easy. Request a call back to speak to an account specialist.

Get in touch