How TABOO delivers real impact with MyPost Business
Eloise Hall and Isobel Marshall started their social enterprise TABOO with a big idea – to help overcome period poverty – and zero eCommerce experience. Learn how they're tapping into Australia's $400 million sanitary product market with MyPost Business, and putting their postage savings towards positive causes.1

Key points
Social enterprise TABOO is on a crusade to fight period poverty.
Its subscription model delivers organic and environmentally sustainable pads and tampons every month – with proceeds going to programs that provide safe menstrual hygiene products and education.
Using MyPost Business has helped the young founders save on sending to get their social eCommerce enterprise off the ground.1

While still in high school, friends Eloise Hall and Isobel Marshall saw the opportunity to tackle the worldwide problem of period poverty. With Australian women spending almost $400 million on sanitary products each year2, they saw the potential power of this market and launched TABOO, their own brand of organic and sustainable cotton pads and tampons. As a social enterprise, TABOO directs all profits to sanitary health projects in developing countries and local outreach programs.
"There are girls who aren't able to attend school because they don't have access to sanitary products. We want to bridge this gap, and get a positive outcome from all the money we're putting into this market every month out of necessity. We can drive it into the right cause," Eloise says.
TABOO runs on a subscription model, which is important for two reasons. It ensures customers receive their product regularly, just like their period – and it also gives the TABOO team greater cash flow certainty.

In August 2019, TABOO shipped its first 150 pre-orders and were sending out approximately 20 to 30 orders per week using MyPost Business. And then Isobel was awarded Young Australian of the Year 2021.
"When Isobel won, we received 200 orders that weekend alone. And since then, have been doing at least 30 or 40 deliveries a week," notes Eloise.

Now, her goal is to keep building on that momentum to grow the brand's profile, get products in more supermarkets and promote their local outreach programs.
Saving more means giving back more
Eloise and Isobel have always operated TABOO on a shoestring budget. They first turned to crowdfunding to raise enough money to finance the first drop of products, and raised $56,000 in two months. Making the most of every cent meant carefully considering how they would sell, pack and distribute the products in the most cost-effective and sustainable way.

"We've run our business on little to no budget for four years," says Eloise. Winning a local start-up competition gave them access to a web developer, who helped them launch an eCommerce site that would enable subscriptions.

To deliver those monthly subscriptions, Eloise knew postage costs could be a significant burden on the small social enterprise. And she also knew reliability was vital, given the essential nature of the products.

As a Band 5 MyPost Business customer, TABOO now saves up to 40% on postage costs within Adelaide metro.1 "It's really beautiful to watch orders increase while postage rates decrease, especially as we're now delivering Australia-wide," says Eloise.
Talk to an expert
Find out how we're making eCommerce easy. Request a call back to speak to an account specialist.
A product that needs to deliver every month

TABOO is in the process of redesigning their website to make subscriptions even easier to manage, with the option to cancel or change orders anytime. And the new website, which will use Shopify, will also integrate easily with MyPost Business using a plugin.

"MyPost Business will save us hours every week on labelling with the new integrations," says Eloise.

"Turning around orders quickly, along with parcel tracking, is important when you don't want your customer to be "caught short," as Eloise says.3

"We need to make sure that it's there when they want it, and having tracking is great as well," Eloise says.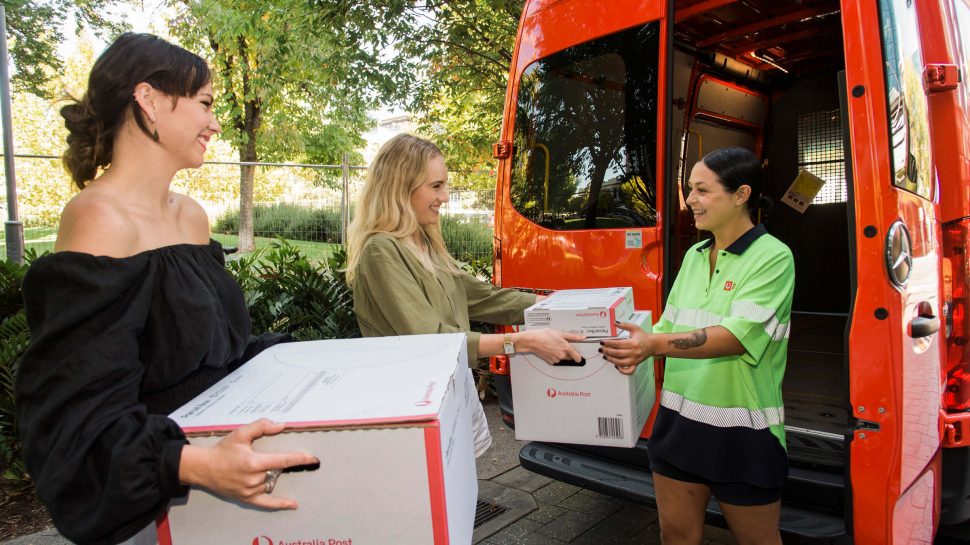 Eloise and Isobel also give subscribers the opportunity to pay it forward – with an option to gift products regularly to women in need. Last year, TABOO sent more than 2,000 boxes of tampons and pads to organisations around Australia that then distribute those products to women in need.
"That includes Vinnies Women's Crisis centre, for women who need emergency accommodation in South Australia," explains Eloise. They also support Red Lily Health Group. "We know that people really appreciate the opportunity to buy products for someone else. It's an easy and practical way to contribute to someone else's life," Eloise says.
Improving operations as they grow
TABOO products are already stocked in some Adelaide supermarkets, and Eloise's goal is to expand brand awareness by supplying more bricks and mortar stores around Australia.

She says talking to Australia Post has helped them learn about more ways to make distribution simpler and more cost-effective. "For example, we still make our own recycled boxes for product delivery," Eloise says. That may be environmentally sustainable, but as order volumes continue to grow it's just not scalable.

"We're working with the team at Australia Post to find a sustainable, branded packaging alternative," she says.

As TABOO's customer base continues to grow, its ability to make an impact on the lives of women around the world grows too. Eloise and Isobel's bold idea to turn the privilege of choice into an empowering social enterprise is giving more women and girls the opportunity to thrive, and overturn the social stigma of a longstanding taboo topic.