Leanne Liddle: Reflections on how far we've got to go
2022 Northern Territory Australian of the Year, Leanne Liddle reflects on her achievements, tackling racism, diversity in parliament and Aboriginal burning practices.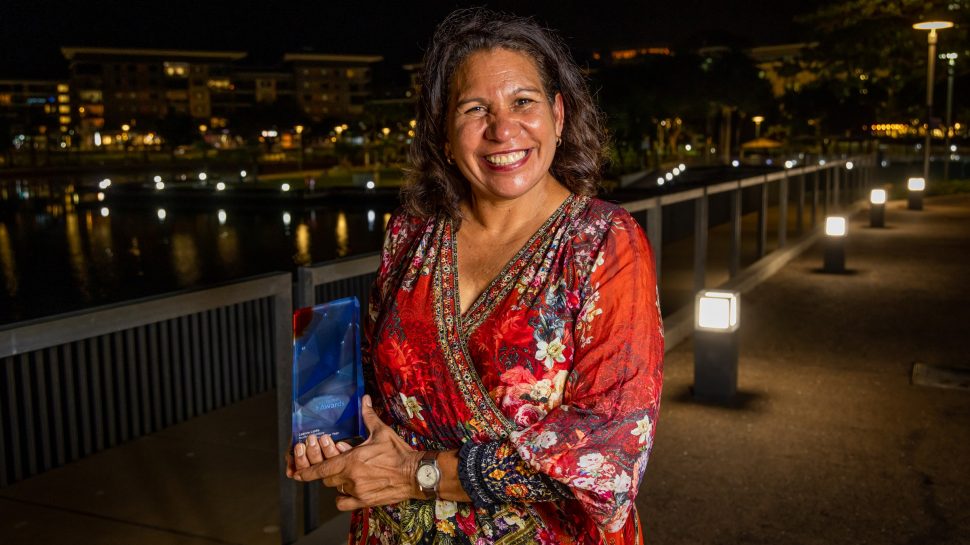 Born and raised in Alice Springs, she was South Australia's first Aboriginal policewoman and Director of the Aboriginal Justice Unit. As our 2022 NT Australian of the Year, Leanne is simultaneously witnessing progress while calling out a severe lack of it.
As Leanne celebrates her sister's most recent achievement of becoming the first Aboriginal senator elected in South Australia, she is also calling on the nation to work harder to deliver on equality.
Raised with a seemingly endless resilience to tackle injustice, Leanne has been a changemaker and driving force behind the Aboriginal Justice Agreement, which aims to reduce imprisonment rates, increase Aboriginal leadership and improve justice outcomes for Aboriginal Territorians.
Here she reflects on her Australian of the Year Award, Aboriginal land management techniques and practices that look after the land and how far we still have to go to eliminate racism and get equal rights and opportunities for First Nations People.
Leanne has always been a fighter
From her decade of service as South Australia's first Aboriginal policewoman to her role in the Northern Territory Aboriginal Justice Agreement, Leanne's list of achievements and impact is hard to quantify.
She reflects on her Australian of the Year Award saying, "for me I see the Australian of the Year as being the highest accolade you could get, and I felt that it was a large reward for the hard work that I put in over the three decades".
"What it really allowed me to do was to reflect on what I've done over the decades in the justice system. And I started to realise that there were so many other people that have invested in me to make me the person I am. Not just my parents but I had really good mentors, too. I stepped back and I thought, I've always been a fighter."
Pushing for progress
While Leanne describes herself as a fighter, she also acknowledges that we can't keep relying on hope to propel us forward. Leanne believes we need something more tangible to enact change, like more support in calling out racism.
Leanne still witnesses, and experiences firsthand, racism all around her and says more needs to be done to tackle the issue.
"I'm not surprised that racism still exists…. Racism is real. And it's raw and it's out there."
Leanne explains that Aboriginal and Torres Strait Islander people need more support in calling out racism.
"The question that I wish I were asked more often is, 'what can I do to help you tackle racism?' There has to be an acknowledgement that racism exists," says Leanne.
"I don't want it to be about hope anymore. I just want my kids to never have to face racism again. We can't rely on some magic wand or one person who is going to shift this. The whole country needs to move with us," says Leanne.
Leanne was raised by parents and grandparents that instilled in her strong beliefs and encouraged her to stand up for herself and others. She explains that the will to fight has been passed down from generation to generation and some people are too exhausted to fight against the injustices in their country anymore.
"You're an extension of the fight that your grandparents and your parents have fought. They haven't been able to make that shift but they made sure that their kids were in a better position than them to fight a good fight," says Leanne.
There's still a long way to go
Leanne comes from a trail-blazing family who have achieved several firsts for the Aboriginal community. Her brother, Jamie Liddle, is a pilot for an international airline; her sister, Kerrynne Liddle, is an Australian politician and the first Indigenous senator elected in South Australia; and her twin has a Doctor of Philosophy in Science.
Her family's achievements are worth celebrating but Leanne also puts them into perspective, saying "when I look and think, we're still celebrating 'the first'—we haven't come a long way. I feel quite ashamed as an Australian. We're excited that we're celebrating the first, but we really should be quite ashamed of ourselves and disappointed that's where we are in 2022."
Learning from Aboriginal communities
So, how do we create change? When talking to Leanne, it is evident that non-Indigenous Australians have much to learn about and gain from Indigenous culture. Take the concept of 'beauty', for example. For Leanne, beauty isn't about aesthetics. In fact, there isn't even a word for 'beautiful' or 'pretty' in her language.
Leanne explains, for her, the idea of beauty evokes images of traditional bush burning practices, which allows native plants and animals to thrive.
"We don't have an Aboriginal word for 'beautiful' in our Aboriginal language.
When I've done a really good fire burn in the desert and I can see how it restores the landscape and brings back food for the animals—there's fat goannas, kangaroos, emus and birds in the trees. For me, my skills have been put to good use and those animals are happy. The landscape looks healthy. That's beautiful to me."
As we increasingly recognise the importance of these Aboriginal perspectives, there is much for Western society to learn. Perhaps with the shared use of Aboriginal knowledge, we can start to build a better future for us all.

Nominate an inspiring Australian
Do you know someone who deserves recognition? Nominate them for an Australian of the Year Awards. Nominations close 31 July.