Supporting Uncle John's eCommerce growth
Uncle John's Licorice expanded its online presence at the start of 2020 – which proved lucky when COVID-19 restrictions shut down its event and market sales. In the process, owners Catherine and Jason Jenner have built a close relationship with local Post Office Licensee Dai Nguyen – and a bigger following of licorice-loving fans.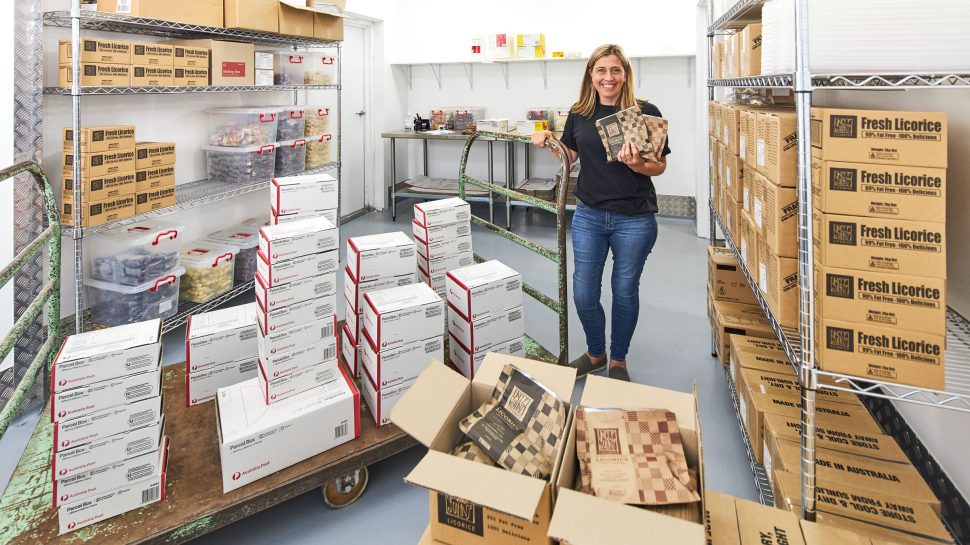 Key points
Uncle John's Licorice was having difficulty managing growing online sales after a successful transition to eCommerce in early 2020.
Dingley Post Office Licensee and Local Business Partner Dai Nguyen helped facilitate regular pickups to ensure deliveries went out on time.
The strong relationship between Dai and the Uncle John's team has helped the business continue to grow.
Catherine Jenner and her husband Jason have been the stewards of Uncle John's Licorice in Mordialloc, Victoria, for more than 15 years. The last of the country's old-fashioned, small-batch licorice makers1, Uncle John's produces traditional molasses licorice from a recipe that dates back 35 years. In late 2019, the Jenners realised it was time to expand the reach of this old-time treat through an improved online presence.
"Our online store was out of date, contributing less than 2% of our business," Catherine, Uncle John's General Manger of Operations, says. "We never advertised it. At the beginning of 2020 Jason looked at me and said, 'Imagine if we did something with that.'"
Catherine started advertising on Facebook, and created a Shopify account that integrated with her new Australia Post eParcel account. Her Valentine's Day campaign showed Uncle John's the power of eCommerce, with as many as 150 orders a day. It was a huge jump from around 10 a week the previous year. But then COVID struck.
"We lost 55% of our business just like that," Catherine says. "The Royal Melbourne Show is our biggest event of the year, so when that and other shows and markets in Tasmania, Sydney and Victoria were cancelled, we realised we were in trouble."
Her eCommerce platform improvements had the potential to keep the company afloat. But first she needed help managing unexpected delivery disruptions over Easter. So, she contacted Rodger Alister from Australia Post's Local Area Marketing team to discuss parcel pickup solutions.
"He introduced us to Dai. And we immediately knew that's how we wanted to do business."
Help is just around the corner
Dai Nguyen is the Post Office Licensee and Local Business Partner of Australia Post's Licensed Post Office in Dingley, a five-minute drive from the Uncle John's factory. He worked with the Uncle John's team to quickly coordinate a daily pickup service offered through the business' eParcel agreement.
As Uncle John's has grown, Catherine has turned to Dai to work out the best Australia Post packaging for her products. She uses flat rate parcels, small and large regular parcels, retail Postpak and Express Post flat rate boxes to ship their beloved molasses licorice as well as a growing selection of lollies.
"I know I can ask Dai what other people are using, and about different packaging options. And if he doesn't know the answer, he'll go and find out for me," says Catherine.
For example, when a customer told her products were not travelling well in the heat, she worked with Dai to investigate aluminium packaging and other alternative shipping methods.
From their first meeting, Catherine immediately felt how much Dai cared about Uncle John's and its success.
"He's a person with a family who owns a business," she says. "He gives us the service we like to give our customers, that sense of a small family business where we can call him anytime. He's so accommodating, always just around the corner."
Dai considers Catherine and Jason more like family than customers.
"Jason and Catherine are so down to earth," he says. "We chat about what we do on the weekends, our kids. It's more than just a business relationship."
Thinking outside the parcel

Dai wants to make things as easy as possible for Uncle John's and the other small businesses in his area by making his Post Office a one-stop shop for everyday business essentials. He says his strong relationships with local owners help him provide more value.
"I can get a better idea of what they might need," Dai says. "Then I can find ways to sort that for them – and save them time by not having to go to multiple stores."
By stocking everything from packaging and paper to pens, notebooks and laptops, printers and ink cartridges, local Post Offices can help organisations get back to business quicker and easier this year. This can also save businesses from using valuable on-premises space for storing extra stationery and supplies. Catherine says she will look to take advantage of the convenience Dai and the Dingley Post Office offer in the future.
"The other day when I bought office supplies, I thought 'I need to remember to get that from Dai. Why am I giving myself another job to do?'"
But Dai wants his Post Office to be a place that goes beyond providing access to a wide range of products.
"It's about more than selling goods," he says. "I want people who come to my store to see it's about helping businesses grow. The Dingley community supports us, and I want to give that support back to them."
Reaching a larger, licorice-loving audience
By the end of 2020, Uncle John's was sending about 150 parcels of licorice and confectionery goodness each week to customers around Australia. Its email list has grown from about 500 at the end of 2019 to about 5,500. And online sales have grown by a factor of ten.
"We used to only sell to people in Tasmania, Sydney and Melbourne," Catherine says. "But online has shown us just how many more people we can reach around the country."
Catherine is confident eCommerce figures will remain strong in 2021 – and that Dai will be there to help every step of the way. "I feel like he has a vested interest in our business."
"When COVID hit, I wanted to do what I could to help them and try to open other doors for them," Dai says. "So, I started selling their licorice in my shop. Our customers love it, and now it's a permanent part of my product list.
"For me, helping businesses grow around me is the nicest thing I can do in my profession. We're not here just to make money – we care about the businesses in our community and want to help them grow."