Teaching children to read: 5 tips from a teacher and author
Nurturing a love of books and stories is one of the greatest gifts a parent can give a child. Indigenous teacher and author Shelley Ware shares her five best tips for teaching your child to read.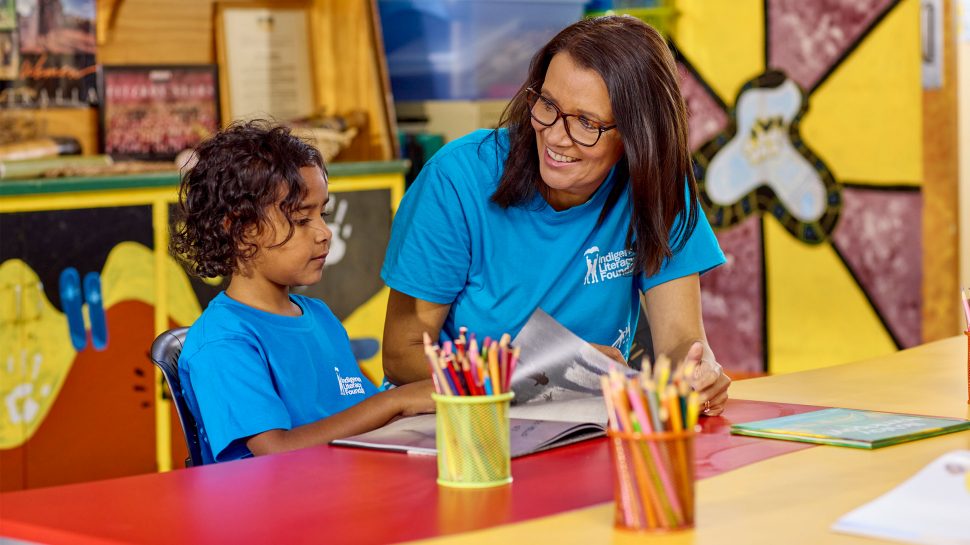 It's never too early to start reading with your child. Even babies benefit from spending time on your lap with a simple touch-and-feel book in their hands. Indeed, according to Australian parenting website Raising Children, reading promotes brain development and imagination, develops language and emotions, and helps strengthen relationships.
Yet helping your child with language literacy and early childhood education can feel daunting for some parents. Where to start? What to read? And how often?
While there are no hard and fast rules when it comes to teaching your child to read, there are certain strategies that not only develop early literacy skills but also nurture a lifelong love of books.
Respected teacher and author Shelley Ware has a few ideas to share. A proud Yankunytjatjara/Wirangu woman who lives on the lands of the people of the Kulin Nation, Shelley is an ambassador for the Indigenous Literacy Foundation (ILF) and has worked with schools and children across Australia. She's also a devoted mother with lived experience of teaching her own child to read.
Here are Shelley's top five tips to help your child learn to read.
1. Fill your home with books
"First of all, I'd encourage parents to have books everywhere —on all sorts of topics and different styles. Keep it interesting so your kids are engaged," says Shelley.
To build your book collection, she recommends joining the local library and if possible, buying a copy of your children's favourite library. If you need inspiration, Shelley suggests Bidhi Galang or Country Tells Us When…
The first is a beautiful new book by Anita Heiss that explores Aboriginal peoples' connection to Country. The second is published by ILF by educators Tsheena Cooper, Mary Dann, Dalisa Pigram-Ross and Sheree Ford, which takes young readers on a journey through the six local seasons of the Yawuru people in the Kimberley region of Western Australia.
Shelley also suggests installing a bookshelf in your child's room. There, they can gradually add to their favourites — and dip back into them whenever they like. "When you walk in and see your child sitting there, turning the pages, it's pretty special," she says.
2. Make reading part of your bedtime routine
Bringing books into your home and encouraging kids to flick through the pages is a great first step. But Shelley says it's even more important to read aloud to them. "Make reading a part of your bedtime routine — a special time at the end of the day when you sit together, have a cuddle and read a book," she says.
Raising Children recommends that you ask your child open-ended questions while reading to them. Simple questions like, "What do you think will happen next?" or "How do you think the character is feeling?" can help your child think about the story in new ways.
Your bedtime reading routine shouldn't come to an end once your child has mastered reading on their own. "As your children get older and start reading — or mimicking your reading, which is one of the steps of learning to read aloud — listen to them and provide feedback. Keep checking in as their skills can quickly decline if you don't practice with them."
You can also lead by example by regularly picking up a book yourself. When they see that it's an enjoyable pastime of yours, they'll be more likely to follow suit.
3. Nurture good reading skills
In the early days, point to each word as you read it aloud — and encourage your child to do the same. This helps them make sense of the words on the page and indicates that they are following along.

When your child starts reading aloud to you, try not to jump in and read the more difficult words for them. Instead, let your child try to verbalise the word by using their understanding of the sounds of each alphabet.
Shelley also suggests making it a daily habit to practice sight words especially if your child has started school. These are words that appear frequently in reading and writing, for example "who", "the", "we" and "are".
"Go over the sight words together with your child and try to make it a fun activity," she says.
4. Ask for help
If you notice your child struggling with their reading — for example, they're not learning their sight words at the expected pace — then it's a good idea to have a chat with their teacher. Share your observation and ask if there's anything else you could try.
"Every child is different. Not all children just pick up a book and off they go. Some need a little bit of extra help or may have a different way of learning. Understanding how your child learns is really important," Shelley says. She speaks from experience — both she and her son are dyslexic.
"If your child is missing a beat with reading, try not to solve the words for them - and try not to get frustrated."
5. Re-read all the favourites
Parents who have already been on this journey will be able to recall, word for word, their children's favourite picture books. Kids want to re-read their favourites over and over again, and this repetition works in their favour.
"Repetition can be really fun. The child can predict the next word and get excited about what's coming up on the next page. It's like a game and it puts the fun into reading," says Shelley, who remembers reading The Very Cranky Bear by Nick Bland and The Day the Crayons Quit by Drew Daywalt many times with her own son.
Hear more from Shelley
Shelley's new book, We Are Matildas, is out now — just in time to get kids excited about the women's World Cup. You can also read more about her work with the ILF.

Australia Post proudly supports First Nations literacy and learning
Since partnering with the ILF in 2020, we've ensured the safe delivery of over 388,000 books to 453 remote First Nations communities, giving children and their families access to new and culturally appropriate books.