Thailand Travel Insurance
Thailand is one of the most popular destinations to visit in South East Asia. With its sandy white beaches, iconic temples, opulent royal palaces, mouth-watering food and a relaxed pace of life, there's something magical about exotic, fun-loving Thailand.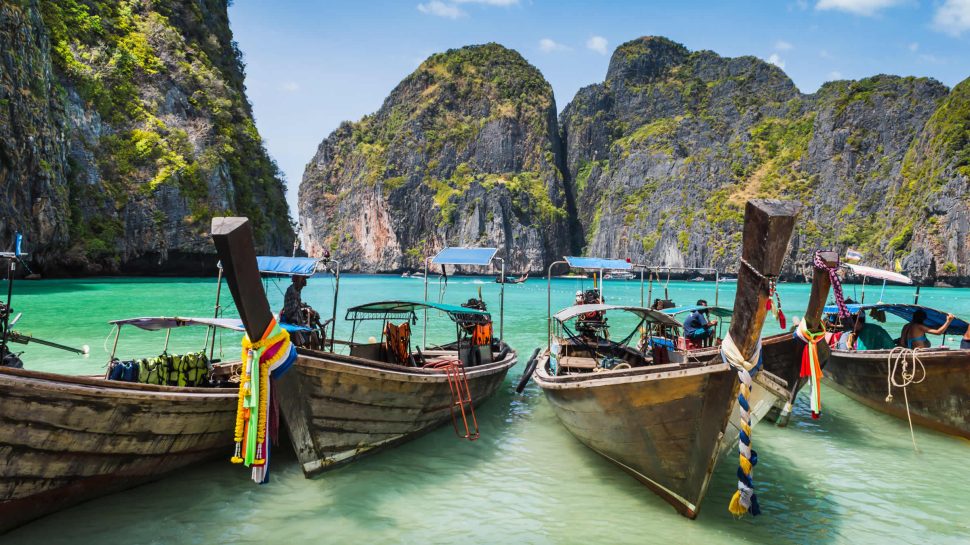 With so much to discover, travelling to Thailand with travel insurance cover is a must.

Top spots
Thailand's capital Bangkok is one of the most exciting cities in the world. Travel by tuk-tuk through the busy streets, visit the stunning Grand Palace and wind your way through the colourful floating markets. When you're in Bangkok, the journey can be just as exciting as your destination!
Other top Thailand holiday regions you might want to include on your itinerary include:
Phuket, for a relaxing island getaway
Koh Samui, loved for its rural charm, world class resorts and tropical island holidays on a budget
Krabi, Southern Thailand's best kept secret, full of stunning natural attractions across eight districts.
Culinary delights
From gourmet Thai restaurants in the culinary centres of Bangkok and Chiang Mai, to food vendors in street markets and small provincial towns, one of the great pleasures of travel in Thailand is enjoying the local cuisine.
Unfortunately, the risk of food poisoning is high when travelling in less developed countries. Take preventative measures like washing your hands before eating, keeping fingers away from your mouth and being selective about what you eat or drink. Stick to bottled water and eat at busy restaurants and stalls serving freshly cooked local food and peelable fruits. Avoid any uncooked, undercooked or reheated food.
Rest assured if you do end up with a bout of food poisoning, you'll be in good hands if something goes wrong.
You may be eligible for our Travel GP Service2, which connects you with an Australian-based GP for medical advice. There's no tackling a foreign language or health care system, you simply make a call to our medical assistance team, and one of our Australian-based GP will be in touch if you're eligible.
Stay safe 

Sadly, pickpocketing and bag snatching can happen in Thailand. With crime levels generally higher than what we're used to here in Australia, make sure you store your valuables safely and never leave them unattended.
Our International Comprehensive Travel Insurance Plan covers a range of lost, stolen or damaged items. You'll travel with confidence knowing that if you do fall victim to petty crime, we'll cover the value of lost, stolen or damaged smartphones, cameras, tablet computers, laptops and all other electronic up to the value of our single item limits.1
And for an additional premium1, you can also increase the value of cover for specific items so your high value, favourite travel items can be covered.
Got a taste for Thailand? Find out more about travel insurance for Thailand.