Top 10: Thailand market destinations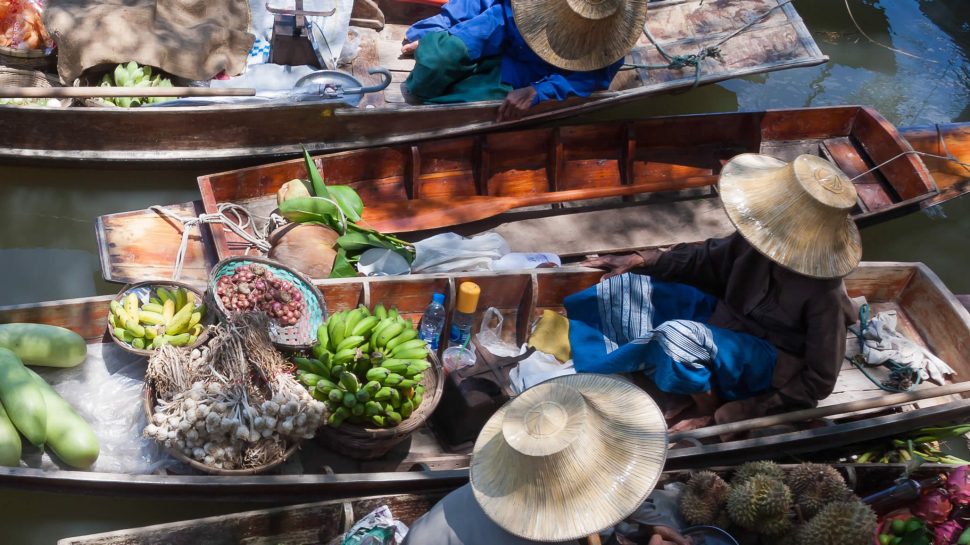 Chatuchak Weekend Market, Bangkok
At over one kilometre long and with more than 15,000 stalls, Chatuchak Weekend Market is one of the world's biggest markets. You'll find everything from clay handicrafts to Buddhist amulets, furniture, ceramics, silk, local art, animals (really), jewellery and clothes, making it a one-stop shop for, well, pretty much anything.
Phuket Indy Market, Phuket
Made up of independent traders, the Phuket Indy Market is not only a trading home for local artists, cooks, and designers, but a chic social hub. Often putting on music and entertainment, these night markets are a way to get a taste of Thailand's vibrant youth culture and spend a great evening out.
Damnoen Saduak Floating Market, Bangkok
Thailand's floating markets are precisely what they sound like—stalls built on canoes docked in narrow canals. Thai markets are popular tourist attractions, but none are as popular as Damnoen Saduak, a lush market full of locally farmed produce. Be prepared to deal with crowds as tourists turn out in droves, but this cultural hub is worth seeing with your own eyes.
MBK, Bangkok
MBK might be a mall, but it's also one of Asia's oldest shopping centres and houses mostly Thai brands and designs, making it a unique experience compared to the homogenised high streets elsewhere in the world. At more than eight storeys high, it's a massive space where you can easily spend a day familiarising yourself with the brands, looks and styles that are popular with the locals.
Pak Khlong Talat Flower Market, Bangkok
You won't be able to take anything but memories home from the Pak Khlong Talat Flower Market, but those memories will be well worth the trip. With hundreds of flower vendors hawking their wares, this market ignites the senses, sparking wonder in anyone who wanders through.
Patpong Night Market, Bangkok
Leave the kids behind and head out to the Patpong Night Market. Set in the busy go-go bar district, this eclectic market is a colourful adventure in one of the more vibrant areas of the country. Be wary of hawkers trying to overcharge in this busy marketplace. Prepare to haggle hard, it's all part of the fun.
Phuket Walking Street, Phuket
Located in Phuket Old Town, this 350 metre long stretch of market stalls, set against the backdrop of the old Sino-Portuguese houses, is a celebration of food, music, Thai handicrafts and clothes. Be entertained while you shop with an array of performers bringing added flavour, the walking street gives visitors feel for Phuket, both old and new.
Lamai Night Market, Surat Thani
Set on the golden beaches of Thailand's largest southern province, the Lamai Night Market is a compelling, family-friendly way to spend an evening. With a variety of street food—much of it vegan—produce, trinkets and homemade handicrafts, this market is a departure from the larger city markets, lending a different experience to your holiday.
Sunday Night Market, Chiang Mai
Often considered by tourists to be one of the best markets in Thailand, this enormous night market is diverse, dynamic and full of things you might not find elsewhere. From deep fried bugs to sticky rice, metalwork to paperwork, handbags, textiles and more, this market is as diverse as it is well priced.
Chillva Market, Phuket
A mix of permanent stores and nomadic stalls, the Chillva Market in Phuket is known for its bohemian vibe and creative use of space, colour and function. Steal a bargain at the t-shirt stalls or listen to emerging musicians play in the market centre, this multifaceted market has much to offer.
Shop Smart
With holiday shopping spree, make sure you return home with some choice buys and not a pile of debt. Stick to your budget, know the currency exchange rates and familiarise yourself with Australian Customs laws—double check Australia's border protection rules before you buy to ensure that your special finds can be yours for keeps.