More than beaches: Bali's annual book festival draws a crowd
Surrounded by rice fields and staged in a town 35km from the bright lights of Kuta beach, Ubud Writers & Readers Festival draws a different kind of tourist to Bali.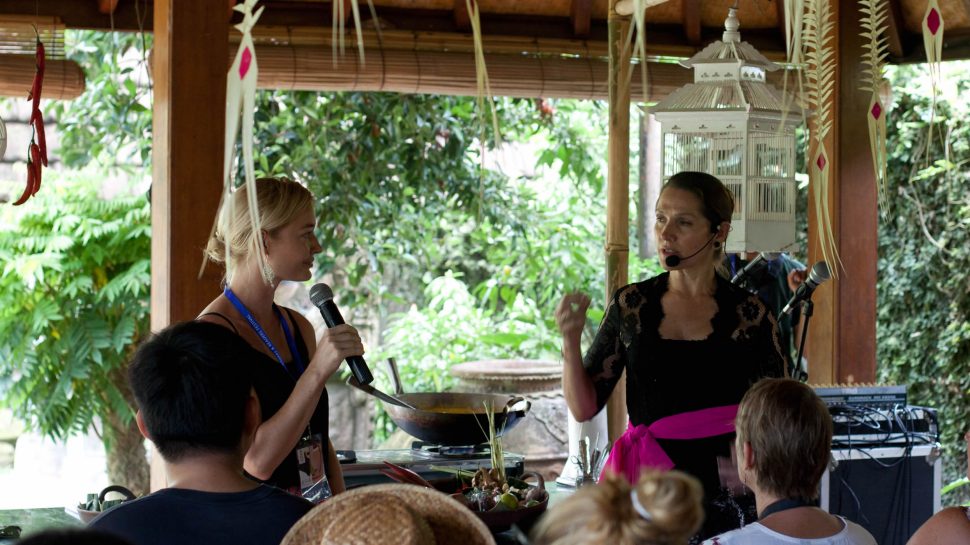 Growing up, any mention of Bali was accompanied by talk of beaches. People travelled to Bali to swing in hammocks, drink cocktails and escape their lives back home. They returned bronzed and armed with souvenirs. Or at least, that's how I remember it. In the last decade, Bali has begun to attract a different kind of tourist.
Today, more Australians are becoming intrigued by the Bali that exists away from Kuta Beach, and the obligatory trawling for authentic-looking knock-offs and bargains that occurs moments after touching down at the nearly airport. If this well-trodden tourist mecca isn't your scene, keep reading.
Bali has always offered us a break from the mayhem of city life and an enveloping dose of serenity, with a stunning landscape thrown in. It's a tourist tale well told. Of day spa and yoga retreats, and the kind of travelling made famous by Elizabeth Gilbert's best-selling book Eat, Pray, Love and Julia Roberts in the film adaptation.
Ubud is undoubtedly one of these destinations. Far from undiscovered, it was recently voted the most fascinating city in Asia by Condé Nast Traveller. For the past decade, Ubud has been a destination from which to experience the 'real' side of Bali, home to a network of neighbouring villages, local artisans and Hindu temples.
Set 200 metres above sea level and just 35 km from Denpasar International Airport, Ubud is all of those things, surrounded by lush, terraced rice fields. It's cooler here than in other parts of this otherwise tropical island, and there's plenty of accommodation – from traditional Indonesia guesthouses to hotels and home stays.
But there's one event each year that draws a truly diverse crowd. The Ubud Writers & Readers Festival was founded in the aftermath of the Bali bombings in 2002. Today, it's Southeast Asia's largest and most highly regarded literary event, run by not-for-profit foundation, Yayasan Mudra Swari Saraswati, which is committed to enriching the lives and livelihoods of Indonesians.
This year, the line-up includes luminaries like UK crime writer, Ian Rankin; however, he's just one of 150 authors, artists and activists invited to Ubud for the five-day event. Flying in from 31 countries, the speakers reflect a programme that's as diverse as it is local. Young Indonesians flock to Ubud as well as literary tourists.
Festival tourism is a huge source of revenue around the world – think of the thousands who fly to Adelaide each year for WOMAD or Adelaide Fringe Festival. Locals in Melbourne and Sydney have festivals competing for their attention any night of the week. In Scotland, Edinburgh is at its peak during festival time.
But these are all cities. Ubud is a collection of 14 villages. It spans a radius of five kilometres, and beyond the central town, the landscape turns to rice paddies. It's located in the province of Bali, which has a population around the same size as Melbourne and is home to most of Indonesia's Hindu minority.
So, an event that attracts international guests and far-flung visitors into a stunning mountainous location that's littered with cultural attractions is a rare combination for a travel destination. Not to mention the affordability of travelling in Indonesia with Australian dollars.
It seems like a no-brainer as a travel destination for a writer, but before booking my ticket, I post a question on social media: What makes the Ubud Writers & Readers Festival so special? With a crew of festival programmers, writers and artists on tap, I'm keen to hear why this festival has become such a hot spot.
For starters, I'm told, Ubud itself is just lovely, hospitable and physically beautiful. Plus, the town feels small, even with hectic traffic jams in the main street. You can wander from bookshops to cafes, restaurants to museums, taking in events at all hours. And the festival attracts young people and locals, so the conversation is rich.
As an aside, literary festivals can get a bad rap for catering largely to those who can afford to buy visitor passes and signed copies of books at their leisure; whereas, Ubud Writers & Readers Festival appears to attract all ages and demographics, perhaps by inviting guests who are leading journalists, artists, authors and activists.
It's billed as an ideas festival as much as a literary one – where people are encouraged to develop and share their thoughts. The program offers workshops, film screenings, performances and talks. With no publishing industry as such in Ubud, the festival is able to focus on the practice rather than publishing of stories.
Each year, the festival relies on donations and in-kind support, sponsorship and grant funding in order to survive, as it doesn't receive any operational support from government or donors. This year marks the 14th Ubud Writers & Readers Festival and with a theme of 'origins' there's much to celebrate.
The Ubud Writers & Readers Festival takes place during 25-29 October 2017. Photo by Sally May Mills 2016.