Top 10 Bali market destinations
Bali's vibrant, cosmopolitan shopping scene appeals to luxury-seekers, bargain-hunters, and those in between. A long-standing mecca for artisanal wares, you'll want to pack lightly to save some space in your suitcase for a haul of traditional souvenirs, jewellery, and crafts.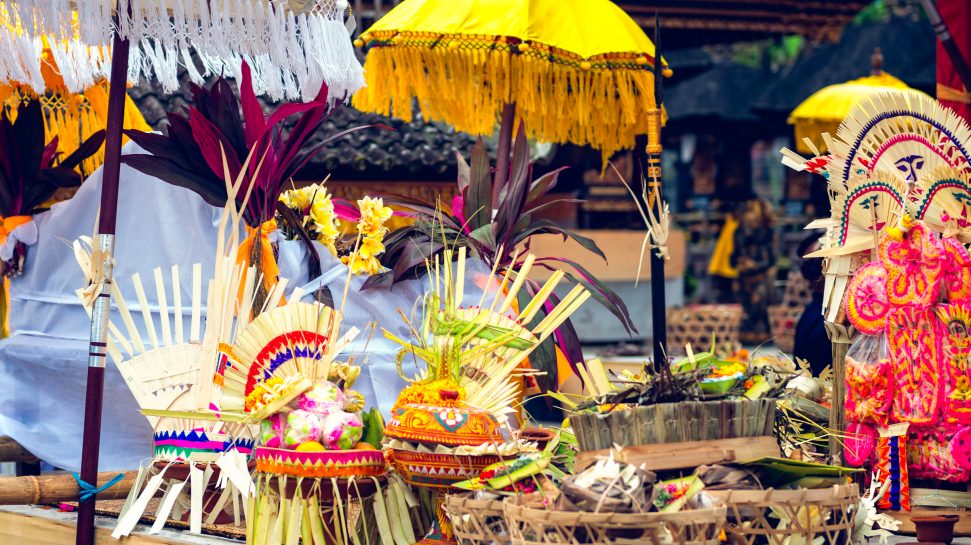 The island's warm, tropical climate makes it popular with tourists all-year around. The dry season — also the peak season for travellers — typically lasts from April to October. While there are plenty of Balinese venues offering air-conditioned comfort, most open-air markets or shops in small arcades will prove challenging in the humidity. Shopping is best done in the morning to avoid the throngs of people and the heat.

Keep in mind that some goods may be subject to inspection by Customs on arrival in Australia. Check import regulations before making any big purchases. Wooden or woven crafts that are free of insect damage or contamination are allowed to be brought into the country, but there are restrictions on some leather and fur goods. Contaminated items can be treated for a fee or they will be confiscated.
Sukawati Art Market, Gianyar
Regarded locally as the island's mother of art markets, the Sukawati Art Market is a long-standing tourist attraction offering a range of authentic Balinese gifts, art and mementos. From garuda sculptures to Kamasan-style paintings, it's a unique cultural experience sure to set your senses alight. Most market vendors in Bali don't accept credit or debit cards, so it's best to have some Indonesian rupiah on hand for your trip.
Travelers with a hankering for impressive craftsmanship will be at home in Singakerta, a short drive south of Ubud. The village is home to some of the most detailed wood-carving on the island (read up on those customs restrictions before you buy). Catering to a range of budgets, such shops typically sell hand-carved wooden masks, figurines, sculptures, giant Komodo dragons, and immortal deities. There are also many outlets dedicated solely to stonework, selling fountains, friezes, statues, and relief carvings. Another option for wooden crafts is Pasar Sukawati, which is renowned for its intricate recreations of wayang kulit (shadow puppets) and wayang golek (rod puppets).
Candi Kuning Market, Bedugul
If you need a break from the clothes, art and jewellery that dominate many markets in Bali, try igniting your sense of taste at the famous Candi Kuning Fruits and Vegetable Markets in Bedugal instead. Known for its wide range of tropical, and locally grown, fruit and vegetables, this market is a decadent way to spend the day, and perhaps even try some flavours you may not have experienced before.
With a long cultural history of gold and silver, Bali is known for its brilliant and intricately designed jewellery. Chez Monique was founded by Balinese silver craftsman, Wayan Sunarta and offers classes to teach you how craft your own unique piece. Classes take around four hours—and, of course, you get to keep the jewellery you create, making it a unique day trip experience for your Bali holiday.
This may well be Bali's most famous market after its starring role in the movie Eat, Pray, Love. Located opposite the Royal Palace, the market (also known as Pasar Seni Ubud) is a feast for the senses. Tourists make a beeline for the locally made crafts and trinkets, handmade bags, sandals, silk scarves, jewellery, batik clothing and ornaments on offer. Bartering is welcome, especially if it comes with a smile. Remaining polite and jovial is a handy negotiation tactic. Those looking to escape the tourists can descend into the market's basement, where a bustling warung offers charcoal-grilled Balinese specialties to hungry shoppers.
Tegallalang Handicrafts Village, Gianyar
With just about every handicraft you could possibly desire for sale here, the Tegallalang Handicrafts Village is a must-visit for any tourist wanting a rich Bali experience. Wooden carvings, decorative masks, glass handicrafts, vases, plates and all manner of crafts can be had here. Set against Bali's lush rice terraces, it's also a beautiful destination offering up some of the best scenery you're likely to see on your holiday.
Kedonganan Fish Market, Jimbaran
Located in Bali's primary fishing district, the Kedonganan Fish Market has some of the freshest seafood you're ever likely to taste. Not only can you get crabs, prawns and lobsters at insanely affordable prices, but get there early enough in the day to see the fishermen unloading their nets full of sardines and mahi-mahi, making it an extra thrilling experience.
Kumbasari Art Market, Kumbasari
With over two storeys of stalls, Kumbasari Art Market is must-see for the creatively minded tourist, offering a range of eclectic and artistic goods from local independent artists. Whether you're shopping for silk parasols, silverware, temple artefacts, ornamental cloths, paintings or Balinese batiks, if it's arts and crafts you're after, odds are Kumbasari has just the thing.
Jalan Sulawesi, Denpasar
Textiles take centre stage here. The street teems with shops stocked floor to ceiling with local and imported lace, batik, cotton and silk in a dizzying array of colours. Fabric can be bought pre-cut or by the metre at affordable prices. Many shops have tailors on the premises, or can point you in the direction of one. Bringing a garment with you as a reference point for tailoring is highly recommended.
A decidedly young, hip crowd flocks to Canggu for contemporary crafts, jewellery, homewares, organic produce and clothing. The Old Man's Market, held on the last Saturday of each month on Batu Bolong Beach, shines a spotlight on emerging local designers and artists. Popular with surfers, it's no surprise the market also sells bikinis, surf boards, wetsuits, and custom-made fins. Meanwhile, Canggu's weekly Sunday Market, open from 9am to 2pm, draws a friendly crowd of yogis, young families, and expats with its eclectic mix of homemade preserves, organic skincare products, second hand clothing and handmade silver earrings and bangles.
Shop Smart: don't let the holiday spirit lead you financially astray. The Australia Post Travel Platinum MasterCard® offers a smart way to shop and track spending. Stick to your budget, know the currency exchange rates and familiarise yourself with Australia's border protection rules before you buy.
Whether you use a pre-paid travel card or cash, you'll travel smarter when you find the right solution for your money.