Make the most of the drive – 10 towns to visit on your New Zealand road trip
A road trip through another country is truly a one-of-a-kind type of holiday. You can see things you'd never see from the sky, meet lots of new people along the way and have the flexibility to explore places that are further than walking-distance. It can also bring about a particularly unique set of challenges. After four weeks of road tripping through New Zealand with a friend, one of the trickiest problems we had (second only to deciding where to eat) was deciding where to stop during the long-haul drives. In one of the most scenic countries in the world, it's very easy to want to stop at every little place along the way.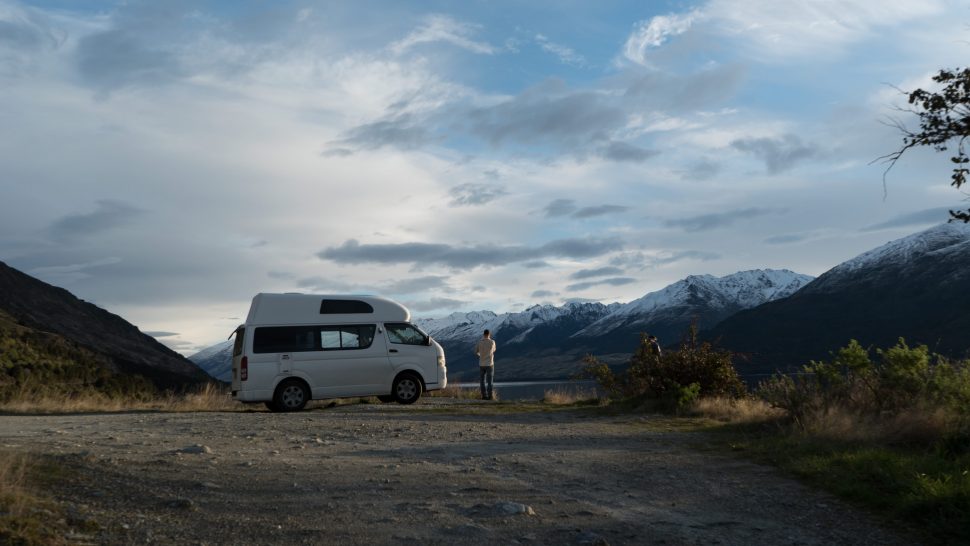 While Australia shares many common traits with our cousins across the Tasman, the nature of our roads is not one of them. Prone to tropical cyclones, hurricanes, earthquakes and tsunamis, the roads of NZ can often change without much notice. There's also many more mountains to go over, around and through than many of us are used to at home. While the roads may be unbelievably beautiful, they're also quite taxing and require a great deal of concentration, patience and awareness, so making regular pit stops is essential. When driving from one place on your itinerary to the next, planning some of these breaks ahead of time can allow you to see places you wouldn't have otherwise seen, or visit those towns that didn't quite make the shortlist for places to stay.
Travelling days don't have to feel like a wasted day of the trip. One of the best things we did was search for the 'best free activities' in the areas that we were driving through to liven up our heavy-driving days. If you're going to get out and stretch your legs, you may as well do it in a national park or vintage museum. If these ten towns aren't already on the itinerary, see if you can squeeze them in while on the road and make the most out of your New Zealand road trip.
South Island
Christchurch to Queenstown stretch
1. Lake Tekapo
Even though it's home to less than 400 people, the town of Lake Tekapo is also home to some of the most beautiful views in the South Island. This little town at the southern end of the lake is almost exactly the middle point on the drive from Christchurch to Queenstown, so it's the perfect point in the trip to stop for lunch and to take some photos of the impossibly blue water. With a spattering of café's and accommodation, crazy water-sports and beautiful hikes, it's also a great place to stay and chill out for a summer night or two.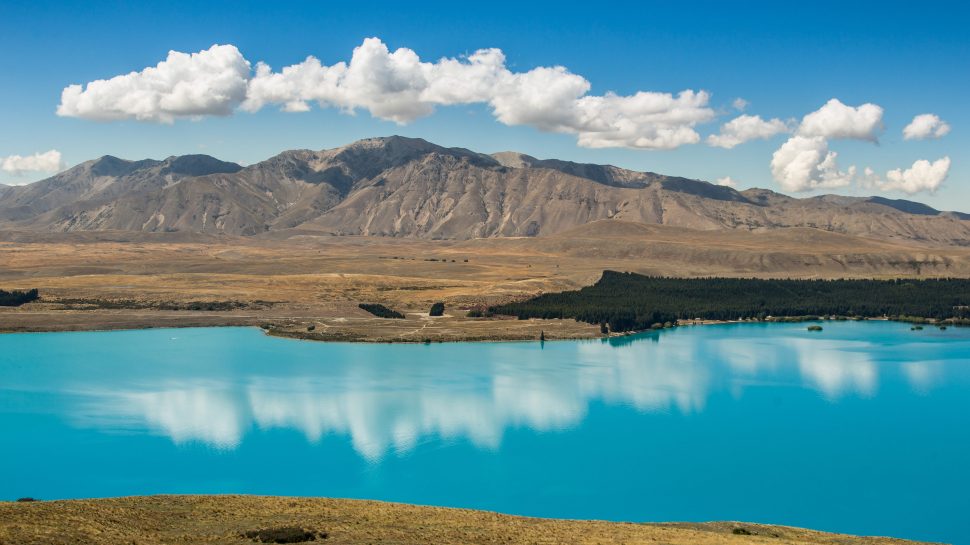 2. Wanaka
At the southern end of Lake Wanaka is the resort town of the same name. About two hours out of Queenstown, this little gem is infamous for its epic skiing spots. In fact, New Zealand's two young 2018 Olympic medallists, snowboarder Zoi Sadowski-Synnoy and freeskiier Nico Porteous both grew up on the slopes of Wanaka! If extreme sports isn't your thing, take a break from driving and go for a wander around the beautiful gift shops, the funky restaurants and countless cafés – all surrounded by the stunning lake views and the snow-capped mountains of course.
3. Arrowtown
Just 20 minutes out of Queenstown, this gorgeous gold-rush town is definitely worth stopping by on your way in or out of the city. This charming historic village has the most beautiful heritage main street which is a perfect place to stop for breakfast or lunch before you begin your drive back over the mountains. If you have some flexibility in your itinerary, Arrowtown has been a favourite holiday spot for New Zealanders since the 1950s and is now considered a national treasure. Spend a few days and explore the historic town, cycle through the wineries and relax by the Arrow River.
Westport to Nelson or Blenheim
4. Kaiteriteri
The drive from Greymouth or Westport to Nelson and beyond can be a long or tedious drive for road trippers, as it's a prime spot for landslides and can be a slow ride if there's some traffic going around the many curly spots along the way. But if you've got the time to spare, gift yourself a little detour further northwest to Kaiteriteri. Just an hour out of Nelson, the golden sandy beach and crystal clear water is a little slice of paradise that you don't want to miss. If you're heading into the Abel Tasman National Park, continue the relaxation for a little bit longer and visit this beach town before you hit the road again.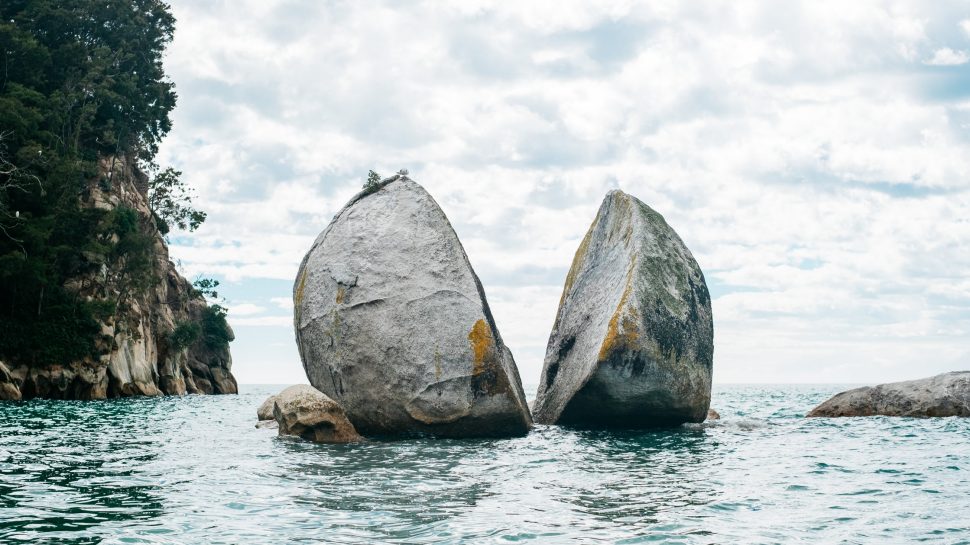 5. Picton
This wee town is often mistaken as 'just the place where you get the ferry from'. While yes, it is where the ferries dock to take passengers from one island to the other, it's also home to some of the most picturesque walks in the South Island. If you have an hour or so to spare before or after your ferry ride, stretch your legs and walk the Tirohanga track to the hilltop view lookout; one of the best vantage points for a view of the bay. If you've got a bit longer to spare, or no ferry to catch, jump on a short Marlborough Wine Tour and taste some of the best wines in the country (only if you're not the designated driver).
North Island
Wellington to Hastings or Gisborne
6. Hawke's Bay
If you're driving north from Wellington to the next stop on the itinerary, whether the agricultural hub of Hastings or the quirky art-deco town of Napier, do yourself a favour and put a day aside to explore the beaches of Hawke's Bay. Hiding in this little nest of the east coast are untouched, serene, yellow-sand beaches perfect for taking some time out after are a long-haul drive. If the weather isn't on your side, the Hawke's Bay region is also known for its wineries and is home to some great museums, galleries and aquariums.
Wellington/New Plymouth to Rotorua
7. Lake Taupo
Even though it's technically a volcanic crater, Lake Taupo is known as being the largest lake by surface area in New Zealand. There are many beautiful little towns dotted all around the waterfront of the lake, but one of the biggest and most popular for visitors is the town of Taupo which is located at the Northern end. Notorious for its water sports, mountain biking and hiking trails, Taupo is a great town to stay in for adrenaline seekers. If you've only got the day, or even a few hours to explore Taupo, the spectacular Huka Falls are a must-see. There's also plenty of amazing restaurants to choose from for lunch, heaps of souvenir stores and some renowned hot pools if you need a little TLC.
Rotorua to Auckland
8. Hamilton
Hamilton is one of the bigger cities in the North Island, so is not often considered for a holiday destination – which is a great reason to put it on your list of rest stops. It's the perfect place to take a break on your drive to Auckland; full of gorgeous lake-side restaurants, museums and art galleries, it's also a great option for an over-night stay, or even as a base for your more rural northern adventures. Try and set aside at least a few hours to stretch your legs in the incredible Hamilton Gardens before hopping back on the road.
Auckland to Bay of Islands
9. Whangarei
Although it may look like just another city on the surface, Whangarei is bubbling with fun gift shops, quirky bars and countless natural wonders. If you're just stopping for a coffee, enjoy a cup with a view of the water at any of the café's in the Town Basin, the very popular waterfront hub. If you have an hour or so to kill, you can walk to the famous Whangarei Waterfalls from the AH Reed Memorial park in Whareora (a beautiful attraction in itself). The scenic walk by the water is not overly challenging, but can be quite steep in parts, so don't wear your jandals. The view from the top of the waterfalls is also accessible by car if you've only got time for a selfie.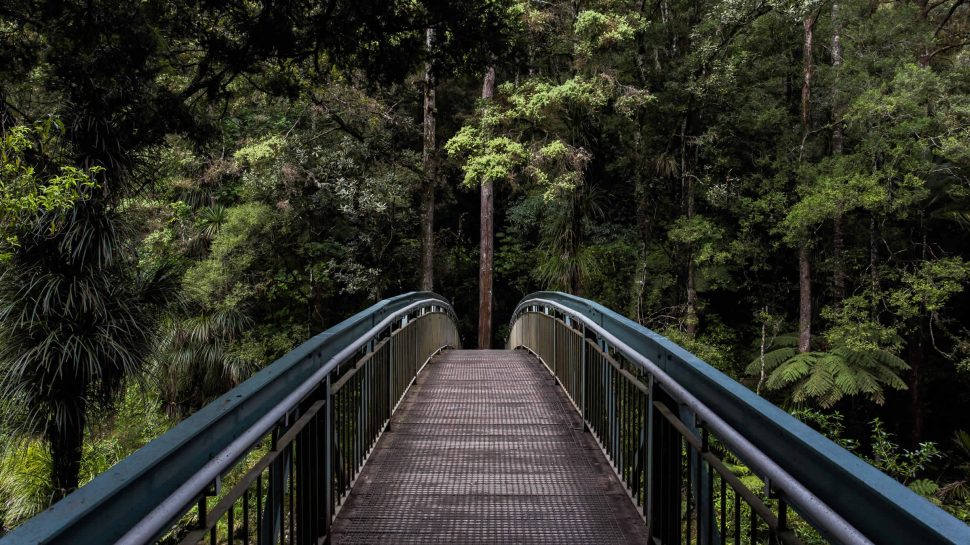 Auckland to Cape Reinga (the tippy top)
10. Waitangi
There are countless attractions up the pointy end of the North Island, but none quite as rich in culture and history as Waitangi. Walking distance from the picturesque and very popular Paihia, Waitangi is the where the Declaration of Independence of New Zealand and the Treaty of Waitangi were both signed in 1835 and 1840, respectively. It is considered one of the country's most important historic sites where you can actually walk around the expansive Treaty Grounds and visit the Museum of Waitangi. Not just for history buffs; take in the spectacular views of Bay of Islands and immerse yourself in Maori culture. Whilst you might be able to whip around the museum quite quickly, it's absolutely worth extending your pit stop for a few hours to really grasp the beauty of Waitangi and learn a little history.
There are so many gorgeous little towns that you'll come across during your road trip, and it will be very hard to not stop at all of them. To keep to your driving schedule, do some research on where you might like to stop along the way, or if there's any activities or sightseeing that you could incorporate into your breaks to make the most out of your driving days.
Remember to keep left and watch for sheep!

Ready to explore the hidden gems of New Zealand? Organise your travel insurance before you get on the road.