7 reasons to stay in Canggu on your next Bali trip
If you usually stay in Bali's tourist hotspots like Seminyak or Kuta, this relaxed Bali beach town might be your new favourite.

Located just 20 minutes' drive north of Seminyak, Canggu is its' laid-back surfer cousin. The resort village was once a spattering of homestays and villas overlooking the gorgeous surf beach, but is now home to some of the best restaurants, beach clubs and shops in Bali. Don't mistake chilled out for boring though, this town knows how to throw a party.
If you're looking for somewhere new to stay in Bali, or you're not sure if Canggu is worth more than a day trip, here are seven reasons to lock it in.
1. The beach
Even before it burst on to the Bali tourism scene, the Canggu coastline has always been a popular spot for surfers from all over the world. The black-sand beaches have enough excitement for experienced surfers and a reliable surf break for the beginners. As you walk down the beach you're bound to see groups of surf lessons and boards for rent. If you've ever wanted to give it a try, Canggu is the place to learn how to surf. Otherwise, rent a deck-chair for the day, enjoy the view and watch the professionals catch some waves.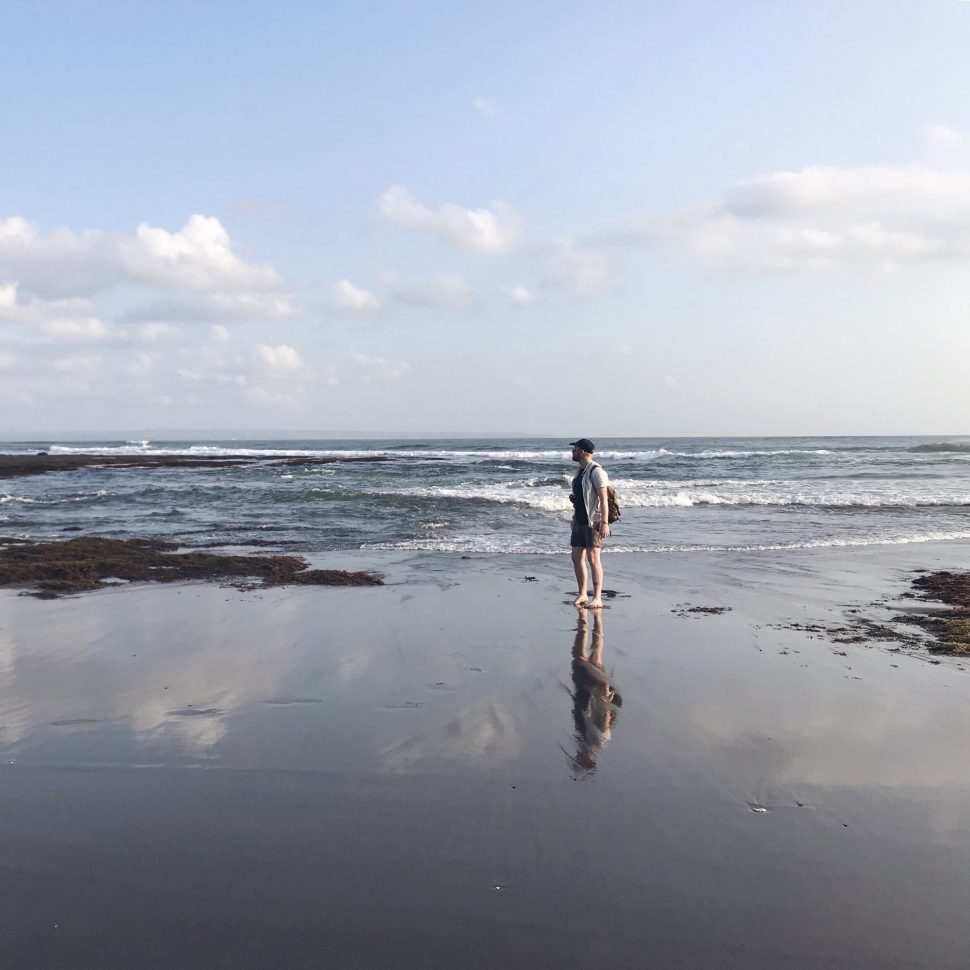 2. The nightlife
Canggu certainly is a funky little beach town, but don't mistake it for sleepy. As the sun sets, the beach clubs and the bars take on new life with late night burgers, spiked coconuts and infectious live music. Have a dance in the beer garden at Old Man's, enjoy a cocktail while you lounge on The Lawn, or have a barbeque on the beach at Echo Beach Club. Deus ex Machina – Temple of Enthusiasm has a little something for everyone and is notorious for its Sunday Sessions. If food is more your thing, Warung Dandelion comes highly recommended if you just want to sit back and indulge in local cuisine. No matter where the evening takes you, the cocktails, the bands and the fish tacos in Canggu will not disappoint.
3. The cafés
After a night out at one of the infamous beach clubs, Canggu has an abundance of options for green juices, acai bowls and turmeric lattes to refresh you. Many Aussies have set up shop in Canggu, so you'll see lots of Australian breakfast trends atop the menus. There's even a Melbourne-themed coffee shop - Little Flinders - if you're missing that home-brewed taste. The Betelnut Café, Café Organic and Sprout Bali are popular spots for a healthy delicious breakfast, and some of the most instagrammable.
4. Location, location, location
If you weren't already sold on the beach, Canggu's proximity to everything else in Bali should seal the deal. Canggu is a mere 10km from the notorious Potato Head Beach Club in Seminyak and just walking distance to everyone's favourite, Finns Beach Club. It's a 15 minute drive to Splash Waterpark, an hour from the airport and half an hours' drive to Seminyak Square. Most importantly, it's one of the best places to stay if touring Tanah Lot is on your itinerary. The village itself is central and easy to navigate. Whether you're staying in a five-star villa on the cliff-side, or at a backpackers in the rice fields; everything you need is only a short walk or ride away.
5. Tanah Lot
From Canggu, it's a 20 minute drive to the infamous Tanah Lot Temple, giving you a nice leg-up on the hundreds of tour busses that pile in every day. We visited the Tanah Lot temple in the late afternoon for low-tide (high tide makes it impossible to cross over the rock base). This gave us ample time to explore the shrines, shop in the markets, see the sea snakes, watch a fire dance, be blessed by priests with holy water, and take a thousand photos of the incredible temple grounds. Stay for dinner and a show, but do not miss the sunset over the cliff – it was a highlight of the entire trip, I cannot recommend it enough – Do. Not. Miss.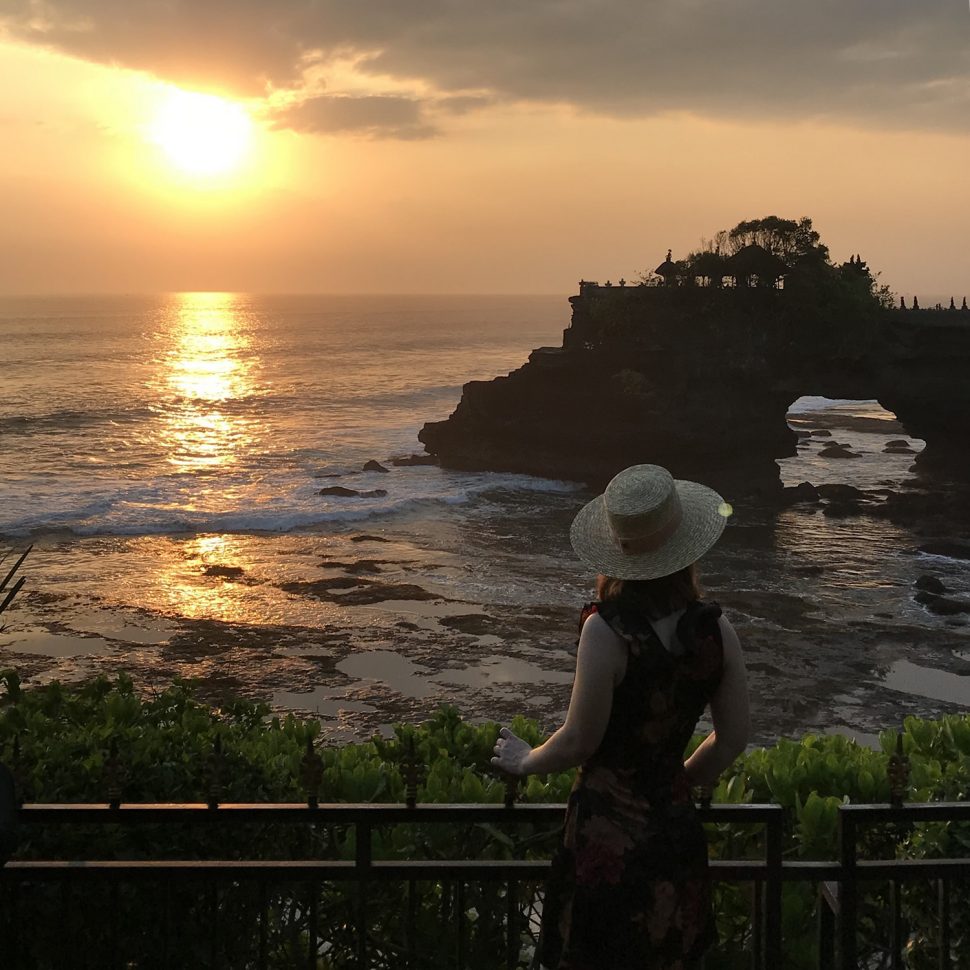 6. The shopping
You don't have to search for too long anywhere in Bali to find shops with locally-made goodies, and Canggu is no exception. Lining the main streets and hidden down little alleyways you'll find independent fashion stores, beautiful jewellery, locally-designed swimwear and homewares galore. If you're not too fussed about the local retail (or you're travelling with someone who's not), nestled among the shops are salons, spas, yoga centres, art galleries, kids clubs, tattoo parlours and even a rock climbing gym.
7. Rice fields
One of the most incredible parts about Canggu is simply the village itself. Between the five-star resorts, cafes and beach clubs there are acres of stunning working rice fields, an abundance of local wildlife and natural beauty. You only have to jump on a bike and ride five minutes from the main drag to discover a taste of traditional Balinese culture. While Canggu isn't the first place that comes to mind when you think of rice fields in Bali, it certainly does have some hidden gems. Head on a bike ride down Jl Sempol to see some rice fields, this map from Amost Landing Bali is a great place to start. There's also many little trails that won't necessarily show up on a map; for the best insights, ask a staff member at your accommodation for the best walking or riding tracks near you.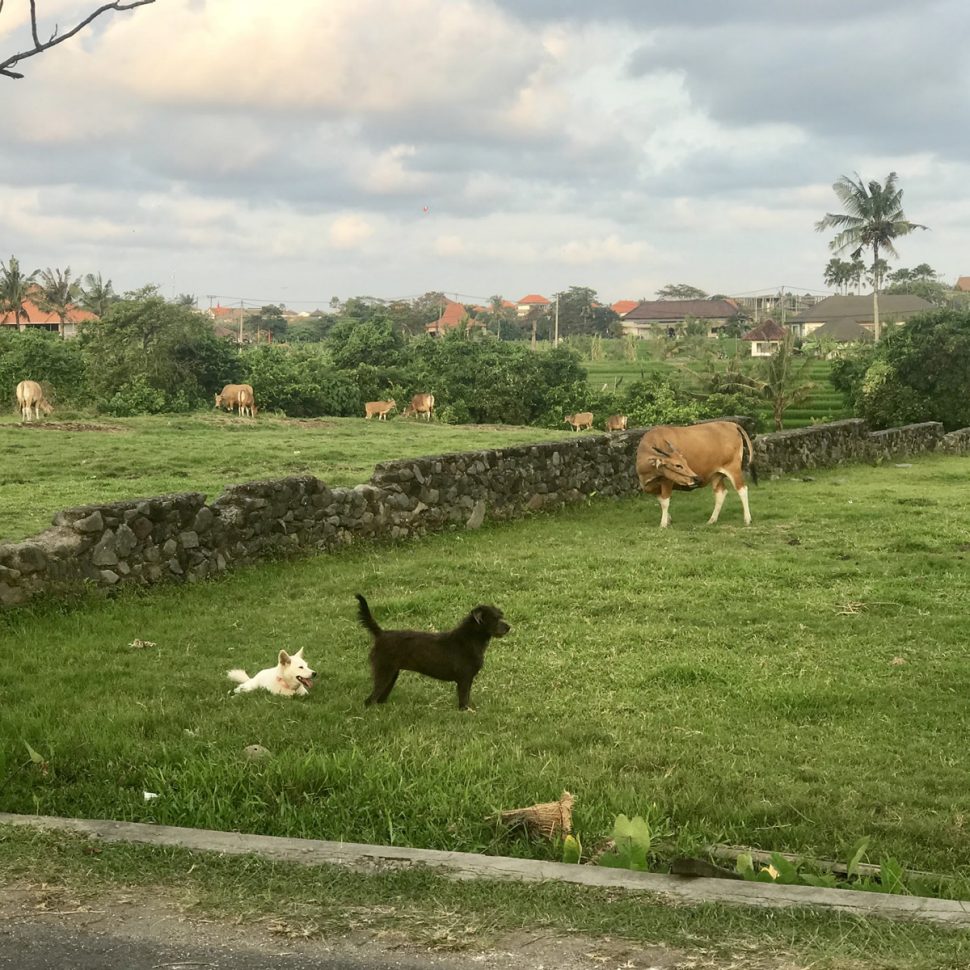 If you're still unsure if Canggu is the place for you, pop over on your next Bali visit and see for yourself. If the scenery, the street art, the music, the views and the intoxicating food aroma still hasn't convinced you to stay, then the people will. The hospitality in Bali is exceptional, but in Canggu the locals go above and beyond. From the staff in your accommodation to the hospitality workers in the coffee shop, everyone is so friendly and knowledgeable; they just genuinely want you to enjoy yourself. If you need a recommendation, directions, assistance, or even a lift, the friendly locals are more than happy to help out.
All photography by Lauren Adams

Canguu is full of wonder, excitement, and sometimes surprises. Make sure to organise your travel insurance before you go.1