Bali basics: the ultimate family-friendly holiday
Travelling with your tribe? From kicking back in Bali resorts to exploring food markets on foot, there are an incredible amount of family-friendly holiday activities and things to do in Bali. Here's how to tick off all your travel essentials and have a safe and enjoyable Bali holiday when you land.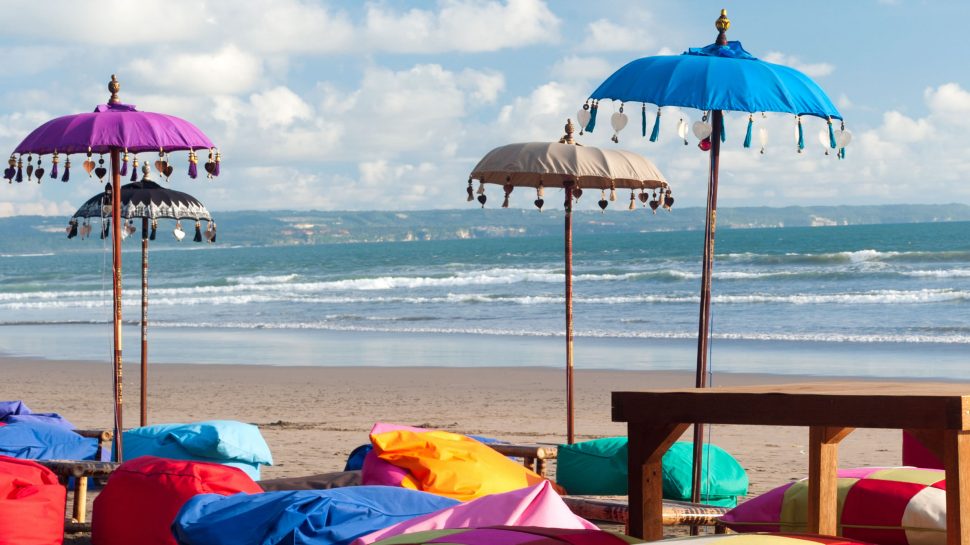 Must pass go

Packing your passport sounds pretty obvious, but you'll need a separate one for your baby, too. Back in the day kids under 16 used to travel on one of their parent's passports. Now, even your four-month-old needs their individual pic in print (getting a baby to sit still for a passport photo is one of the struggles parents know is very real). Thankfully, Australia Post staff are pros when it comes to applying for a new passport and taking tricky passport photos.
Top tip: While sorting the rest of the family, remember to check your own passport validity (you need at least six months).
Travel safe
In our misspent youth, many of us risked an overseas trip without travel insurance. But now you're all grown up, with others dependent on you. Even if Bali feels like Australia's seventh state, make sure you get comprehensive travel insurance.
Arrive prepared
The good news is that Australians staying less than 30 days no longer need a visa for Bali. The bad news is immigration queues can be up to two hours long. Be prepared and save some supplies and battery life for the line. Sometimes you can get lucky and be fast-tracked to the front if you're travelling with tots.
Top tip: Pre-book a pick up from the airport to transport everyone to your hotel to keep the holiday moving once you've cleared customs.
Just like home
The beauty of Bali – apart from the actual, geographic beauty – is how easy it is to access all the comforts of home. This is great for parents with babies who'd usually pack every conceivable gadget, whether leaving for a week or a day. Save on valuable packing space (and stress) and hire car seats, high chairs, portacots and activity mats from the likes of Bali Baby Hire or Bali Baby. They'll even deliver to your hotel room. Do, however, pack your preferred brand of nappies or swimming nappies, which are handy for the hotel pool, as you'll be limited to what's in the local supermarket.
Top tip: Bali footpaths are very pram un-friendly – don't leave home without sort of baby carrier.
Get around safely
Anything goes on a moto in Indo – chickens, bananas, fridges, other motorbikes. You might hesitate given the ages of your children, the logistics of how many of you there are or, even where you are. If you're considering hiring a moto, check out what's included in your travel insurance policy – it might be necessary to take out extra premium. However, if you prefer four wheels over two, playing it safe is easy with a little pre-planning. Book reputable drivers online or through major Bali resorts.
Top tip: If you need a children's car seat, check if your driver can provide one, or pre-book one through a baby hire company.
Hire a helping hand
The Balinese love children and babies, and are always happy to help. It's one of the best things about travel in Indonesia with a family. Reputable companies, such as Aussie-owned Bali's Best Babysitting, offer English-speaking nannies and babysitters for reasonable prices.  Check in with the relevant company to see if the nannies are First Aid and CPR trained so your kids can happily play in the pools of Bali resorts. A nanny is the perfect option for water babies who need non-stop entertainment and for parents keen to escape for much-needed couple time.
Top tip: Check out Cheeky Monkeys daycare, which offers everything from beach combing to Balinese dance, craft and yoga in Kuta, Nusa Dua and Sanur.
Pick your palace
Location is everything when you're travelling with kids. Close to the centre of town is handy and eliminates having tired kids sitting through long car rides (enough to ruin any holiday). Bali accommodation caters for every type of family on all sorts of budgets. Look for Bali family villas, family-friendly guesthouses on quiet streets (like Casa Luna in Ubud) or upmarket Bali resorts that have all the mod cons and an on-site kid's club. AYANA Resort and Spa or Sanur Plaza Paradise Suites are kid-friendly Bali accommodation options.
Top tip: Be realistic – far from the hustle bustle might mean peace for you and 'I'm bored' for your kids, so choose your Bali accommodation wisely.
Eat it up
There is no shortage of fantastic food, from roadside stalls to five-star restaurants. A holiday in Bali is a great time to introduce your kids to a new cuisine. A visit to a food market is one of the best things to do in Bali as markets are not just for eating, but also an activity the whole family can enjoy. Ubud, in particular, is famous for organic and raw food (try the family friendly Bali Buda). Outdoor eating areas are also great for kids. Most places will cater to even the fussiest eater.
Top tip: Bali's water quality can be poor compared to Australia. Avoid ice in drinks to play it safe, and pack plenty of rehydration sachets – odds are one of you will get Bali belly.
Activate your time
Teens will love the waterparks, cheap souvenirs and surf lessons in Kuta. Parents will love the golden beaches and massages in Sanur. Seminyak has a bit of everything for everyone. While Ubud has rice paddies to walk around and markets to explore, Amed is lovely if you're looking to snatch some laidback couple-only time. Pools at private villas (like those found on Airbnb) offer hours of entertainment, though remember they won't be fenced. Time your trip with a colourful festival and you'll strike gold. It's hot during the day so embrace an afternoon siesta with your bub.
Top tip: Download the Little Miss Bali app for more family friendly holiday tips.
Get organised for your family-friendly holiday in Bali with these travel essentials.