A guide to San Francisco's best urban hikes
There's a reason why San Franciscans love an urban hike. Those steep streets come with a stunning reward – and we're not just talking about an involuntary workout for your calves. Everywhere you go, everywhere you look: the city is brimming with natural beauty.

San Francisco is a small city, spanning 121km² (to compare this to the size of other cities Melbourne is 9,990 km²). If you're feeling fit, it's possible to do a couple of short urban hikes in a day, or walk through several neighbourhoods to find your desired hike or vantage point. Here are some of the surrounding trails you can traverse at any fitness level:
The best views of the bay
Hankering for some salty air? If it's sunny, pack some snacks, sunscreen, and jump on a ferry to Angel Island, a 30-minute ride from the Ferry Building or Fisherman's Wharf. There, you can rent a bicycle and ride around the island, or head to the Mount Livermore summit on foot. 
Once you've made it to the top, you'll bask in 360-degree views of Alcatraz, Mount Tampalais, the Marin Headlands, downtown San Francisco, Treasure Island, Mount Diablo, and the Bay Bridge. Once you've caught your breath, snag a seat at the picnic table, tuck into some lunch, and take it all in.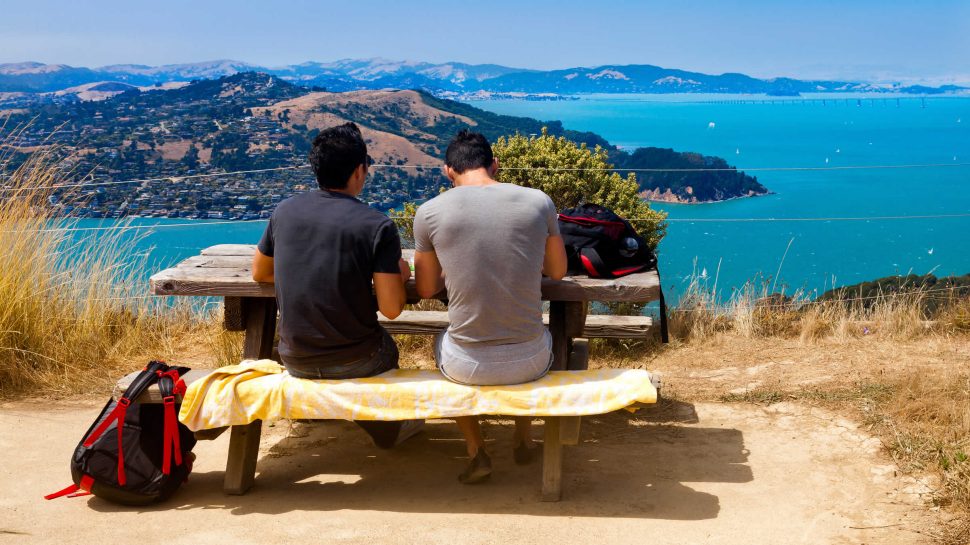 On the descent, the views on any of the trails are just as stunning. Keep an eye to the skies to spot swallowtail butterflies, swifts, and hawks, and immerse yourself in the native and non-native flora the island has to offer, including coastal scrub, Cork Oak trees, California laurels, Australian blackwoods, Giant Sequoias, and much more.
Another option within the city limits is Lands End, a rugged, windswept stretch of parkland in the Golden Gate Recreational Area at the city's north-western edge. You could easily spend an entire day exploring the park's many trails, gazing at its craggy cliffs, dramatic shoreline, its famed labyrinth, and the ruins of Sutro Baths. You might get doubly lucky and spot a couple of humpback whales in the ocean.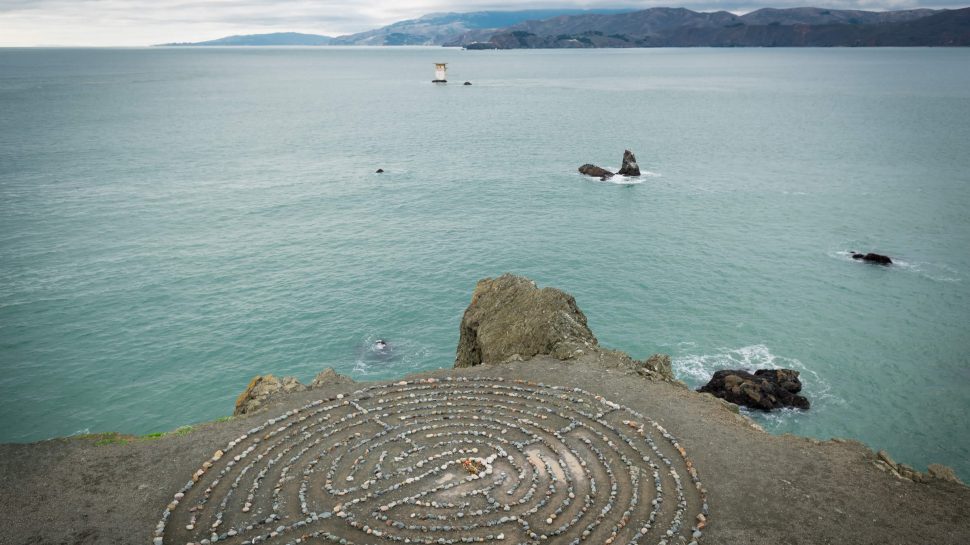 Hiking at Lands End puts you within spitting distance of Ocean Beach, which spans the entire Sunset district and looks out onto the Pacific Ocean. It's not a beach for bathing: the water temperature's chilly, and the waves aren't for the novice surfer. That said, it is exquisite on clear days and dramatic on foggy ones. Snag a table at Louie's Diner or Cliff House to bask in vast, expansive views in comfortable climes.
Dog-friendly hikes
Looking for sweeping views and a place to bring or meet some four-legged friends on your travels? Hiking to the summit of Bernal Heights Park might be your best bet – it's an off-leash haven (and a dog-walker's paradise). It's accessible by train (24th Street Mission), though the walking portion of your trip will get steep as you approach the park's entrance.
A range of trails varying in inclines and difficulty levels will lead you to the top of the summit which offers striking, 360-degree views of the Golden Gate Bridge; parts of Oakland, Berkeley, and beyond; downtown; and the San Francisco Bay. Bernal's elevation (145m) may not be as high as that of its north-western counterpart Twin Peaks – its hills are a lofty 282m above sea level – but the former's views are just as spectacular as the latter. What's more, it attracts far fewer tourists, and functions primarily as a place for Patagonia-clad locals to go on their morning walks or jogs with their pets. You can also indulge your inner child on the summit's tree swing.
Another equally stunning alternative is Corona Heights Park, located a short walk from the main strip of the Castro, which stretches from Market Street to 19th Street. The park's unique geological characteristics, like its distinctive umber rock outcrop and its slickenslides (polished surfaces that occur when rocks along a fault plane scrape against each other). Watch out for poison oak – it can cause allergic reactions in both humans and dogs.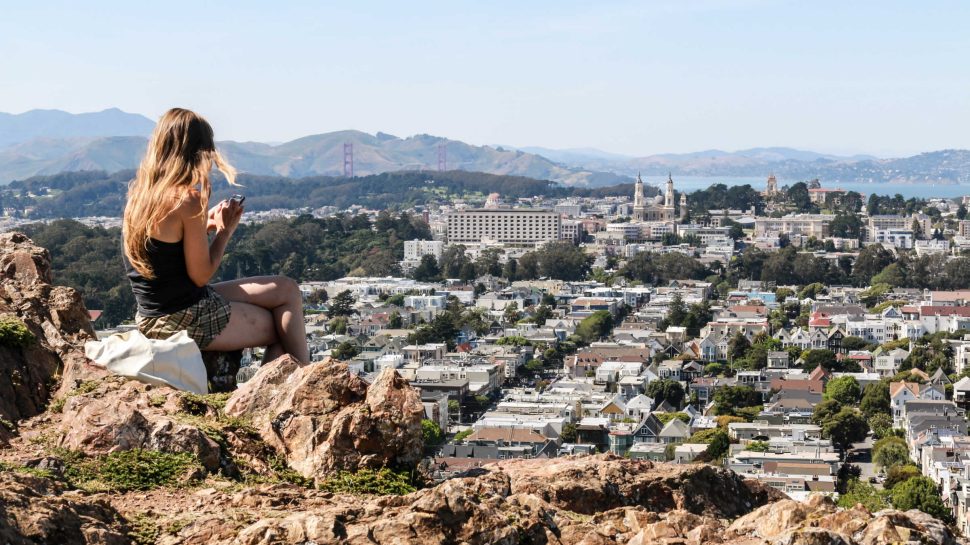 If you're a nature enthusiast with a dog in tow, Glen Canyon Park (near Glen Park station) will tick your boxes. What it lacks in views it makes up for in an abundance of trails over 70 acres, greenery, and wildlife. Keep your eyes peeled for redtail hawks, owls, skunks, raccoons, and the occasional snake. It's best to keep your dog on a leash, as coyotes are a common fixture.
Hiking amid the fog
On social media, San Francisco's fog has a name: Karl. (He even has his own Twitter account). While there's no doubt that a clear sky makes for postcard-perfect images, San Francisco's famed rolling blanket of fog can make for romantic, spectacular scenescapes.
In Summer, when fog production is at its highest, it's common to see the Golden Gate Bridge enveloped in an ethereal mass of fog. It's a popular spot for fog-spotting, as is the adjoining Presidio national park on the city's northern tip, which has some of the best views of the Golden Gate Bridge and beyond, as well as 38km of hiking trails. As a general rule, flatter neighbourhoods west of Twin Peaks (including the Presidio, the Sunsets (inner and outer), the Richmond (inner and outer), and West Portal) get more fog than those in the east. If you're hiking in these areas, don't forget to bring a warm jacket or jumper – temperatures can be chillier in the west than the rest of the city.
In between the Inner Sunset and Twin Peaks is Mount Sutro Forest. Hiking there on a foggy day feels almost mystical. This 80-acre park, which sits 900 feet above sea level, is famous for its dense greenery, which includes eucalypt trees that are over 30 metres tall. It's the perfect place for solitude: it's quiet, rarely frequented by tourists, and dogs are rarely spotted here. It's a world away from the hustle and bustle of the city, which you'll be able to gaze upon from above once you reach the summit.