Learning Italian, Sicilian style
Sicily might not be an obvious choice when deciding where to learn Italian. But towns like Taormina are attracting more and more students from all around the world. Here's why.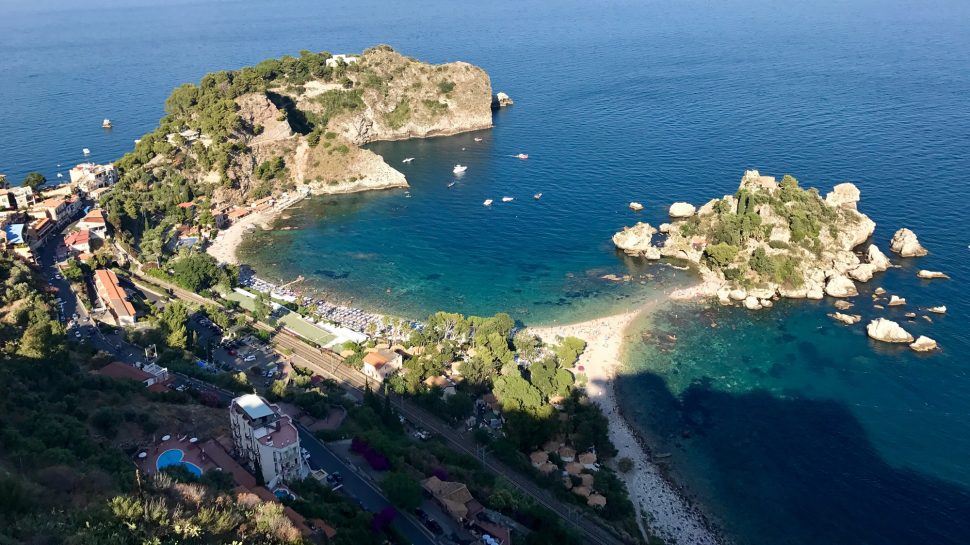 Sicily was always my first choice when I started planning a study-holiday in Italy. I'd travelled around the northern cities in my twenties and loved them. But now, decades later, I'm drawn to the infamous south. Plus, I'm a sucker for volcanoes and ancient sites. Sicily has both in abundance.
I'd heard about Sicilian food – 'you'll never taste tomatoes like this anywhere else!' – and the stunning beaches, from my northern Italian friends who holiday here. But having never been south of Rome, I had no concept of what the south would be like.
I chose to study in Taormina for one week, living in a hilltop town on the east coast of Sicily. Taormina is known for her looks, which is largely due to geography. The coastal views are magnificent and nook-like beaches are a funicular ride away.
Her proximity to Mount Etna, Europe's tallest active volcano is ever-present. On a clear day, you can see the smoking Etna from the town. In March, Etna erupted. Caught unawares, a BBC camera crew managed to both escape and capture footage.
Celebrities from around the world have walked the red carpet at the Taormina International Film Festival for the past 62 years, and more recently, world leaders were invited to visit Taormina to attend the G20 summit.
But tourists also flock here to explore winding streets and picture-perfect piazzas, where locals gather and chat into the night. An ancient Greek theatre is nestled on the edge of the town.
From the restored amphitheatre you can gaze across the ocean or up to the Etna, as locals call her. Built in the third century BC, the theatre hosts concerts and performances in the evening, once the tourists have visited during the day.
Choosing to study in Taormina was an easy decision, especially when I heard about the Babilonia Italian Language and Culture Centre located right in the centre of town. I sign up for a one-week schedule of classes with optional activities in the evening.
Set in a lush garden the school is a minute's walk from the main street. It's a precious haven in a popular town like Taormina. With its own café and restaurant, it's difficult to leave Babilonia once the day begins.
I leap into classes with enthusiasm, my teachers respond in kind. We're to speak only Italian during class and if we can manage it, during breaks as well. What little Italian I learned in primary school is long gone now.
My head hurts with new information, but I'm thrilled at the same time. Each word or verb offers a tiny key to unlocking more phrases and sentences. Friendships form easily here, we've come from all over the world, taking time off work and saving up.
Each evening we gather for an aperitivo and some nights, attend cultural activities at the school. Our first day of lessons ends with an optional three-course meal and Sicilian wine in the restaurant. It's a beautiful welcome for only 15 euros.
Another night, we learn how to make arancini. Rice balls filled with meat and oozy cheese, typical Sicilian fast food and here, shaped like a teardrop, to honour Etna.
One afternoon I go for a sunset hike up Etna with a guide. This sprawling national park offers huge biodiversity among inactive craters and solidified lava flows, with woodlands, sand dunes and flowers endemic to the Etna.
The volcanic soil is ideal for growing grapes and pistachios, so indulging in both wine and pistachio-anything is mandatory here. Our tour ends with sweet wine from the region as we gaze over a pink-moon like landscape.
Back in Taormina, my new friends and I became gelato and cannoli addicts, sharing our latest finds, debating which seller offers the best of both delicacies. We agree that these daily feasts are integral to our learning.
As our Italian improves, so do our palettes. We become more confident in joining our conjunctions and rolling our r's. I listen in on conversations hoping to catch a word or phrase that makes sense to my new ears.
With the week almost through, I'm really going to miss my grammar class with Grazia each morning. We meet in the garden and by 9.30am it's already warm enough to seek out shade. She teaches with enthusiasm and firmness.
On my last day, Grazia tells me that she lived in Melbourne for two years. 'Why didn't you tell me earlier?' I say to her, in English. With a shrug, I have my answer.
I vow to learn more Italian and return.
 
Ready to go?  Get your travel insurance, travel money and a mobile travelSIM now