8 Italian food experiences you can't miss
Prepare your taste buds for the best Italy has to offer. There's a lot more to know about Italian cuisine than pizza, pasta and red wine. With 20 different culinary regions, let your taste buds guide you through Italy's diverse landscape.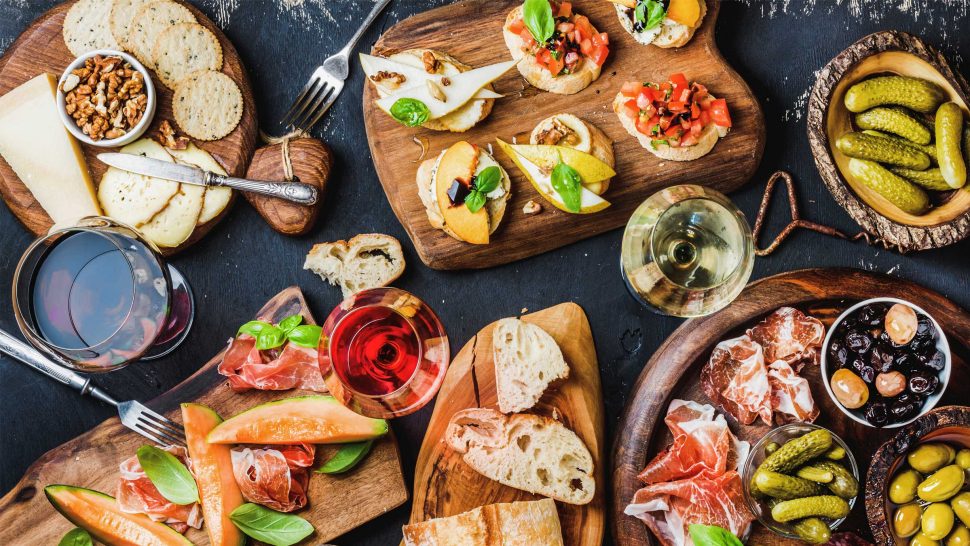 Rice and polenta
Because of its proximity to mountain areas and countries like Switzerland and France, in Northern Italy dishes often feature butter and cream, rice or polenta. The unmissable bright yellow Risotto alla Milanese is cooked in butter, flavoured with saffron and finished with cheese and bone marrow. Hearty meat dishes like veal braised in Nebbiolo are accompanied by slabs of polenta. If you're planning a trip to the North, the colder months are the perfect time to enjoy the rich flavours.
Seafood
Just as the north is home to hearty flavours because of its proximity to the mountains, you'll find amazing seafood in Italy's sea and lakeside areas. Octopus is a common entrée, either served freshly grilled or cold in a salad. Italian cooking is also known for turning cheaper fish into delicious regional dishes such as Sarde in Saor (sweet and sour sardines) in Venice and Triglie alla Livornese (red mullet in tomato sauce) in Livorno.
Pasta
On holiday, we like to seek out the most authentic and fresh foods, but parts of Italy are actually known for preferring dried pasta over fresh. So it's not a bad sign if you see restaurants opening packets. In the north where it's cooler and more suited to fresh pasta, you'll notice flatter and larger pasta such as pappardelle, tagliatelle and filled pasta like ravioli. The warmer weather in the south is ideal for dried pasta types like spaghetti and rigatone, and orecchiette is the signature pasta of Puglia, the 'heel' of Italy's boot.
Pizza 
Naples is the undisputed and definitive home of pizza. It's even protected by strict regional rules that dictate the type of flour, size and weight of the dough. And there are only two types of toppings allowed: marinara and margherita. In Rome the rules are more relaxed and pizza is served in rectangles – simply order by weight or al taglio (by the slice) depending on what you're in the mood for. You'll see locals enjoying whole pizzas with a knife and fork or using a skilled folding method. And while you may gravitate towards a nice chianti, sparkling white wine or a local beer is the best way to enjoy a slice or three.
Mushrooms and truffle 
Fungi are a jewel in the crown of native Italian food and they thrive in Umbria in central Italy, known for its green forests. Porcini are the most prized wild mushroom, they're incredibly versatile whether fresh or dried. Used fresh they can be simply stewed and used as crostini topping or dried, they add depth and richness to a comforting risotto. To make your trip to Italy truly special, you can't go past the complex flavours and aromas of truffle. Found in the rich soil of the Umbrian hills, truffle season is from November to March. There are few dishes more simple and luxurious than a bowl of pasta with freshly grated truffle.
Wine
Tuscany is the undeniable star of Italian wine with picturesque rolling hills and medieval towns. This is where Italy's famed Chianti comes and Tuscany is also home to Sangiovese, Cabernet Sauvignon and Merlot. But if you prefer bigger, bolder reds, Piedmont in the northwest is a must-visit. Known for Barolo and Barbaresco, two reds with big, deep flavours. For some of Italy's best white wines like Chardonnay and Pinot Grigio, Alto Adige is a gorgeous region at the bottom of the Italian alps worth exploring.
Cheese 
Italian cheeses are known for how they're incorporated into recipes like parmesan in arancini balls or ricotta cheesecake. Italy has an amazing range of hard and fresh cheeses. Just as France protects its champagne, Italy also does certain cheeses. The classic parmigiano-reggiano can only come from Parma, Reggio Emilia, Bologna, Modena or southern Mantova. And the humble mozzarella is protected by EU law and can only be made using the milk from water buffalo.
Sweets 
Whether it's an afternoon treat while wandering through Milan or ending a full four-course meal in a Roman trattoria, you'll be spoilt for choice with Italian desserts. Pasticceria's feature a huge range of pastries like the Italian take on a croissant the cornetto (usually filled with jam) and biscuits such as amaretti. Sicily is the birthplace of cannoli – delicious tubes of crispy pastry filled with sweet ricotta in a range of different flavours. Creamy panna cotta, literally Italian for 'cooked cream' originally comes from Piedmont.
Ready to go? Get your travel insurance, travel money and a mobile travelSIM now.