Untouched corners of China: Three cities unlike any others
Although China is not that much larger than Australia, it's home to about 1 billion more people. That, in combination with its vastly different regions, its sensational landscape and over 3000 years of history, it could take a lifetime to see every corner of the country. If you've only got a few weeks, these are three of the must-see cities in China that are unlike any others.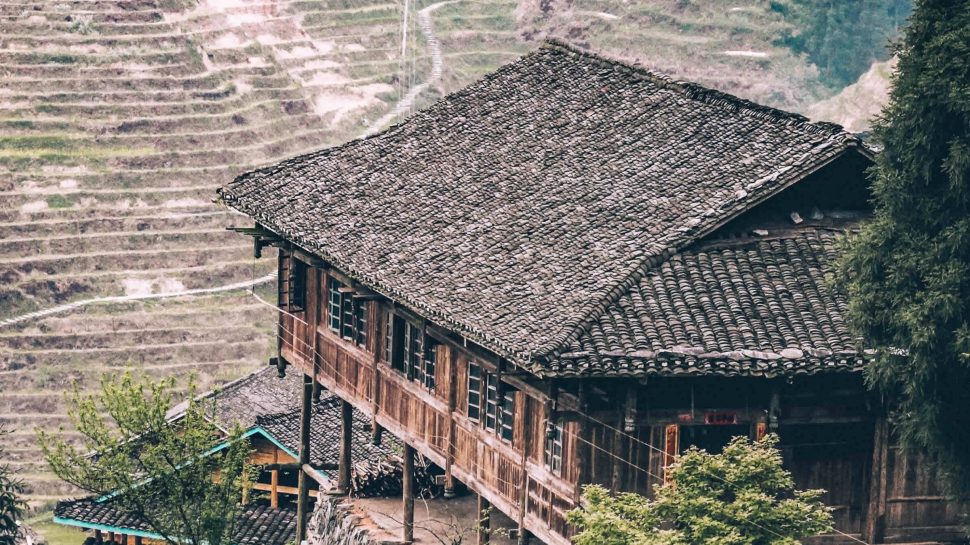 Guilin – A sleepy city surrounded by natural beauty
Guilin is a beautiful city nestled in the north of the Guangxi region, famous for its scenery and landscapes. Shy in contrast to the boldness of neighbouring areas, Guilin is surrounded by a winding river and a forest of limestone peaks. Expect a much slower pace, fresher air and an array of activities geared toward relaxation. Be sure to see Elephant Trunk Hill; the landmark and tourist attraction is the symbol of the city of Guilin and got its name as its rock arch looks like an elephant drinking water.
Experience Guilin:
A Li River cruise is a great way to see the scenery and limestone foundations that Guilin is famous for. Whilst there are different options available, the 4-5 hour sail to the neighbouring town of Yanshuo is the most stunning. Once you arrive, explore the livelier West Street, lined with karaoke bars and souvenir shops. Stay the night and see outside of the town centre the next day. Take in the abundance of glorious scenery by jumping on a bike to visit the local farms and restaurants, or even go fishing. Be sure to get some rice noodles before the relaxing sail back to Guilin.
Dragon's Backbone Rice Terraces (also known as the Longji or Longsheng Rice Terraces) is a 2-3 hour hike through the magnificent terraced fields in Longsheng county. Located only two hours from Guilin, this is a day trip you can do with or without a guide, and is accessible by public transport. Private buses can also be organised in town. Don't forget your camera, this is a hike unlike any other.

Caving in Guilin is a must-do whilst you're here, as it is home to some world-famous caves. Some of the most highly rated are Reed Flute Silver, Crown and Seven Star Caves. They are all beautifully set up with artificial lights that accentuate the dramatics of the formations, stalactites and stalagmites. Book a tour or explore on your own. You'll find that it's very easy to spend several hours walking around and admiring the historic cave paintings that date back hundreds of years, so it's recommended to dedicate a day to this activity.
The Jingjiang Prince's Palace is a historical place in Guilin, built between 1372 and 1392 AD. It's been home to a number of royal families over hundreds of years, and now houses Guangxi Normal University. It remains open as a popular tourist attraction and there are many exquisite buildings and places to explore throughout the Prince's City.
The ancient town of Daxu is located in the middle reaches of the Li River. Built in 200 B.C, many of the ancient buildings and original cobblestone paths are well preserved. Lovers of history and architecture will be in awe of the stunning buildings from the Ming and Qing Dynasties. There are many temples, landmarks and markets to explore.
How long do I need? To experience the best of Guilin, a minimum of 3-4 days should be put on the itinerary. If you want to explore more of the Guangxi region, set aside at least a week.
Kashgar – A historical wonder on the Silk Road
Kashgar isn't the easiest place to get to, but what's waiting for you when you arrive is worth it. Your journey will likely start with a flight to Urumgi followed by a short internal flight to Kashgar. It's actually situated closer to Europe than it is to Beijing and used to be one of the most important and busiest trade stops on the Silk Road. It's steeped in history and feels like the entire world has at one point, passed through this town.
About Kashgar:
Due to its remoteness, the culture, architecture and cuisine are quite removed from East China. The people of Kashgar, a great mix of ethnicities, have managed to maintain many traditions and customs for thousands of years. 
Kashgar's Old City has been called "the best-preserved example of a traditional Islamic city to be found anywhere in Central Asia". It is estimated to attract more than one million tourists annually and is home to just over 500,000
Id Kah Mosque the largest mosque in China, is located in the heart of the city.
Standing in the middle of old Kashgar, you are surrounded by traditional houses that are built with mud and beautifully carved wooden doors, you can almost picture the silk dealers from Europe and Asia trading their wares here. 
Whilst the Silk Route is no longer in existence, Kashgar still carries on the tradition of its Sunday Market, which is the biggest market in central Asia.
In order to boost the economy in Kashgar region, the government classified the area as the sixth Special Economic Zone of China in May 2010. 
You may recognize some areas from the 2007 film The Kite Runner as the majority of it was filmed in Kashgar.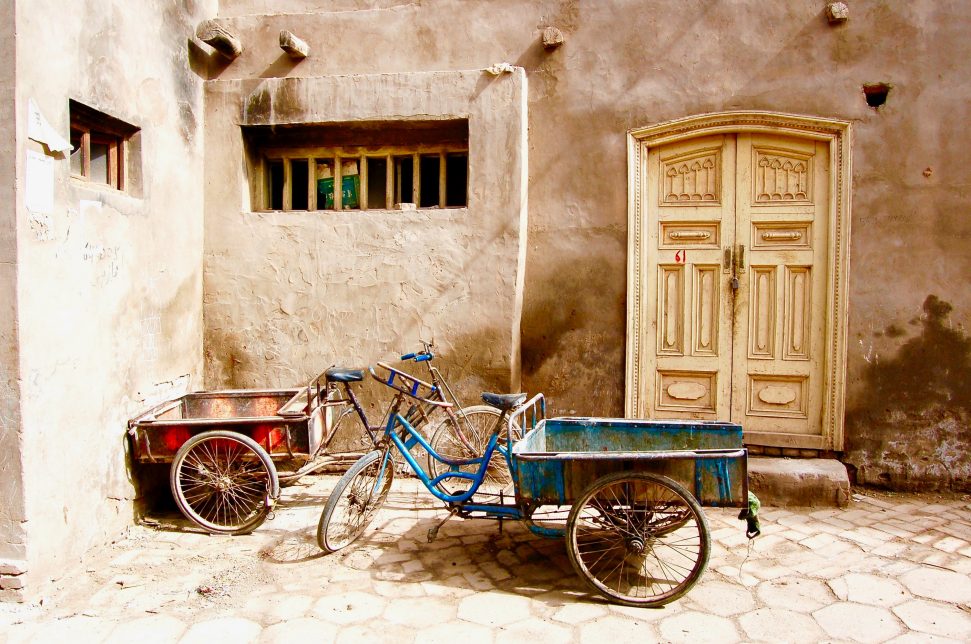 Don't miss the Sunday Market
Whilst the market is open every day, the Sunday Market is the biggest, drawing thousands from around the Xinjiang region every week. This is not a shopping trip, but a complete experience for the senses. From the music and the smells of freshly baked bread to every spice imaginable, it radiates a fascinating energy. The best way to really experience it is to completely immerse yourself in it. Try the recommended local delicacies of sheep meat and pomegranates. Even if you're not interested in purchasing anything yourself, just sitting back and watching the magic is just as exciting.
How long do I need?
If you can work it into your travel plans, try and be in Kashgar for the Sunday markets and at least a day either side to see the Old City. If you're planning to continue your journey from here, you can find your way onto the Karakorum highway (the highest paved road in the world) which links China to Pakistan. Give yourself enough time to organise necessary permits if you are heading into Pakistan.
Xiahe – Regional charm amongst rolling hills
Nestled in the mountainous region of China's northwest, Xiahe is a small settlement on the edge of the Gansu province and is a four hour drive away from the capital Lanzhou. The ethnically Tibetan town is home to a diverse mix of Buddhist Tibetans, Muslim Hui Chinese and Han Chinese cultures. The Hui are one of the ethnic Muslim minorities in China and play a considerable influence in this region. This drive off the beaten track is home to some of China's most beautiful scenery.
Before you get there:
As recently as the 20th Century, Xiahe has had a sad history of conflict between the ethnic groups. Whilst they now live in peaceful (albeit, sometimes prejudiced) harmony, there can occasionally be protests, so it's a good idea to pay attention to the local news before heading there.
If you're coming from Lanzhou, stop to stretch your legs at Linxia a Chinese Muslim town that's full of impressive mosques and markets. Stay for a bite to eat and try their famous Muslim-style pulled noodles and flat bread.
When you get there:
The main attraction is the Labrang Monastery, the largest monastery outside Tibet. The 'city within a city' is a major religious centre for Tibetan Buddhists. Whilst you can circle the entire monastery in a day, a lot of people like to take a few days to explore it. Make sure you get lost in the little nooks and discover the prayer spaces to experience all of the charm.
Prior to prayer times, monks will gather around the temples and tourists are allowed to watch for a small fee. The monks are used to having tourists around and are happy to have a chat; some of them even act as guides and offer to show you around. Throughout the day, you'll also see local Tibetans circle prayer wheels around the kora that spans over three kilometres. If you're planning to walk this, make sure you walk clockwise as custom requires.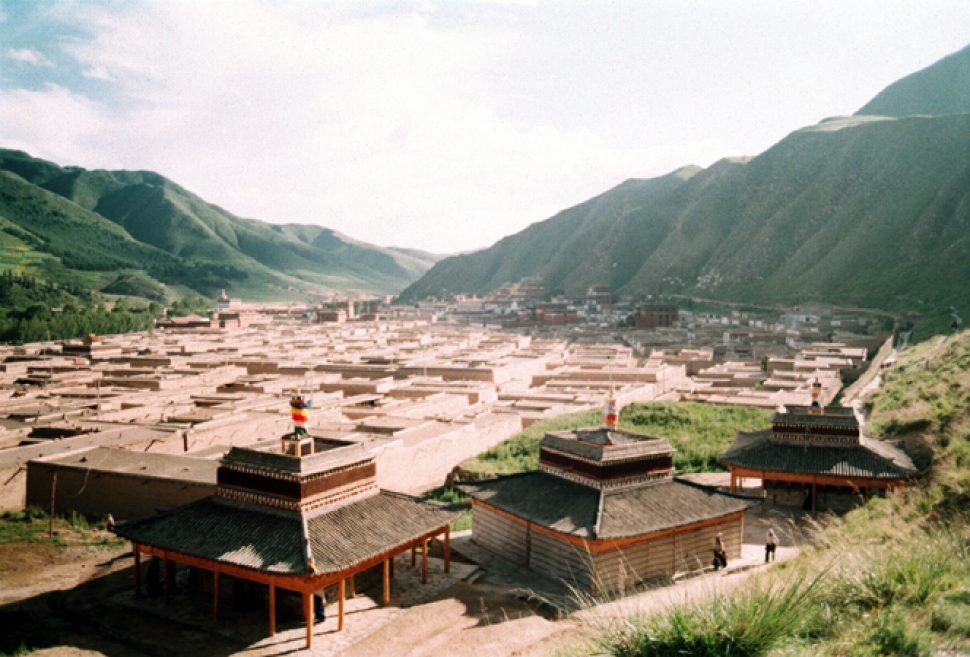 Where to next:
Whilst there are buses available, there are many sights to see just outside of town. The Sangke and Ganjia grasslands are only 10-14kms from the city centre – a beautiful bike ride to see the breathtaking hillside and the nomadic herders with their sheep. There are also some great hikes in the area, especially around the edge of the Tibetan plateau (many guides will be happy to take you if you don't want to venture alone).
Whilst there are some buses available, taxis are the easiest form of transport to see the sights a little bit further from town. You're able to hire a taxi per hour or per day from Xiahe, which driven by a local, can be just a beneficial as having a private driver (which can be booked through your travel guide).
Some neat activities include:
The Ancient town of Bajiao is a walled village that is claimed to have been originally built in the Han Dynasty (200 B.C) as a military town. Houses that are hundreds of years' old still stand and Bajiao Cheng is still inhabited today. Accessible only by car, it costs just a few dollars to go and visit. 
The White Rock Cliffs aren't easy to miss on your way to Bajiao Cheng, the magnificent cliffs high above you boast adventurous walks and a small village and the Baishiya monastery sits right at the foot of the cliff (also a beautiful spot for sunset photos). 
Darzong Lake is surrounded by beautiful forested mountains near a small Tibetan village. A couple hours away from Xiahe, this is most easily accessible by taxi or driver. You may be charged a few dollars as an entrance fee to the village.
How long do I need?
If you're stopping by Xiahe just to see the Labrang Monastery, set aside a full day. If you want to check out more of the Gansu province or smaller surrounding towns, spend at least 2-3 days in Xiahe.
China is full of hidden wonders, untouched towns and magical ancient cities. Explore more than what's in the tour guides and discover the sensational secrets of regional China.