Holiday pet care: How to keep tails wagging while you're away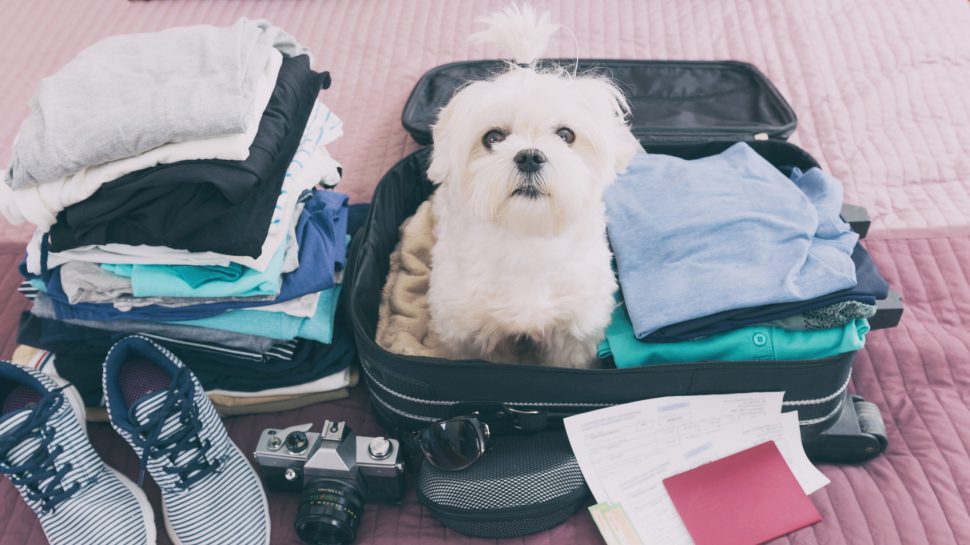 In between organising your mail to be held while you're away and sorting out travel insurance for the family, sometimes it's easy to forget that you need to arrange care for your pets while you're away on holidays. With boarding kennels, dog sitters and dog hotels all options, here are some ideas to put on your list.
Pawsome accommodation
Many Australian pet owners put their pets into boarding kennels when they go away on holidays. From the convenience of boarding your pet right near the airport to splurging on a luxury dog hotel, there are many options to suit different needs and budgets.
If you're feeling anxious about leaving Fido in a dog kennel, then do your homework by reading reviews, asking friends for recommendations and even inspecting the facility in person before you book in. If you're worried about your pet adjusting to new surroundings, then consider doing a trial run at doggy day care or using a dog kennel for an overnight trip before booking your pet in for a whole month while you're holidaying in Europe.
Many boarding kennels tend to book out, so be sure to book well in advance during peak periods like school holidays and Christmas. Boarding kennels and catteries typically require proof that your pet has been vaccinated against all communicable diseases, so ensure your pet's shots are up-to-date also.
Some vet practices also have boarding facilities on site. Boarding with your local vet is a particularly good option for senior animals and pets with special needs, as if your pet requires medication or treatment the experts will be on hand to take care of it.
Keep it in the family
They say it takes a village to raise a child, and the same could be said for caring for pets. If you have family and friends who are willing and able to pet sit, then book them in to mind your pets over the holidays. Having a pet sitter stay in your home is optimal, as your pet will feel safer and more relaxed in its home environment (and you'll get the added bonus of having a house sitter to collect your mail and water your plants).
If you need to drop your pet at someone else's home, then be sure to take the time to make sure the home is the right environment for your pet. Does the home have a doggie door that your dog can fit through? Is the backyard fenced and front gate always locked? Is your pet okay with other animals or small children?
If there is already a pet in the home, then ensure both pets get along by visiting for a play date before you go away. Some animals can be territorial, so be sure that both pets enjoy each other's company before signing them up to live together!
Leave it to the professionals
If you can't find a willing family member or friend to help out, then consider engaging the services of a professional pet sitter. There are many animal lovers out there who love nothing more than looking after animals and earning some extra money at the same time. Whether you've got a large Siberian husky or a teacup poodle, Mad Paws connects pet owners with pet sitters to look after your furry friend while you're away.
Take them with you!
If the thought of leaving your beloved pet behind with a pet sitter is too much, then Australia has plenty of pet-friendly accommodation options to choose from. While most hotels in Australia don't allow pets as guests, there are a few that do. Sydney's Langham Hotel allows pets to stay with you in luxury for a fee, as does Lilianfels Resort and Spa in the Blue Mountains and the Hilton in Adelaide.
If you prefer booking holiday homes, then Stayz is a good online resource for finding pet-friendly accommodation, as you can refine your search criteria to drill down to holiday homes that allow pets. From luxury villas on the Sunshine Coast to historic cottages in the Hunter Valley and beach shacks on the Great Ocean Road, there are plenty of pet-friendly accommodation options to choose from on Stayz.
Going on a road trip with the family and don't want to leave your pet at home? BIG4 Holiday Parks has many locations around Australia, and many of them allow pets. Whether you're taking your caravan, camping or booking into a cabin or beach resort, the BIG4 Holiday Parks website has a list of pet-friendly sites in every state and territory they operate in.