5 overlooked American cities to put on your itinerary
Thinking of heading to America soon? While record numbers of Australian travellers are taking a bite out of the Big Apple and carousing around Tinsel Town, look beyond the big four American tourist drawcards of San Francisco, Los Angeles, New York and Las Vegas and you'll be rewarded. It pays to branch out from the usual suspects and explore some new terrain, and there's no better place to do it than in these overlooked American cities.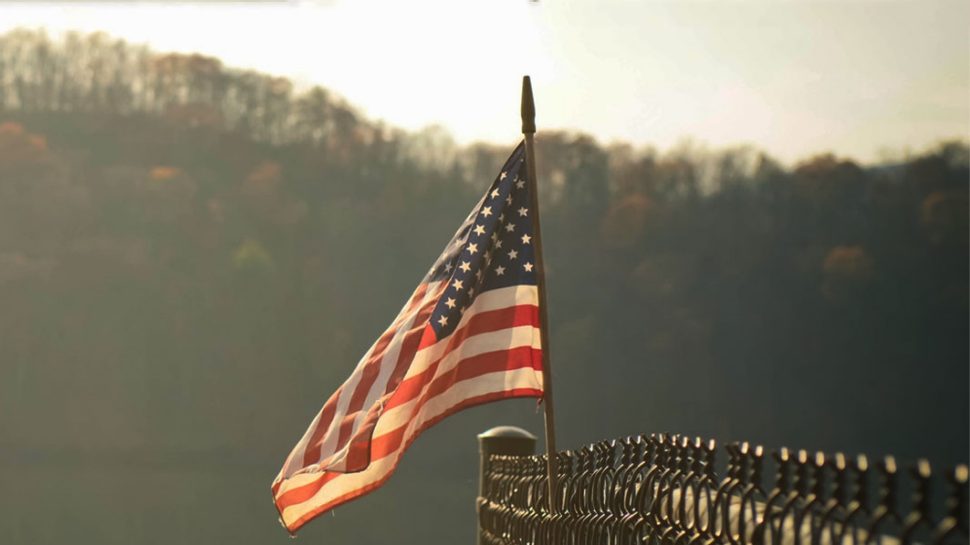 Santa Barbara, California

More than just the set location of a long-running, cheesy soap opera, Santa Barbara possesses long stretches of beaches, unlimited sunshine and tonnes of gorgeous Spanish Mission-style homes and buildings. Known as the American Riviera, Santa Barbara attracts everyone from the rich and famous to road trippers on their way up Highway One. Only a 90-minute drive from Los Angeles, Santa Barbara is surrounded by impossibly cute hamlets full of antique stores, galleries and cute cottages proudly flying the Stars and Stripes out front. While frantic Los Angeles screams at you, relaxed Santa Barbara merely whispers. Bathed in California's notorious sunshine most of the year, work Santa Barbara into your West Coast travel plans if you need a chilled getaway to recover from LA's relentlessness.
Nashville, Tennessee
Travellers would be remiss to leave the South out of their American travel plans. Heading south is worth it for the accents alone. In Nashville, country music permeates the air almost everywhere and that's because Nashville (also known as Music City) is where country music dreams are made and broken. Home to the Country Music Hall of Fame and numerous iconic country music record labels and studios, Nashville smacks you in the face with country music as soon as you arrive, with the airport playing host to country musicians within the terminals.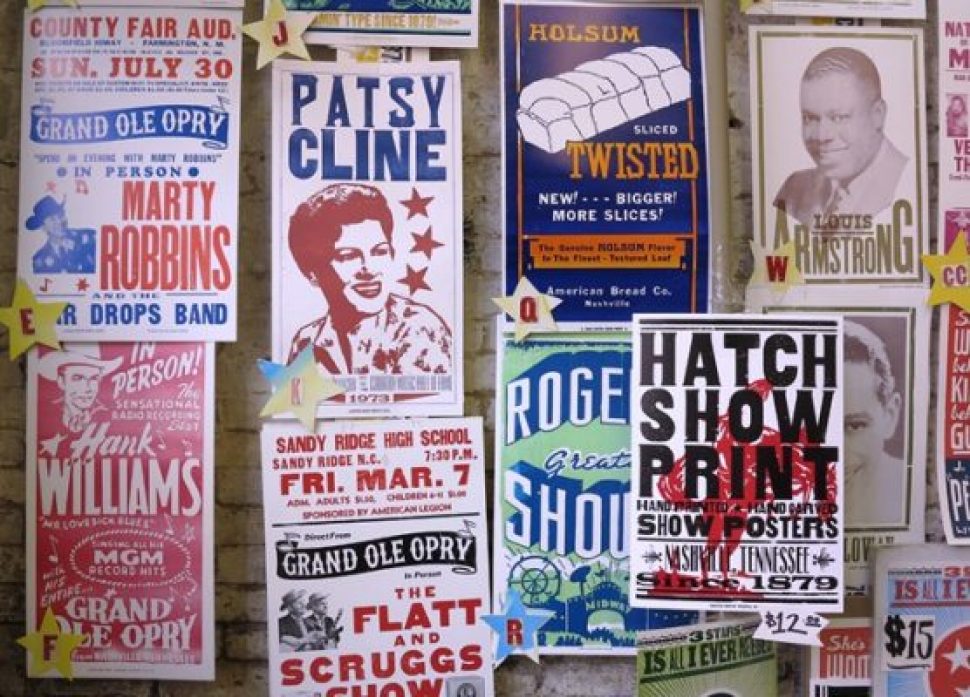 Music posters in a Nashville Tennessee bar.
Don't like country music? Drown your sorrows in an old school diner like The Loveless Cafe where pancakes, bacon, grits, mac and cheese and waffles await. While you're at it, make and send a food envy-inducing postcard of your meal to your friends at home.
Portland, Oregon
While certainly not off the travel radar, Portland has seen a rise in tourist numbers thanks to the popularity of cult television show Portlandia. Located in the Pacific Northwest, Portland gets a lot of rain but all those rainy days have created a population of creative, fun folk who don't need sunshine to have a good time.
In Portland you'll find outrageously good coffee, craft beer brewers who take their work very seriously, and one of the best live music scenes in the USA. If you're after a bit of absurd, counter-culture fun then madcap Portland obliges at every turn. From a masked, kilted bagpiper who can often be seen bagpiping while riding a unicycle through the city streets, to a donut shop where you can get married – there really is nowhere else like Portland.
Chicago, Illinois
Apart from being one of the most handsome cities in America, Chicago is a smart cookie who knows how to have a good time. Yes, Chicago has good looks, a big brain and a personality. In other words – Chicago is pretty much the perfect package.
With old timey bars that have been running since the Prohibition-era, one of the greatest art galleries in the world, a thriving musical theatre scene and highly impressive feats of modern architecture gracing nearly every city street corner, walking around Chicago is like being on the set of a classic American movie where you get to play the fresh, wide-eyed out-of-towner who is falling hopelessly in love with the big city.
Chicago is all this and more – but only in summer. Visit in winter and you'll regularly have to dig yourself out of your apartment, so heavy is the snow and bitter are the temperatures. You've been warned. Choose your Chicago travel dates wisely. Choose Chicago. In summer. Always in summer.
Memphis, Tennessee
Nashville isn't the only trick Tennessee has up its sleeve. While Nashville is known as Music City, Memphis certainly could stake a claim to that title also. Home to Graceland, the Gibson Guitar Factory, Sun Studios (where Elvis first laid down some tracks) and Stax Records (the place that introduced Southern soul music to the rest of America and the world), there's a whole lot of hip shaking going on in Memphis! Music runs through the veins of this gritty city.
Whether you're into soul, blues or rock, Memphis has a bar, recording studio or diner where someone famous wrote or recorded something iconic. This is where Justin Timberlake was born, Elvis chose to live, and Jeff Buckley met his end, yet strangely, music pilgrimages to Memphis aren't as popular as they should be, with one massive exception. Elvis's former home and final resting place, Graceland is constantly teeming with tourists from near and far.
Not an Elvis fan? It's well worth visiting just to see the room with shag carpetted walls. Memphis is a pretty down-to-earth type of place where you don't need to be anyone but yourself. You can even stride down the street singing 'Walkin' in Memphis' if you feel like it. The locals won't mind – they've seen it all before.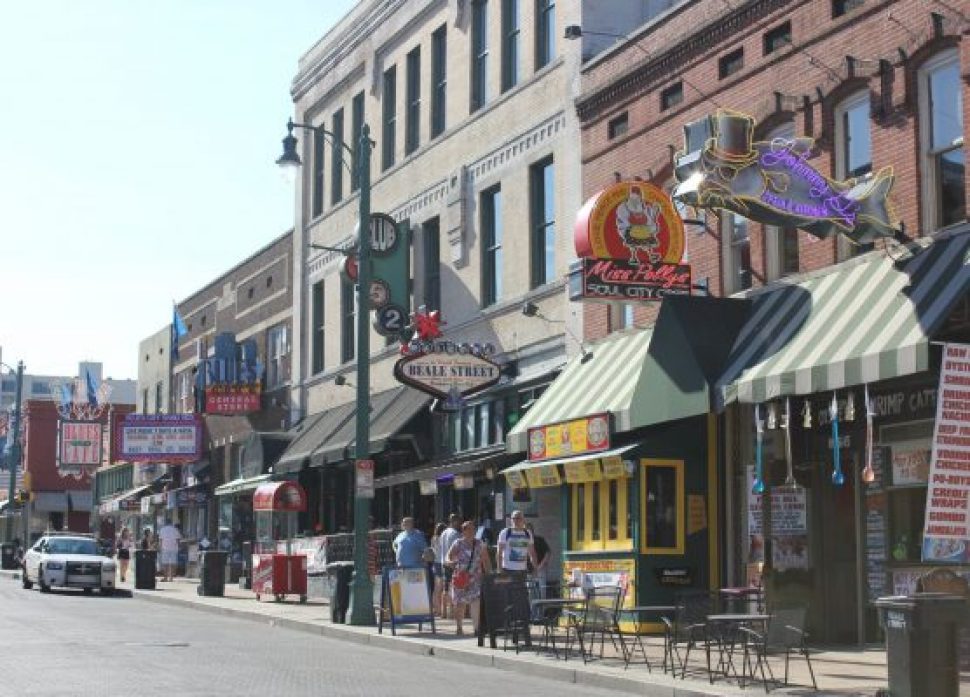 Beale St, Memphis Tennessee.